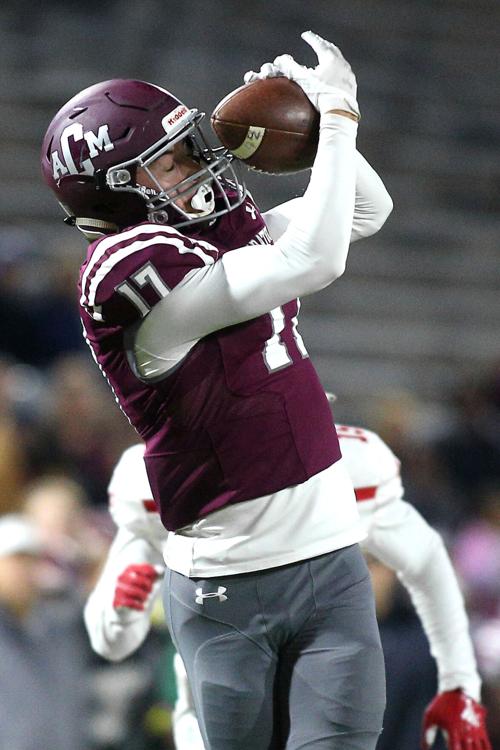 CYPRESS — A late rally wasn't enough for the A&M Consolidated football team as the Tigers fell in a 53-50 shootout to Crosby on Friday night in the Class 5A Division II regional playoffs at Cy-Fair FCU Stadium.
Consol melted a 17-point deficit down to three with two touchdowns in the final 5:39 but couldn't recover an onside kick with 1:52 remaining. The Tigers' season ends at 10-3 overall. Crosby (11-2) advances to face Texarkana Texas in the state quarterfinals next week.
"Overall, I thought our guys competed the whole way," Consol head coach Lee Fedora said. "We faced a really good team, and 53-50 just tells you what kind of score and what kind of game it is."
Trailing by 10 at halftime, the Tigers cut Crosby's lead to 39-36 on running back Keshun Thomas' 3-yard touchdown run with 9:59 left in the third quarter.
From there, Consol's defense forced a turnover on downs, an interception and a punt on Crosby's first three drives of the second half, but the Tigers couldn't convert the chances into a lead. Ultimately, turnovers gave Crosby the momentum the Cougars needed to pull away with the win. Consol had five turnovers that led to 21 Crosby points.
"They made adjustments at halftime, and the kids bounced into it and got into a good understanding of it," Fedora said. "We had a chance to jump back into it and do the things we needed to do, because [our defense] got the stop on the first [drive] and we go down and score to make it a one-possession game, but turnovers are what hurt us at the end."
Crosby returned a fourth-quarter interception to the Consol 5-yard line, and the Cougars scored one play later on a 5-yard run by quarterback Cyrin Myles to take a 53-36 lead with 7:53 left. Myles threw for 257 yards and a touchdown and ran for 121 yards and three more scores.
"We had a lot of missed tackles on him," Fedora said. "He's a scrambler. He's a great quarterback, and we knew that going into this game."
Consol quarterback Will Hargett closed his freshman year with 297 passing yards and three touchdowns but also threw four interceptions. After the game, Fedora took a couple of minutes to talk with Hargett.
"I think Will, as a freshman, did a tremendous job," Fedora said. "He was frustrated that he made a few mistakes tonight, but I told him don't let that affect you. You've got to do a great job from here on out, because you're going to be a sophomore next year. You've got to be the leader of the team and keep your head up."
Slowing Crosby proved difficult for Consol in the first half as the Cougars built a 39-29 halftime lead.
Thomas hobbled off the field in the first quarter but returned on the ensuing drive. His 4-yard touchdown run on the first play of the second quarter and his two-point conversion run tied the game at 15. Thomas finished with 240 yards and two touchdowns on 24 carries.
"Keshun just shows his toughness," Fedora said. "When he has a few injuries and things like that, he bounces back and keeps fighting through it, and he did a great job."
Crosby countered with two touchdowns in less than two minutes to rebuild its lead to 29-15. McCoy Casey scored the second TD in the sequence on a 79-yard fumble return with 9:31 left in the first half.
Consol responded with a 44-yard touchdown pass from Hargett to Tyler Wright, who had 148 yards on five catches, but Crosby pushed its lead back to two scores on a trick play that went 69 yards for TD as Luke Smith hit Kristian Roberson for the TD.
Wright's second touchdown grab of the quarter on a 6-yard pass from Hargett cut Crosby's lead to 36-29 with 4:39 left in the first half, but the Cougars tacked on Trevor Helburg's 36-yard field goal with 8 seconds left in the second quarter.
The Tigers will lose a number of senior starters but also return a core group of underclassmen next season.
"They had great leadership and great chemistry and did a great job, and I hope they continue to move forward with this senior class graduating," Fedora said.