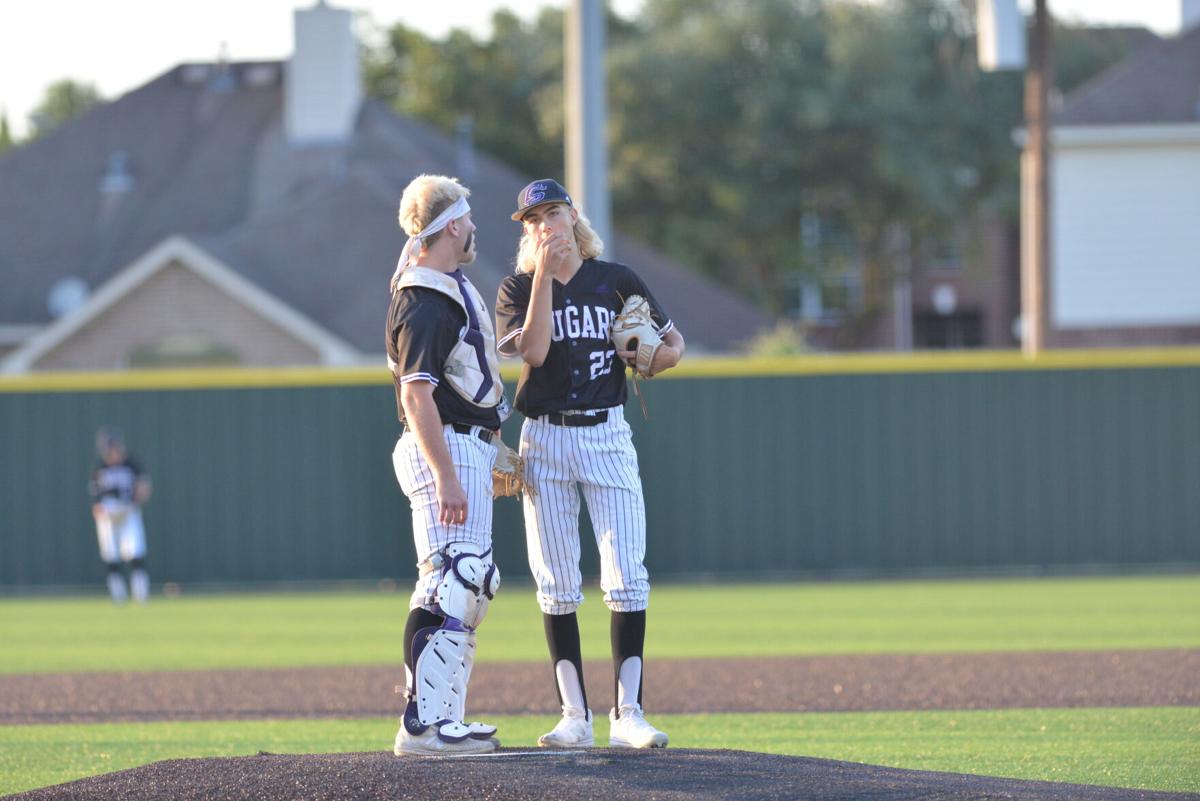 CYPRESS — Errors and more errors proved detrimental for the College Station baseball team in the Cougars' 10-2, season-ending loss to top-ranked Friendswood on Saturday night at Cypress Falls High School.
Six College Station errors helped Friendswood (31-1) score seven unearned runs in the decisive Game 3 of their Class 5A regional semifinal series. Friendswood advances to play Barbers Hill (24-9), while the Cougars (28-11-2) failed to reach the regional finals for the first time since 2016.
"We made a lot of mistakes, and when you're in a big game and you've got to make all the plays and you know it, you try a little bit harder, and tonight it just wasn't good for the Cougars," College Station coach Chris Litton said.
College Station couldn't get much going at the plate, either, mustering just four hits for its only base runners. The Cougars' Braden Fowler scored in the fourth on Blake Binderup's slow grounder, and Binderup came home in the seventh on Colby Smart's double.
Friendswood starting pitcher Griffin Kasemeyer threw 5 2/3 stellar innings. The Cougars often made contact, but Kasemeyer induced many easy groundouts and routine fly balls. The junior right-hander received a standing ovation from the Friendswood crowd when he was pulled. He also was the winning pitcher in Wednesday's 4-1 victory in Game 1.
"He was competing and was hitting his spots," College Station catcher Chanden Scamardo said. "He had a hell of a game. He spotted up, threw what he needed to throw in the right counts and had us off-balance."
Friendswood used an opportunistic first inning to build a 3-0 lead, not allowing College Station to build on its 10-6 victory in Game 2. The Mustangs' Dylan Maxcey ripped a double off the left-field wall, driving in a runner from first base. A second run scored as College Station erred trying to throw out a runner at the plate, also allowing Maxcey to advance to third. Friendswood scored the third run on a fielding error.
Déjà vu struck College Station in the fifth as Friendswood added two runs to extend its lead to 5-1.
The Mustangs loaded the bases with one out, but relief pitcher Max Childress induced a grounder to second baseman Blake Jones, who got the force out at the plate, but the relay throw to first base trying for an inning-ending double play was errant, allowing another run to score. The Mustangs added a second run on the play as the Cougars tried to throw out a runner at third, but again the ball sailed high.
College Station also failed to turn a double play in the sixth inning of Wednesday's game when Friendswood broke a 1-1 tie with three runs.
"It was in my mind for sure," Scamardo said of Wednesday's play. "It was pretty hard on me. I didn't take it very well."
Friendswood blew the game open with a five-run sixth inning for a 10-1 lead. The Mustangs loaded the bases with no outs, and Isaiah Winkler delivered a two-run single. Two batters later, Maxcey added another RBI single. The Mustangs added a fourth run on an errant throw and a fifth run came in on a balk.
Litton and Scamardo, who has signed with Texas A&M, agreed the future is bright for the junior-laden team.
"All these juniors that start for us this year are going to take over the leadership on this team and they're going to be great leaders," Scamardo said. "I'm sure they'll go far."
Litton said he will remember the eight-player senior class for their selflessness and creating a positive culture, adding they collected a number of big wins during their tenure.
"The one thing I'll mainly take away from this team is just the fight and the determination and the hard work we put in every week," said senior first baseman Josh Alexander, who has signed with Houston. "It's just different when you go through it for all the time that we've done it. We've been together for a while now, and I wouldn't want to be with any other group."
Friendswood 10, College Station 2
Friendswood 300 025 0 — 10 9 1