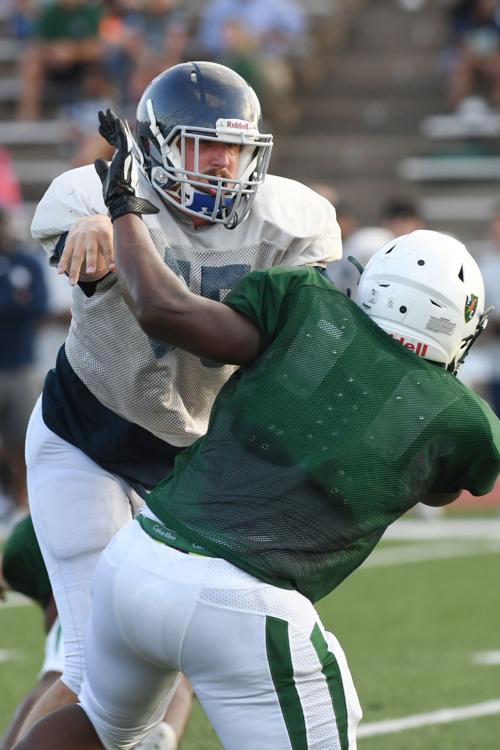 Exactly one year ago Bryan offensive tackle Colby Fagan was told some news no one should have to hear, let alone a young athlete.
"It was a scary, scary ride going out the first play of the game to being told you'll never be able to walk again," Fagan said. "That night around midnight, because I started not having any feeling, they told me I'd never be able to walk again, and if I was able to, I'd have to relearn how."
On the first snap from scrimmage against Cypress Lakes, on a play run to the other side of the field from Fagan, the then-junior went to the ground and was kneed in the back. The end result was a break of the L1, L2, L3 and L4 and a fracture of the L5 vertebrae.
Fagan originally thought it was a stinger, and with the help of the trainers gingerly walked off the field. A few minutes later he asked if he could get back in the game, but when he was unable to perform a simple stretch was ordered back to the trainer's table. That's when he realized it was a much more serious injury than he first thought as he was unable to lift his leg onto the table.
"From there I started losing feeling in my leg slowly and slowly," Fagan said. "Once I told them I couldn't feel my toes, they brought the Cypress trainer, a paramedic, and he came over and said that since it's a back injury, don't mess with it and said to take me straight to the hospital."
With his parents, Bryan High trainers and coaches Michael Woodward and Michael Gibson at Fagan's side, he was given the prognosis of possibly not being able to walk again.
"I cried. I lost it," Fagan said. "I've grown up ranching and farming, and part of me was scared out of my mind. At the same time, I'm thinking I can work through it, and they told me I could learn to walk again. I was determined I was going to walk either way and then around 2 or 3 [in the morning] I started getting a little feeling in my toes, and they said this is a big upgrade and that they weren't expecting this. They ended up saying the reason why I couldn't move anything at first was because my body went into a self-protect mode and locked so that I wouldn't move anything and mess it up any worse."
Fagan was moved from the hospital in Cypress to Houston Memorial Hospital that night so as to get special attention from back and nerve specialists, one of which had treated the Houston Texans' JJ Watt. Fagan was later told that the only time they had seen an injury similar to his was to former Dallas Cowboys quarterback Tony Romo.
Although Fagan was obviously lost to the team for the remainder of his junior season, he went in not long after returning to school and told Bryan coach Ross Rogers he wanted to play his senior season.
"Once I was able to start walking Dr. [Kory] Gill told me there is a slight chance you could play next year, for me that's all I needed to hear," Fagan said. "Because we have a good coaching staff here and everyone is behind me like a big family, I wanted to come back and finish my senior year."
Wanting to play and playing are two different things. There was a long rehab ahead and there were other questions on whether he should play. Some of those questions were answered when he was fitted with a brace.
"Because of his rehab we really didn't know if he was going to play until about a week before football this year," Rogers said. "We were looking for a replacement."
That thought process didn't bother Fagan at all, even when it was obvious he was back to be a part of the team on the field.
"I told my dad I don't want to come back as starter, I want to work my way back, no special treatment," Fagan said. "So coming back on second string felt best. When I got bumped back up it was, wow you came back from a back injury and told you would never walk again and now you're back at starting and playing Friday night."
The 6-foot-5, 221-pounder isn't just playing, but getting the job done. He said he had given up five or six sacks last season and therefore one of his goals after getting back on the field and finishing his senior season was to not allow his man to get to the quarterback once. So far, so good, on all of his ambitions.
"He's had to use a lot of grit and he' had fun and he's enjoyed it and I'm glad he is with us," Rogers said. "He's got good quickness for a tall man and he can get into the people and hook them, or get inside them, or cut them, just good quickness and his length helps him."
Fagan has had to overcome a lot of hurdles, not the least of which came last week when he returned to Cy-Fair FCU Stadium for the first time since the injury.
"Last week, stepping on the field, it was scary because where we started the first drive off was one or two yards from where I got injured, so walking out to the same spot to play, I was scared out of my mind," Fagan said. "Every scenario was going through my brain of 'Do this, don't do this, protect yourself.' To be honest, first play I was so scared and iffy, when we snapped the ball, I almost froze up because it was a feeling of 'Same spot, here we go, flashback.'"
Fagan added that after the first play, it was a back to normal. On Friday, he will line up against the team against which the injury occurred.
Including the Cy-Lakes game last season, Fagan started six games as a junior. He has started every game this season and, despite the Vikings' 1-4 record, has never regretted his decision to return to football after such an injury.
"People ask me 'Why do you keep playing even when you're told you can still reinjure yourself and with the season we've had?'" Fagan said. "And I tell them 'We are a family through thick and thin. If we stay together we will get it done. We are one big family.'"
NOTES — Cy-Lakes' Sofian Massoud is the leading passer in District 14-6A. He completes 60 percent of his passes and has thrown for 1,709 yards in six games. The senior is a transfer from the state of New Jersey and has committed to the University of Houston after decommitting from Rutgers. … The Spartans also have the district's leading receiver and second leading rusher in seniors Khaliq Abdul-Mateen and Xavier Howard, respectively. Abdul Mateen has 40 receptions for an average of 13.7 yards and has caught seven of Massoud's 12 touchdown passes. Howard has 590 yards rushing for an average of 5.3 yards per carry.
Get in the game with our Prep Sports Newsletter
Sent weekly directly to your inbox!