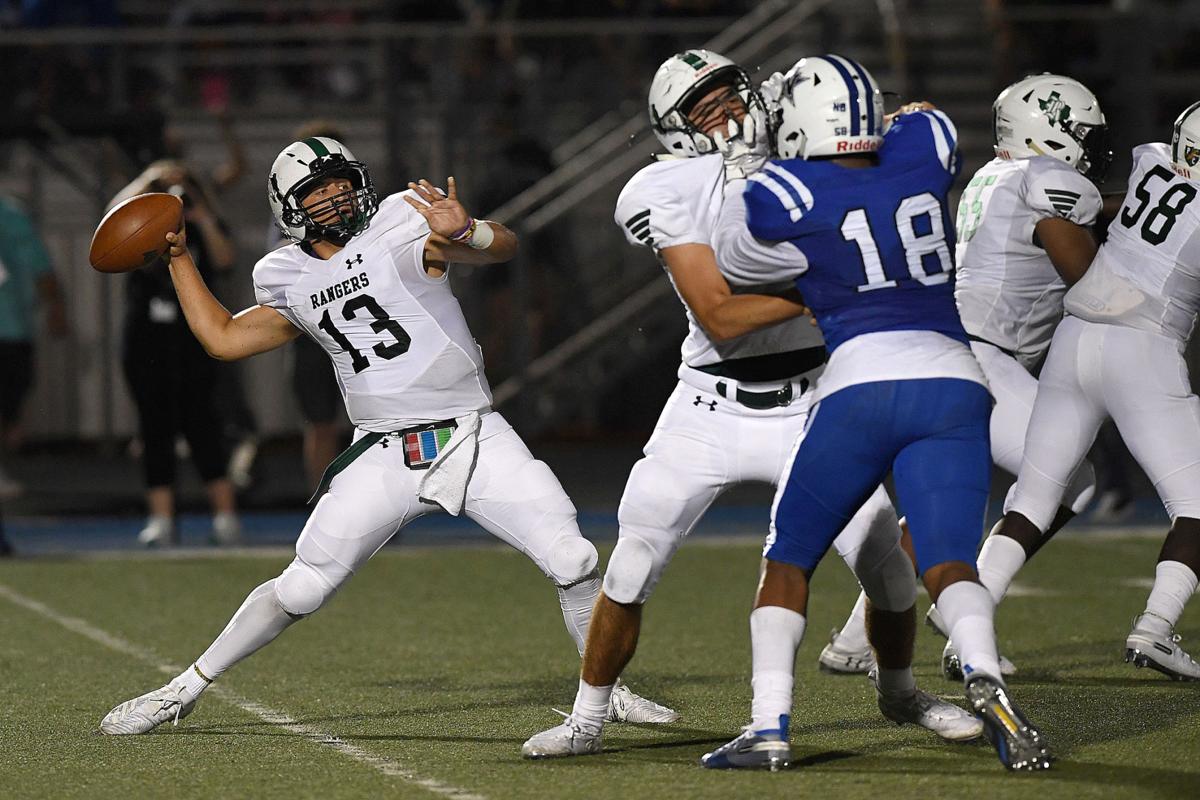 Player of the week: EJ Ezar, Rudder
With 942 votes in The Eagle's weekly fan poll, Ezar, Rudder's sophomore quarterback threw for 194 yards on 10 of 17 passing, helping lead Rudder to its second come-from-behind win in as many weeks as the Rangers beat Navasota 41-24. Ezar had three total touchdowns, throwing 76- and 29-yard TD passes and rushing for a 1-yard score as the Rangers scored 35 unanswered points in the second half.
Offensive player of the week: Bryce Steel, Brazos Christian
Steel put together another dominant performance for the Eagles and threw for more than 150 yards in the first quarter before completing 18 of 24 passes for 315 yards and five touchdowns as Brazos Christian shut out KIPP Houston 54-0.
Defensive player of the week: Traevon Thompson, College Station
Thompson, a senior linebacker, was key to the Cougars' 29-13 upset win over then-No. 4 Huntsville, tying a school record with 23 tackles. He also had three sacks and three quarterback pressures.
Special teams player of the week: Kristoffer Kindt, Rudder
Kindt kicked a pair of field goals, a 32-yarder to put the Rangers on the board, and a 24-yard field goal to open the second half in Rudder's 41-24 comeback against Navasota. He also kicked three extra points in the win.
OTHER TOP PERFORMERS
• Leon linebacker Brock Beamer racked up 20 tackles — two for a loss — in the Cougars 23-20 loss against New Waverly on Friday night.
• Cameron quarterback Braden Brashear completed all nine of his pass attempts for 215 yards and five touchdowns, including a 58-yarder to Kobe Young in the Yoemen's dominant 66-34 win over Gatesville.
• Brazos Christian's Davis Carroll filled the stat sheet, recording 11 tackles, one for loss, a forced fumble and recovered a fumble to set up a touchdown in the Eagles' 64-0 shutout over KIPP Houston.
• Leon's Tyson Cornett had a strong all-around game and caught 11 passes for 172 yards and a TD. He also had an interception and fumble recovery on defense in the Cougars' 23-20 loss against New Waverly.
• Normangee quarterback Izaha Jones was responsible for six touchdowns in a 37-12 win over Lovelady. He completed 12 of 22 passes for 180 yards and three touchdowns and added three more rushing TDs as he carried 16 times for 180 yards.
• Bremond junior quarterback Seth Kasowski completed 9 of 14 passes for 224 yards and two touchdowns and scampered for 101 yards and another TD on 10 carries, leading the Tigers to a 44-6 win over Milano.
• Caldwell's Logan Knesek had a good showing while filling in at quarterback for the injured Kyle Cunningham, carrying 24 times for 131 yards, including touchdown runs of 77, 23 and 4 yards, and completing 5 of 9 passes for 77 yards in the Hornets' first victory of the season, a 12-6 win over Madisonville.
• Rockdale junior wide receiver/defensive back Kesean Raven had a good game on both sides of the ball, catching four passes for 136 yards, including 74- and 43-yard TD receptions. He also returned an interception 39 yards for a touchdown in the Tigers' 45-13 win over Lexington.
• Rockdale junior running back Cam'ron Valdez racked up 200 yards, including 55- and 70-yard touchdown runs, on just eight carries as the Tigers took down Lexington 45-13 on Friday.
• Half of Cameron senior wide receiver Kobe Young's catches went for touchdowns as he caught six passes for 138 yards and 1-, 23- and 58-yard TDs in a 68-34 win over Gatesville.