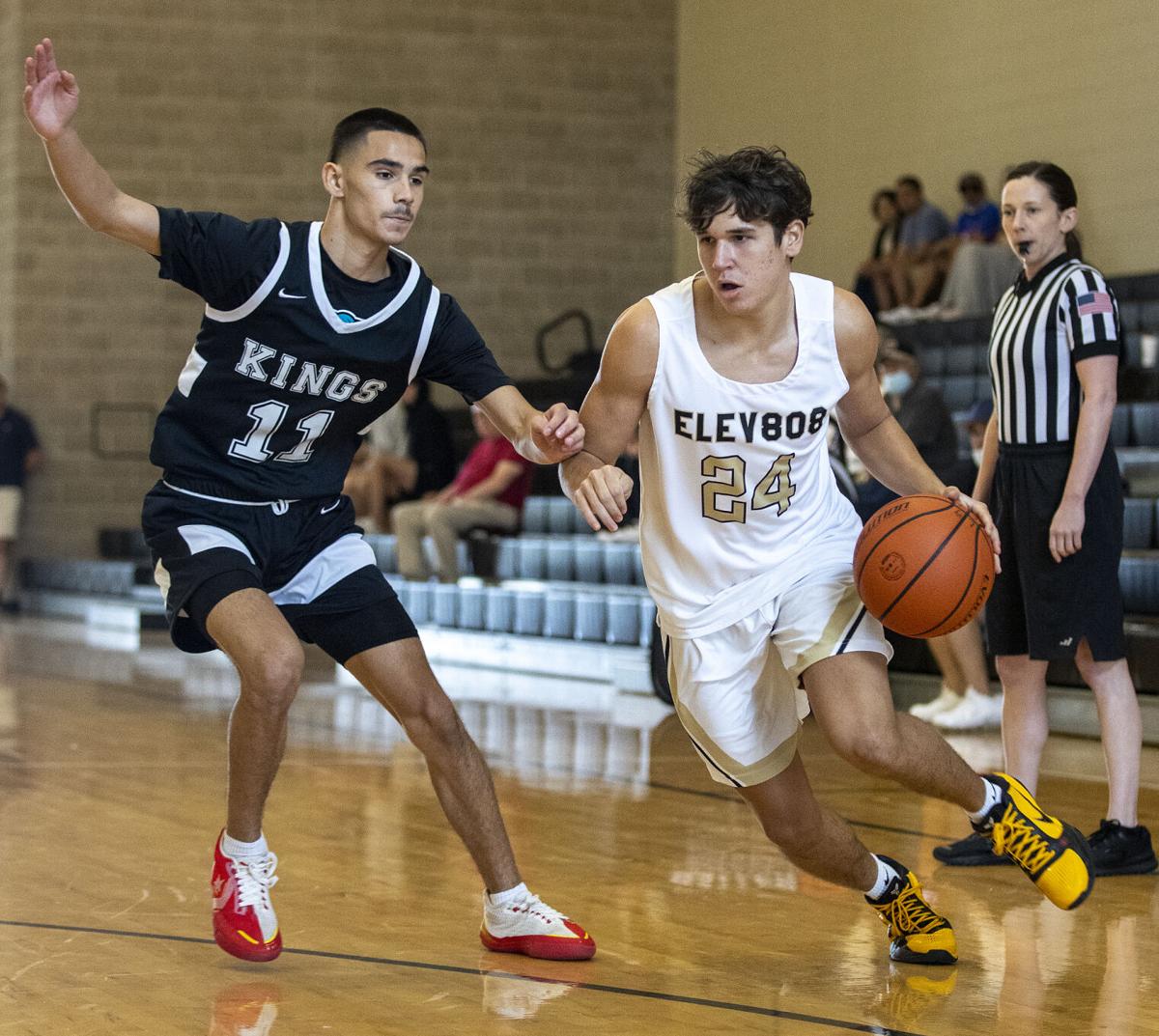 The Great American Shootout has brought an annual basketball tournament to Bryan-College Station since 1998 with most of the teams hailing from the Lone Star State and occasional entries from neighboring states.
That's why heads turned when team ELEV808 from Hawaii signed up for the three-day event.
"As soon as we registered online the director here immediately called me and said, 'Are you guys serious? Is this for real?'" said Jill Higashi, the team mom. "It's just online, so sometimes there are mixups."
It was no mistake. The 17-year-old and under players from Hawaii wanted to see how they matched up against Texas' top-level AAU competition.
"We heard great things about these tournaments," ELEV808 coach Chris Maeda said. "We thought it was a good opportunity, and it matched our schedule. We also heard it was good competition, well run, so we're excited to be here."
The team's players come from a trio of high schools — Roosevelt, Mid-Pacific Institute and Punahou, which is where former President Barack Obama and Texas A&M shortstop Kalae Harrison attended. They started training under the 41-year-old Maeda.
"They were progressing along, and as more and more kids started to train, they wanted to form a team," Maeda said.
They called themselves ELEV808 because 808 is the state's area code. This weekend, they opted to step outside their comfort level.
"This is their first travel trip," said Higashi, who has a son on the team. "They've been together for about a year and a half, but during COVID and everything, we just played local tournaments. So this is their first travel tournament."
Higashi said Hawaiians typically play in West Coast tournaments, usually in California and Las Vegas. Each of the team's 11 players have played in one of the West Coast tournaments but never together.
"So this is a good opportunity for us to see different competition in a different area of the States," she said.
ELEV808 was steered to the Great American Shootout by UnCommon Basketball's Russell Vanlandingham, whose organization helps match prospects with appropriate colleges. None of the ELEV808's players are committed to sign with a college program.
"That's why we're here, trying to get a little exposure," said Maeda, who has conducted basketball camps for younger players for 15 years. He played the sport he loves but says he was a better baseball player. Maeda said football is the island's top sport followed by baseball.
"But we're trying to make basketball in Hawaii a little bit more known," he said.
A couple of the team's players compete in other sports, but most of them play just basketball.
"I think it's great exposure for our kids to see different types of players and see what's out there," Maeda said.
ELEV808 is competing in the Great American Shootout's 50-team NBA Division, the highest of the event's six divisions. It's for seniors in the high school class of 2022, unsigned seniors from 2021 and top juniors (2023 class).
ELEV808, which brought eight players, opened the tournament with a 68-63 victory over BCS Legends on Friday night. They defeated the DC Kings of San Antonio 72-66 on Saturday morning to win their pool. They opened play in the 16-team NBA Championship Red and White bracket with a 62-44 loss to ProSkills 16U-Lee, a team with plenty of size.
"I expected better competition up here," ELEV808's Len Rigg said. "Back home, there are not guys who are 6-7 and 6-8, so it's great to get out here and play bigger, better kids. It really makes you tougher. You have to play a lot tougher. I'm 6-3. I'm guarding 6-7 guys. I'm using my body the full time, pushing him around, doing everything I can. I knew I was going to have to come up here and be tough, so it's exactly what I expected."
The 160-pound Rigg plays on the wing in Hawaii but is playing inside this weekend.
"Everyone up here is the same. Big. They're always huge," Rigg said. "I've been to Vegas twice. The competition over there, they're usually faster. Here, they're not as quick and in Vegas they talk a lot more trash, a lot more trash. Over here, everyone seems to be a lot more nice. It's great competition. No matter where you go on the mainland, it's going to be great competition."
ELEV808 didn't get a chance to see much of Aggieland this weekend but hopes to do some sightseeing before flying back Monday.
It didn't take long for the players to get a taste of Texas. They didn't land in Austin until midnight after a delayed seven-hour direct flight from Honolulu. They got to Bryan-College Station at 3 a.m. and were hungry, so they stopped at Whataburger.
"A couple of us have been to Dallas but not for basketball, and this is the first time for all of us to be in College Station," Higashi said. "We're very excited."
NOTES — The tournament features 140 teams. The other divisions are NCAA (32), mainly juniors (2023) and top sophomores (2024); NIT (24), mainly sophomores (2024) and top freshmen (2025); eighth (15), eighth grade players during the 2020-2021 school year; seventh (15), seventh grade players during 2020-2021 school year; and sixth (4), sixth grade players during the 2020-2021 school year.