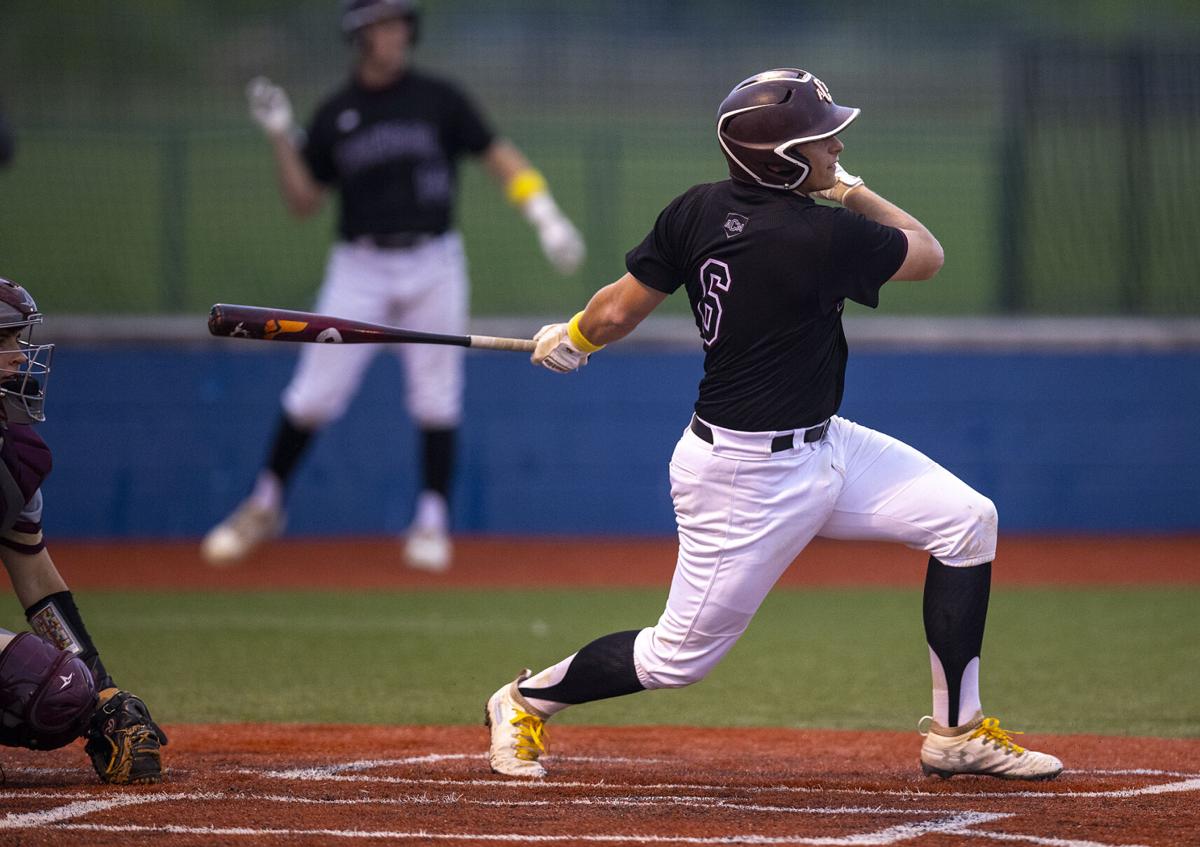 MUMFORD — A&M Consolidated and Magnolia West found a way to play baseball after a day full of heavy rain, but the Tigers weren't able to overcome mistakes in a 5-0 loss to the Mustangs in District 19-5A action Friday night at Mumford's Cotton Palace.
Consol's loss means the Tigers (11-13, 6-6) and Mustangs (12-14, 6-6) are tied again for fourth place in the district standings heading into the final week of the regular season. The Tigers committed four errors, which led to three unearned runs for Magnolia West.
"We didn't show up with much tonight," Consol coach Ryan Lennerton said. "Pretty lackluster on our part."
Magnolia West took a 3-0 lead in the third inning after sending all nine batters to the plate in the frame.
After loading the bases with three straight singles, the Mustangs scratched a run across as right fielder Caden Robertson hit a liner straight back at Consol pitcher Hunter Bond, who was unable to field the ball. Two batters later, Magnolia West scored two more runs on a Consol throwing error. Bond escaped the inning by inducing a fly ball to right field to leave the bases loaded.
The Mustangs added one run in each of the fourth and fifth innings to extend their lead to 5-0.
Robertson ripped another single in the fourth, which allowed the Mustangs' Mason Swidersky to score from second base.
Consol appeared to be out of the inning in the fifth, but another error extended the inning. On the next at-bat, Magnolia West's Greg Ferguson scored on a wild pitch.
"It's tough when you've got to keep throwing pitches and when you get good hitters out and then your defense doesn't make a play," Lennerton said. "That's a stinger."
At the plate, Consol batters struck out just four times, but the Tigers mustered just six singles scattered throughout the game. Consol's Chase Sodolak and Nathan Hodge each went 2 for 3.
Magnolia West's Ferguson pitched well to contact, inducing 12 groundouts while throwing a complete game.
"He's got a little sink on there, and we just couldn't get underneath the fastball," Lennerton said. "He did a good job tonight, threw the slider enough for a strike. When you make [four] errors and get [six] hits and no runs, it's just not going to be a good night."
Consol closes its regular season with a two-game series against Katy Paetow next week eyeing to lock down the district's final playoff spot. The first game will be at 7 p.m. Tuesday at Tiger Field. A sweep over Rudder would put Paetow (12-15, 4-7) just one game behind Consol and Magnolia West heading into the final week.
The Tigers know they must take care of business against the Panthers or get help. Fortunately for Consol, Magnolia West faces playoff-bound Brenham next week.
"It's going to be a big week," Lennerton said. "If we don't show up next week, then we better check our pulse, because this is what they work hard for all year and they've still got a shot. One really good team is going to get in, and a couple really good teams are not going to get in, so we've got to show up twice next week against a pretty good team and give it all we've got."
Magnolia West 5, Consol 0
Magnolia West 003 110 0 — 5 10 1
W — Greg Ferguson. L — Hunter Bond.
Leading hitters: CONSOL — Chase Sodolak 2-3; Nathan Hodge 2-3. WEST — Caden Robertson 2-4, 2 RBIs; Mason Swidersky 2-4, 2 runs; Greg Ferguson 3-4, run.