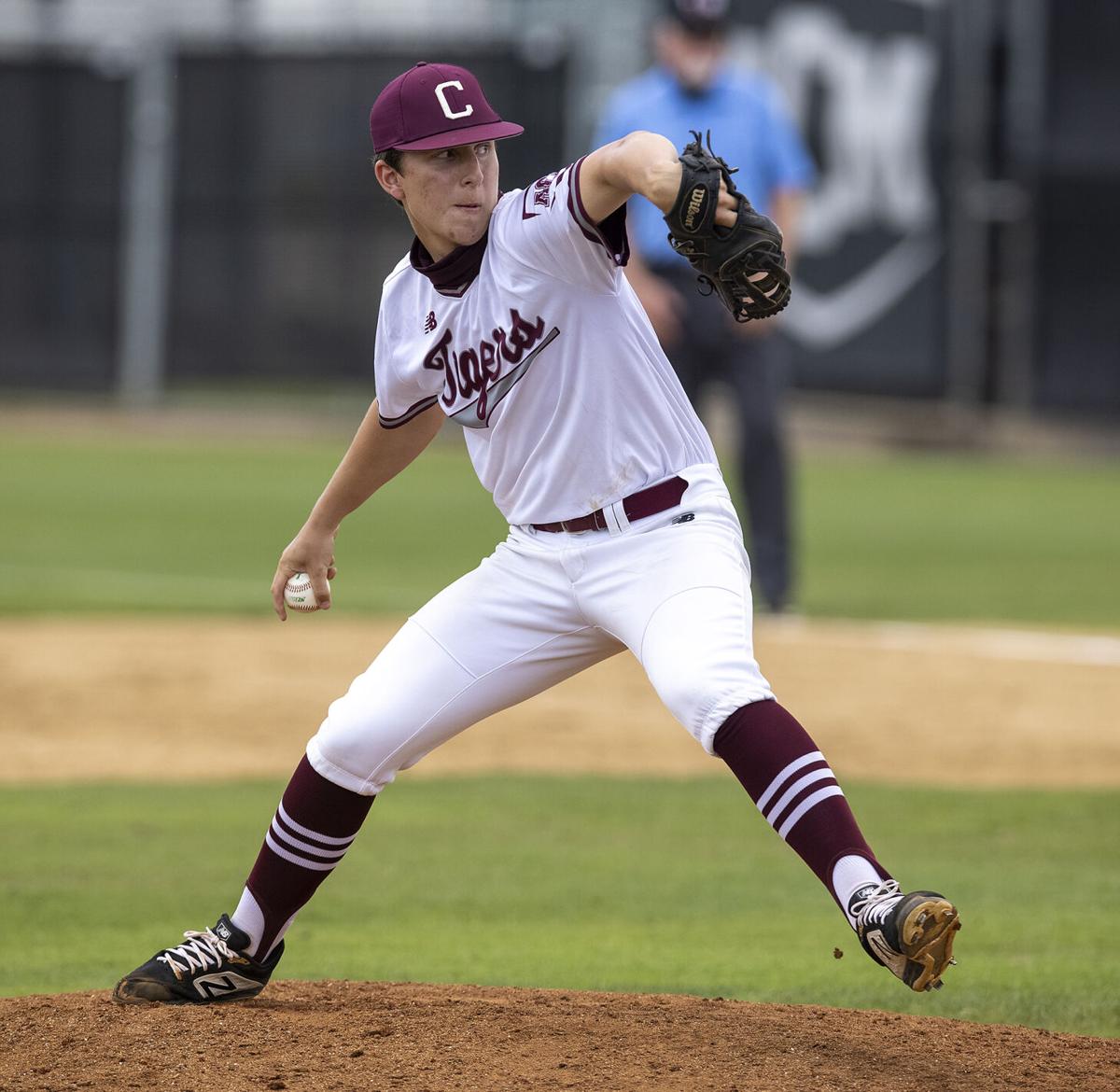 The A&M Consolidated baseball team robbed Montgomery Lake Creek of a bi-district series sweep on its home turf Friday, but the Lions rebounded Saturday with a 7-1 win at Tiger Field to advance to the Class 5A area round.
Lake Creek will face Austin McCallum next week with site and time to be determined. McCallum beat Pflugerville 12-4 and 4-0 on Saturday to advance.
Both starting pitchers worked a quick first inning, then Consol (14-15) looked poised to take the lead in the top of the second with two runners on and one out. But Lake Creek escaped the inning with a double play on a groundball to second base, setting the tone for the remaining frames as Consol stranded six runners.
"[Lake Creek is] really good," Consol head coach Ryan Lennerton said. "They did a better job than we did, and that's really what this series came down to."
The Lions (22-10-1) scored two runs in the second and three more in the third to build a 5-0 lead.
Lake Creek's Bryce Jones doubled down the left-field line to knock in Jagger Neely and later scored on a sacrifice fly by pitcher Samson Pugh in the second.
Neely hit a two-run double down the left-field line in the third just moments after Consol replaced starting pitcher Hunter Bond with Cooper McKenzie. Two batters later, Pugh brought in John Spikerman on a sacrifice fly to right field for a 5-0 lead. Spikerman hurt his shoulder running home and didn't return.
Lake Creek added two insurance runs for a 7-0 lead in the fifth on a passed ball and a sacrifice fly.
Consol used four pitchers. Bond lasted two innings before McKenzie, who helped pitch a two-hitter on Friday, came in for another 1 2/3 innings. Kyle Collins and Gage Dorris combined for 2 1/3 innings, allowing two runs on two hits.
"In a Game 3 you can't let a guy sit out there and give up a couple," Lennerton said. "There's no tomorrow, so really at the first sign of being tired or in trouble, we had to go get someone else to see if they could stop. We just didn't do a very good job today."
Consol put three runners on base over the fourth and fifth innings via walks and a hit batsman but stranded all of them as the Lion's defense proved just as solid as its offense.
Consol's Davis Harrell singled to left in the sixth after Brodie Daniel's leadoff walk. Daniel took third on an error on Harrell's hit and scored on Nathan Hodge's RBI groundout to shortstop.
Consol's Wesley Boedeker singled in the seventh, but Lake Creek reliever Neely retired the next three batters to end the game.
"Part of it is getting them on but the bigger part is getting them in," Lennerton said. "We just didn't have very good at-bats against [Pugh], and he was competitive, but I think our hitters could handle him, and we didn't today."
Pugh pitched five scoreless innings, striking out four, walking five and allowing two hits. Neely pitched two innings of relief and struck out two. He also went 3 for 3 at the plate.
"[Neely] turned on a few pitches today, and he did a good job in the middle of their order," Lennerton said. "We saw him earlier in the year. I was hoping since we've seen him already, we might have better at-bats against him, but he went in there and did what he should do."
NOTES — Consol will graduate 11 seniors this year, including starters Ty Hodge, Caden Yorek, Jack Hamilton, Brandon Bishop, Cooper McKenzie and Cody Kingman. "They filled big roles, even roles that don't show up in the box score," Lennerton said. "There's guys on that bench that do stuff ... Ethan Brittain catches the bullpen all the time. Jackson Lee is a great spirit guy. Zach Hass is amazing off the bench. Ryan Shurtleff is a really good character guy. So is Davis Harrell."
Montgomery Lake Creek 7 A&M Consolidated 1
Lake Creek 023 020 X — 7 8 1