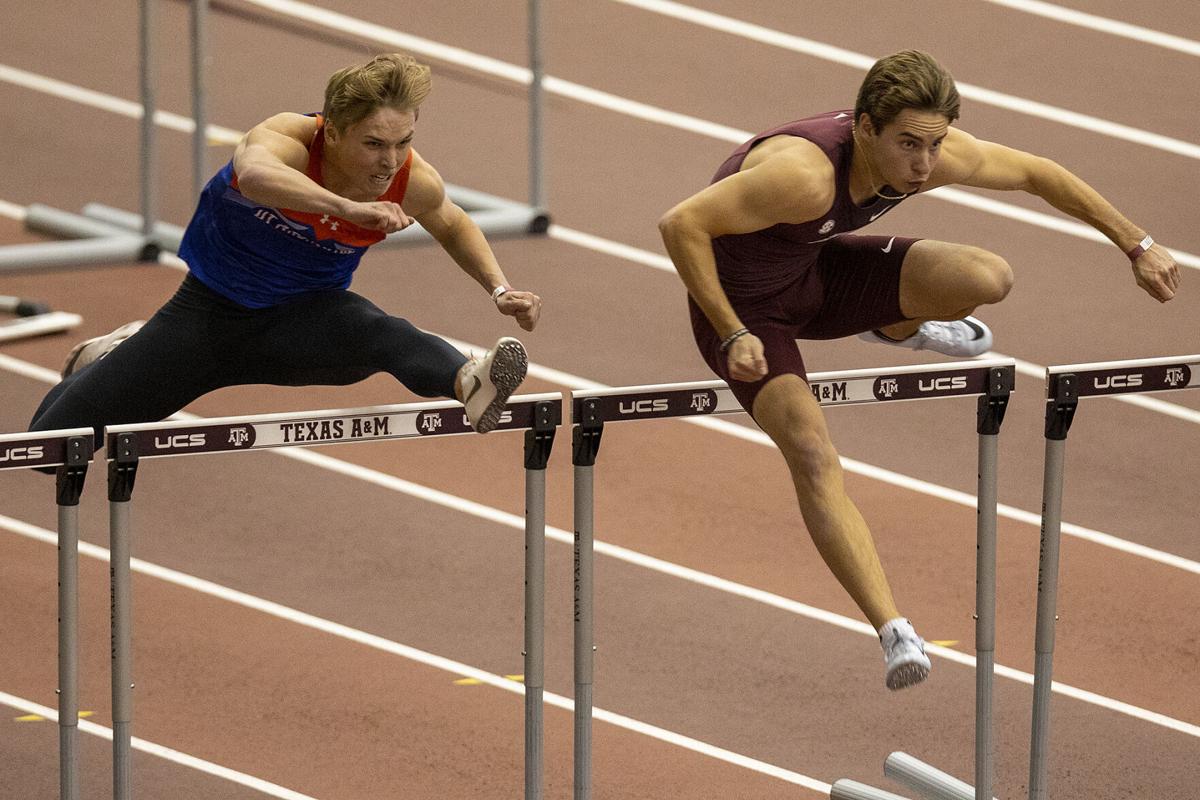 Texas A&M All-American Tyra Gittens wasted no time declaring she is ready to follow up her Southeastern Conference accomplishments from last season, and freshman Athing Mu introduced herself to Aggie fans by shattering the meet record in the 800 meters on Saturday at the Ted Nelson Invitational.
A&M swept the top three spots in four events and set three meet records in the season-opening event that included Arizona State, Northwestern State, Stephen F. Austin, Sam Houston State and Texas-Arlington at Gilliam Indoor Stadium.
"You could see it in their eyes over the last six to eight days, that level of excitement about, OK, we got something coming Saturday," A&M head track and field coach Pat Henry said. "It's going to be fun, and it's why we do what we do. The ball doesn't go through the hoop at practice, so there is no real gratification at practice. It's just hard work. Saturday you get to do something you feel good about, and they are ready to go next week right now."
Next week A&M will host the Aggie Invitational.
The Aggies made the most of their first meet beginning with Gittens, who kicked off the season by breaking teammate's Deborah Acquah's meet record in the women's long jump at 21 feet, 8 ¾ inches. Acquah, who set the mark last season at 21-6 ¾, took second at 21-5 ½.
"With Tyra, she is such a talent and such a personality," Henry said. "She is a little bit of an anomaly that way. She can keep up a level of excitement for herself, and she is able to bounce back from something poor, and that's hard to do."
Gittens, the women's top scorer at last year's SEC indoor meet, also won the women's high jump at 6-0 ¾ — an inch off the meet record. Henry said she was disappointed in that mark after clearing better than 6-2 in the team's intrasquad meet. SFA's Nissi Kabongo also cleared 6-0 ¾ but had more misses, while Aggie sophomore Lamara Distin took third at 5-7.
Mu ran away from the field in the women's 800 in 2 minutes, 1.07 seconds to break Oklahoma State's Kaela Edwards meet mark by 1.53 seconds. In her first competitive race as an Aggie, Mu came within .38 of setting the school record held by NCAA outdoor champion Jasmine Fray.
"She wants to be the best ever," Henry said. "[The school record] — that is great. She wants to break that thing, but she wants to be the best ever that stepped on the track. Watching her, you can see this kid has things not many can do."
A&M freshman Dominique Mustin finished second to Mu in 2:09.65.
A&M's trio of senior Syaira Richardson and sophomores Charokee Young and Tierra Robinson-Jones swept the top three spots in the women's 400 with Richardson passing Young in the final 5 meters to win in 52.92. That trio and Laila Owens then ran a 3:41.56 to win their heat in the 4x400 relay, but they took second overall to A&M's B team of Jania Martin, Mustin, Mu and Julia Madubuike (3:41.18).
The Aggie women also swept the top three spots in the 200 with Martin, a junior, leading the way at 23.73. Junior Rachel Hall and freshman Jasmine Logan followed at 24.06 and 24.80.
Jake Lanier was the highest Aggie finisher in the men's 200, taking second at 21.39 behind SFA junior Jeremiah Curry's 20.97.
A&M All-American Bryce Deadmon set the meet record in the men's 400, shattering Olympian Demetrius Pinder's mark of 46.01 with a 45.68.
A&M swept the top three spots in the men's mile with sophomore Eric Casarez clipping College station native Jon Bishop a few meters from the finish to win in 4:09.41. Bishop finished in 4:09.69, and Gavin Hoffpauir was third at 4:10.73
In the women's mile, UTA's Madeleine Rowe came from 60 meters back in the last 300 meters to beat A&M's Rachel Bernardo in 5:02.38 to Bernardo's 5:04.51.
A&M won three of the four 60 events. A&M's Connor Schulman (7.94) edged SFA's Paul Martin (7.98) in the men's 60 hurdles, while Kaylah Robinson (8.32) passed fellow senior teammate Kennedy Smith (8.36) in the final 10 meters of the women's sprint hurdles.
Schulman ran a 7.85 in the preliminaries to earn the top seed for the finals.
"That goes on our all-time list, and he barely got to the end of the 60 last year," Henry said. "He's maturing and is going to get better. Those are the kind of kids we love to have. We have a number of those."
Northwestern State's Lynelle Washington broke up another Aggie 1-2-3 sweep by taking third in the women's 60. A&M took five of the top six places led by junior Immanuela Aliu (7.4) and Zhane Smith (7.47).
Northwestern State's Kie'Ave Harry ended the Aggies' run at sweeping the short sprints by edging A&M's Emmanuel Yeboah 6.74 to 6.79 in the men's 60.
A&M's men finished 1-2-3 in the weight throw. Senior Josh Brown won with a toss of 65-4. KJ Grimes and Pablo Zolezzi backed up Brown at 56-9 ½ and 53-6 ¼, respectively. Henry said he was extremely pleased with Brown because of the extra work the senior has put in under coach Juan De La Garza.
A&M's CJ Stevenson held off a trio of UTA jumpers to win the men's triple jump with a leap of 49-9 ¼.
A&M freshman Carter Bajoit took second in the high jump at 6-9 ¾, two inches lower than UTA's Bryson DeBerry.
Aggie junior Parker Clay took second in the women's shot put at 44-10 ¾ to Sam Houston freshman Halie Daniel, who won with a throw of 45-11 ¾.
Sam Houston added a gold and bronze in the men's pole vault with Clayton Fritsch (17-9) and Rylan Olguin (16-7 1/4). Sean Clarke, a transfer from Penn, was the top Aggie at fourth with the same height as Olguin.
Darius Clark, a transfer from Florida State, led a 1-2 finish for the Aggies in the men's long jump at 24-6 ½. Lagarious McQuirter was second at 23-7 ½.
Aggie sophomore Kyle Stulce was second in the men's shot put at 50-9 ¼ to SFA's Kevin Steward (51-2 ¾).
Freshman Tim McElaney was the top men's 3000 finisher for A&M, placing third at 8:38.33. Aggie junior Julia Black was second in the women's 3000. Both finished more than 10 seconds behind their respective winners, Kelsey Ramirez of SFA and Cole Klashinsky of UTA.