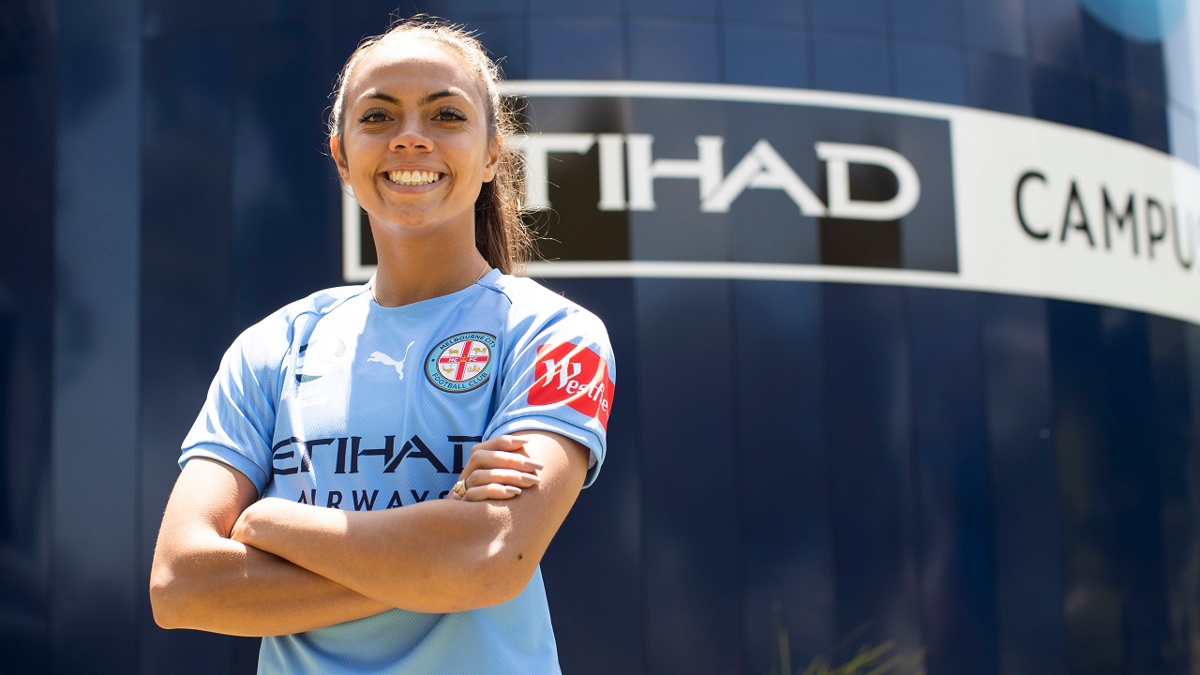 Former Texas A&M soccer player Ally Watt has not watched the clip of her season-ending injury, which occurred 13 minutes into her National Women's Soccer League debut with the North Carolina Courage.
Watt says she momentarily lost feeling in her right leg and could not move it during the Courage's 2-1 overtime victory over the Portland Thorns on June 27 at the NWSL Challenge Cub at Zions Bank Stadium in Herriman, Utah.
"I don't want to go see what happened to my knee," she said of the non-contact injury. "It was something that just happened really fast, and then I was just happy that I was able to get taken off and get taken care of right away and figure out what was wrong with it."
She suffered a torn anterior cruciate ligament and is now facing a six- to nine-month recovery journey back to professional soccer.
"It's really disappointing, especially because it was a non-contact tackle, so I couldn't really blame something or say I know what happened, because I don't know what went wrong," Watt said. "I don't know if I planted wrong or if I wasn't prepared in other ways, but it was unfortunate how I planted on the turf. I just wish I was able to contribute more to the team this season."
The All-American was selected sixth overall by the Courage in January, becoming the highest-drafted Aggie in program history. She played for Melbourne City Football Club in Australia during the Courage's offseason, then made her entrance into the NWSL off the bench in the 71st minute of the opening game of the Challenge Cup.
In just over 10 minutes, Watt recorded five touches and made two passes. After a cross from the left side, Watt rushed to the back post in an effort to get a head on the service. The pass was deflected by the goalkeeper, and Watt landed awkwardly after the attempted header, resulting in the injury.
"It's a nine-month recovery situation," A&M head coach G Guerrieri said. "She'll be competitive and try to beat that number like a lot of super competitive people do, but that's typically what we see is anywhere from nine months to a year. When she's focused on accomplishing something, nothing will stop her."
The Challenge Cup is being played in a quarantined "bubble" due to the spread of COVID-19. Watt said she had little experience playing on artificial turf, and Guerrieri said he was disappointed the women were unable to compete on natural grass.
"There's a much higher chance of injury on the synthetic surface, especially when you talk about after a long layoff for people," Guerrieri said. "And then in Ally's case, someone who has been going pretty constantly for a while, the chances of injury are significantly higher."
With the amount of games necessary for the tournament, Watt said she understood from a field maintenance perspective why the NWSL chose to hold the event at a stadium with artificial turf.
Through her career at A&M, the forward only dealt with small hamstring injuries and a concussion, she said. Guerrieri said she was good at recognizing the hamstring issues and taking preventative measures to keep them at bay.
Although she hoped to remain in the "bubble" throughout the tournament, Watt has since left Utah in order to have surgery on the knee next week. She'll know how long of a recovery she is facing once doctors get an up-close look at the damage, she said.
"I really was hoping and planning on staying the whole tournament," Watt said. "I didn't want to leave the girls, and I was getting really close to a handful of them. We were really excited to be spending so much time together, since a lot of us just came onto a new team and were bonding with people who were already on the team. The earlier I can get my surgery done, the faster I can get ready for next season."
Watt is one of three Aggies in the NWSL currently recovering from ACL tears. Watt's teammate Merritt Mathias and Alyssa Mautz of the Chicago Red Stars also suffered the injury.
Watt says she has received an outpouring of well-wishes from her former teammates and the Aggie network.
"I know with everything and the pandemic, it's hard to send gifts or do anything else like what we usually do when an athlete goes down with an ACL tear," Watt said. "Just the words of encouragement and the consistent support I get from my teammates and the A&M community, it's something that I just love and that's why I love that I went to A&M."
NOTES — Former A&M player Shea Groom of the Houston Dash is second at the Challenge Cup in goals with two and third in assists with one through two games of the season-opening tournament. ... Guerrieri says A&M is continuing to prepare for the season to start on time, despite COVID-19 numbers on the rise in Texas. The Aggies have 25 days until preseason training can begin followed by an exhibition match against Stephen F. Austin on Aug. 7 at Ellis Field and the season-opener at Ohio State on Aug. 20.