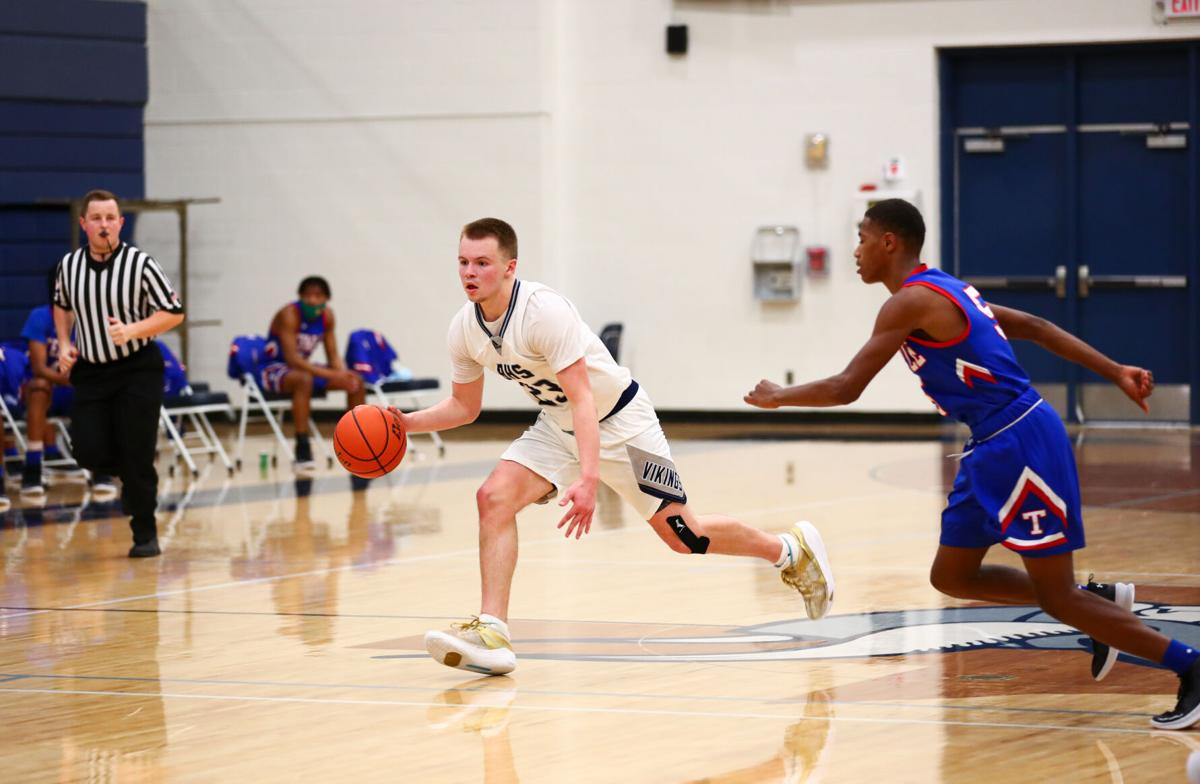 A crossover dribble left just an extra few inches of space for Bryan junior Dylan Glover to release a quick shot as he made sure to keep his toes behind the arc.
The whip of the net, followed by "Oohs" and "Ahhs" from the crowd, made up much of the soundtrack of the Vikings' 76-55 dismantling of Temple on Tuesday in District 12-6A boys basketball play at Viking Gym.
Glover drilled 8 of 12 shots from behind the arc to post a career-high 32 points.
"Coming into every game I always tell myself that it's going to be one of those days," Glover said. "I let the game come to me, but my mindset is always to go out there and light it up."
Prior to Tuesday's game, Viking head coach Jonathan Hines challenged Glover to put up extra shots on his own after he struggled in Bryan's last two games. After that conversation, Glover averaged taking between 600 and 1,000 shots per day, including 500 at lunchtime Monday.
Prior to the short slump, Glover kicked off the season shooting 40% from 3-point range, according to Hines.
"I just wanted to see where his head was at and make sure he wasn't getting burned out, because basketball is a long season, especially with all this COVID stuff," Hines said. "It can wear on you. I challenged him to get in the gym and get shots up, and he worked on it the past few days, and it paid off."
Temple (6-8, 0-3) began the game in a zone defense, which gave Glover plenty of space to shoot. After missing his first few attempts, he found his rhythm in the second quarter, hitting four consecutive 3-pointers while scoring 14 points in the period.
"I felt one go in — I missed a couple in the first quarter and I'm kind of getting better mentally of letting that stuff go — and I saw one go in and they just kept falling," Glover said.
After taking a 37-23 lead into the half, Bryan's scoring barrage was stymied by a change in defense. Temple began the third in a man-to-man press and ditched the zone defense. All of Bryan's outside shooting dried up in a quarter that saw the Wildcats produce an equal 14 points to the Vikings (11-2, 2-1).
"When they went man, it forced [Glover] to a little more driving and attacking off of screens, which he did a great job and found some guys," Hines said.
However, a few transition passes and one ankle-breaking crossover put Glover back in his rhythm in the fourth quarter as he hit another quartet of long-range buckets to close out the game with a career-high in 3-pointers.
Bryan's Rodney Johnson Jr. also had 17 points, 16 rebounds, four blocks and three steals. Taylan Johnson had 13 points and seven rebounds.
Sophomore guard Jaylon Hall paced the Wildcats with 22 points, followed by Aundra Jackson with 16.
With the game fully in hand in the fourth quarter, Hines was able to empty his bench, rewarding his starters with some needed rest and his reserves with deserved playing time in the middle of the district grind.
"I was happy to see almost everyone in the scorebook tonight," Hines said. "It was good to see, because it's tough when you go through practice and you don't get a lot of minutes in the game. I was proud of everyone tonight."
TEMPLE (6-8, 0-3) — Jaylon Hall 22, Aundra Jackson 16, Treyvion Wells 5, Quinton Anderson 5, Jaydon Hall 3, Lawrence Auston 2, Amaree Sewell 2.
BRYAN (11-2, 2-1) — Dylan Glover 32, Rodney Johnson 17, Taylan Johnson 13, Sam Esan 7, Nick Caraway 4, Chris Maxey 2, Aleks Kalaouze 1.