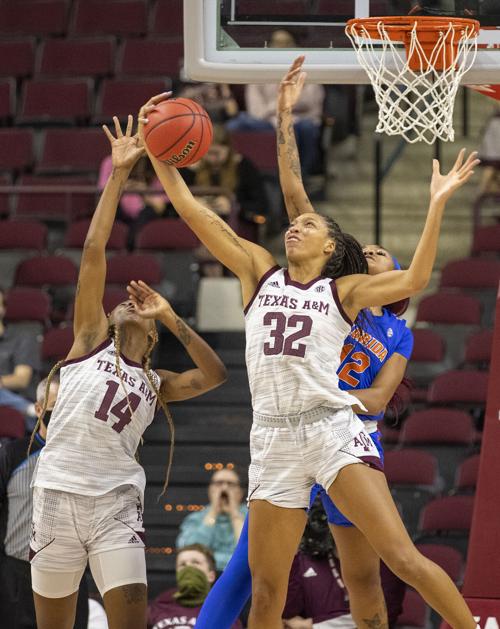 A year ago, everything fell in place for the Texas A&M women's basketball team as it won the Southeastern Conference regular-season title. Now the Aggies are struggling through their worst league start in two decades.
"The schedule has not been in our favor, and COVID has not been in our favor," A&M head coach Gary Blair said. "We keep missing key players and key support staff, but that's going on all over the country."
The Aggies (10-5, 0-3) have lost their first three conference games for the first time since 2004 when it started Big 12 Conference play with eight straight losses. This year, A&M opened SEC play with losses at 19th-ranked LSU 75-66 and seventh-ranked Tennessee 73-45 before falling at home on Sunday to Florida 97-89 in double overtime. The Gators were 95th in the NCAA's NET rankings, the lowest of the 14 SEC teams.
"Yes, that Florida game hurts, but we've got to throw it out the window, and we can only worry about South Carolina, and you cannot worry about Auburn," Blair said.
The Aggies will play at top-ranked South Carolina (15-1, 3-1) at 6 p.m. Thursday. After playing the Gamecocks, who are 8-0 against Top 25 teams, the Aggies are scheduled to play five straight unranked teams starting with Auburn on Sunday at Reed Arena.
"The schedule's going to turn our way, but even if the schedule turns, we've got to turn in the right direction as a basketball team," Blair said.
A&M built a 19-point lead against Florida but couldn't finish as the Gators hit 13 of 30 3-pointers. A&M had not allowed more than nine 3-pointers in any game this season.
"Our kids are hurting from that Florida loss," Blair said.
Blair expects no sympathy from South Carolina, which finished a game behind the Aggies in last season's final regular-season standings.
The Gamecocks are led by 6-foot-5 junior All-American Aliyah Boston, who is averaging 17.1 points and 11.1 rebounds per game. She is supported by 6-7 sophomore Kamilla Cardoso (6.5 ppg, 5.6 rpg) and 6-2 Victaria Saxton (5.6 ppg, 4.8 rpg).
They help the Gamecocks lead the NCAA in rebounding margin at plus 16.9. Blair said his post players need to have positive plays early Thursday to gain confidence.
Perimeter-oriented A&M averages 41.1% on 3-pointers to rank third in the nation, but the Aggies made only 4 of 11 against the Gators, the second straight game they made just four.
"We've got to run them off [the 3-point line]," South Carolina coach Dawn Staley said. "We want to limit the amount of attempts from outside the arc. Their driving to me is the most deadliest thing. They get downhill from all positions fairly quickly."
Against Florida, A&M was missing graduate guard Destiny Pitts, who leads the team in 3-pointers with 32.
NOTES — A&M's three-game losing streak is its first since dropping the last three games of the 2019-20 season with the NCAA tournament then canceled by COVID-19. ... A&M's 0-8 start in the Big 12 in 2004 was Blair's first season coaching the Aggies.