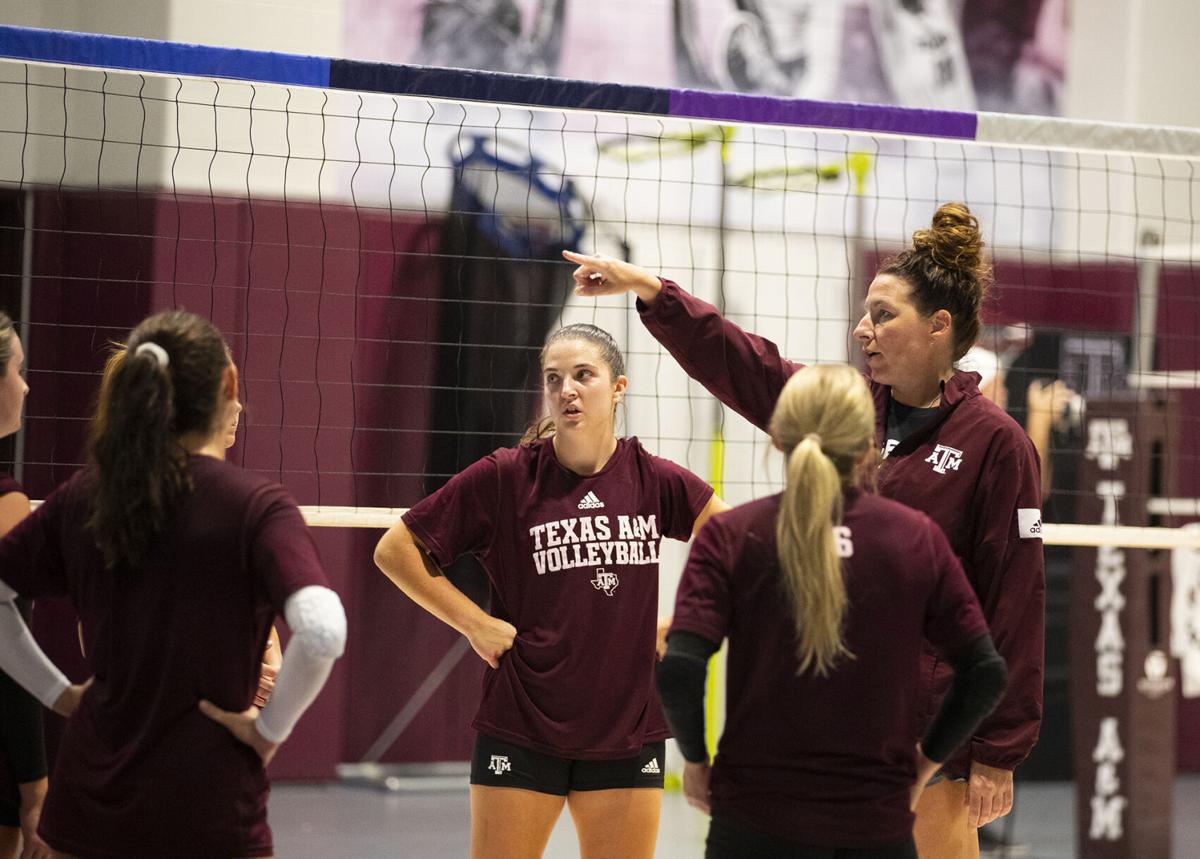 The United States winning its first gold medal in volleyball at the Tokyo Olympics on Sunday impacted Texas A&M's first fall practice 6,571 miles away.
"We were all really pumped up from that," A&M senior middle blocker Mallory Talbert said after Monday's practice. "There's just something so special about representing something that's bigger then yourself and I think we all felt that coming in on report day yesterday and we're going to carry that with us."
A&M is ready to move forward after a trying 9-9 season. The Aggies were seventh in the Southeastern Conference, which played only league matches because of COVID-19. A&M opened the 2020 season with a four-game winning streak but then lost four straight to end the fall portion at 4-4. A&M also broke even in the spring season and was 177th in the NCAA's final RPI rankings of the regular season. A&M also lost four games to COVID-19.
"I think COVID brought a lot of challenges and hurdles for our team," A&M senior setter Camille Conner said. "There was a lot of outside stuff going on. I think with this year, we're going to be able to focus more on our team."
Monday's practice was the first step, one that felt big to all involved.
"It just feels different this year, just going from a COVID season to full force," Conner said. "I'm just excited to get to hang out with the team and road trips, to be in the same room, we don't have to be super apart from each other."
Fourth-year head coach Bird Kuhn liked this team before it stepped on the court.
"This group and their energy, we kind of felt it in our camp season in the summer and even post camp," Kuhn said.
Talbert said the team has been together all summer.
"I think that just shows the dedication of our team, because we had every single person here the entire summer and we're not here mandatorily," Talbert said.
A&M has to replace 6-foot-4 middle blocker/outside hitter Morgan Davis who had a team-high 170 kills in 70 sets, but it returns a core of key players led by Conner, who is back for a second senior season, senior middle blocker London Austin-Roark and Talbert. Juniors Lauren Davis, Morgan Christon and Treyaunna Rush provide experience at outside hitter. A&M also adds four true freshmen along with two transfers and players coming off redshirt seasons.
"You add new pieces," Kuhn said. "It's great to see them all meshing, getting to spend a whole, real summer together, that's cool."
Ball control, individual touches and team chemistry will be A&M's vocal points working toward its scrimmage against Baylor on Aug. 20, Kuhn said.
A&M's newcomers include 6-1 junior outside hitter Destiny Cox, a transfer from North Carolina where she had 519 kills in 59 matches.
"I think we're going to be more physical than last year," Conner said. "I'm really excited to see what Destiny can do."
A&M also added University of Denver graduate transfer Macy Carrabine who had 1,149 digs in 325 sets (3.54 avg.). Incoming freshmen with size are 6-2 setter Nisa Buzlutep from Istanbul, Turkey; 6-0 setter Lauren Tam from California; and 5-10 outside hitter Faye Wilbricht from San Antonio.
"I feel confident that this team can be better than last year purely because of the training that we've gotten," Talbert said. "In a weird way, we've had a new team every single season. Even with our new team last season, we didn't get the spring to train and get to mesh together. We didn't get the summer to mesh together."
One positive from A&M's last season was that the team became grateful for all the little things denied by COVID-19, Kuhn said. The Aggies are hopeful their team chemistry leads to bigger things, following the lead of the U.S. volleyball team.
"The energy was unreal, just because of that vibe," Kuhn said. "So, I just think the platform for the season is awesome, coming off the Olympics and all that competition."