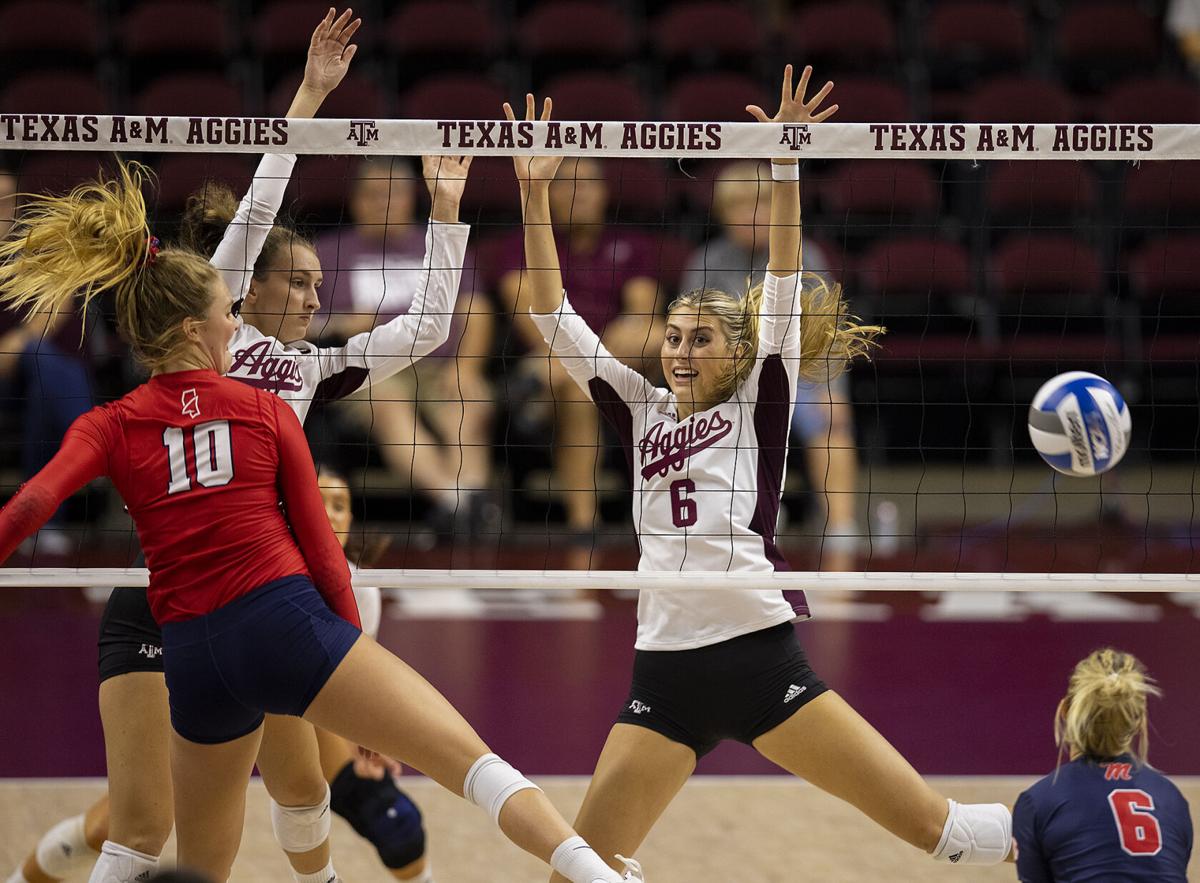 As back-row passing went for the Texas A&M volleyball team, so did the match in a narrow 25-18, 29-27, 16-25, 24-26, 15-11 loss to Ole Miss in Southeastern Conference play Wednesday at Reed Arena.
The Aggies hit .131 clip for the match, but most of their errors came from inaccurate first passes from the back row that forced the Aggies (11-6, 4-3) out of system. Ole Miss (13-4, 2-4) also landed seven aces.
Executing a game plan is even more difficult when you can't get out of your own way, A&M head coach Bird Kuhn said.
"We've talked about how we need to be consistent in controlling our side and the errors," Kuhn said. "It's one thing to execute a game plan against defending an opponent, but you still have to play clean on your side."
Junior outside hitter Ciera Hecht provided a spark for A&M, leading the Aggies in digs with 21 and slamming down a team-high 15 kills. As the match wore on, Ole Miss' strong block clogged up the middle of the court, denying the Aggies the chance to work quick sets from Camille Conner to their middle blockers. Hecht found some consistency on the outside, forcing Ole Miss to spread the block wider across the net.
"I think Camille does a great job playing the game when she starts attacking, and we get our middles going, and she sees the block," Kuhn said. "The pins know they need to do their job when she gets them one-on-one, and I think [Hecht] lived there in the holes when she saw them. That's consistency."
With 44 assists Wednesday, Conner became the Aggies' all-time career assists leader in the 25-point rally era, surpassing Allie Sawatzky's 4,547 set from 2010-13. Conner is now at 4,591, and she said she knew the milestone was close thanks to her father.
"It's awesome," Conner said. "I think it's just a reflection of our team and what we've done throughout Bird and what she's done here. I think that's really cool to see myself grow from [former A&M head coach Laurie Corbelli] to now. It's just an awesome feeling."
The Aggies jumped to 4-1 leads in both of the first two sets but couldn't hold the early momentum in either. Four of the Rebel's seven aces came in the first set. The second set turned into a marathon with both teams struggling offensively. Ole Miss hit just .035 with 11 attack errors in the frame, but A&M was worse at minus .018 with 12 errors. Anna Bair shut the door on the second set with two kills and put A&M's backs to the wall.
Bair finished with a match-high 22 kills and had three blocks. In total, the Rebels had 13 team blocks to the Aggies eight.
Kuhn replaced graduate transfer libero Macy Carrabine with junior Sabrina Sustala before the third set and the back-row inconsistencies leveled out, she said. As a team, A&M hit .448 in the third set and .195 in the fourth set, while not allowing an ace in either frame.
Hecht recorded five kills in the third set followed by eight in the fourth as she and Conner formed a stronger connection.
"Sometimes when we do have those crazy moments, I have to have that confidence in myself too," Hecht said. "I have to step up sometimes being a veteran and a leader on this team to be that calming force."
The Aggies battled from an 8-5 deficit in the fifth set to tie it at 10, but the Rebels closed the set on a 5-2 run.
Inconsistency has been the theme for A&M so far in SEC play, and Kuhn said the Aggies need to find a cleaner rhythm of play as they progress into the later stages of the season.
"We've got to earn in," Kuhn said. "We're back to old-school. You've got to earn your spot. You've got to compete every day, and when you go out, no matter who we play, it's that competitive chemistry. We need to find it."
NOTES — A&M transfer outside hitter Destiny Cox will miss the rest of the season with a knee injury. Cox averaged 2.38 kills per set and hit .137 in 26 sets played this season.