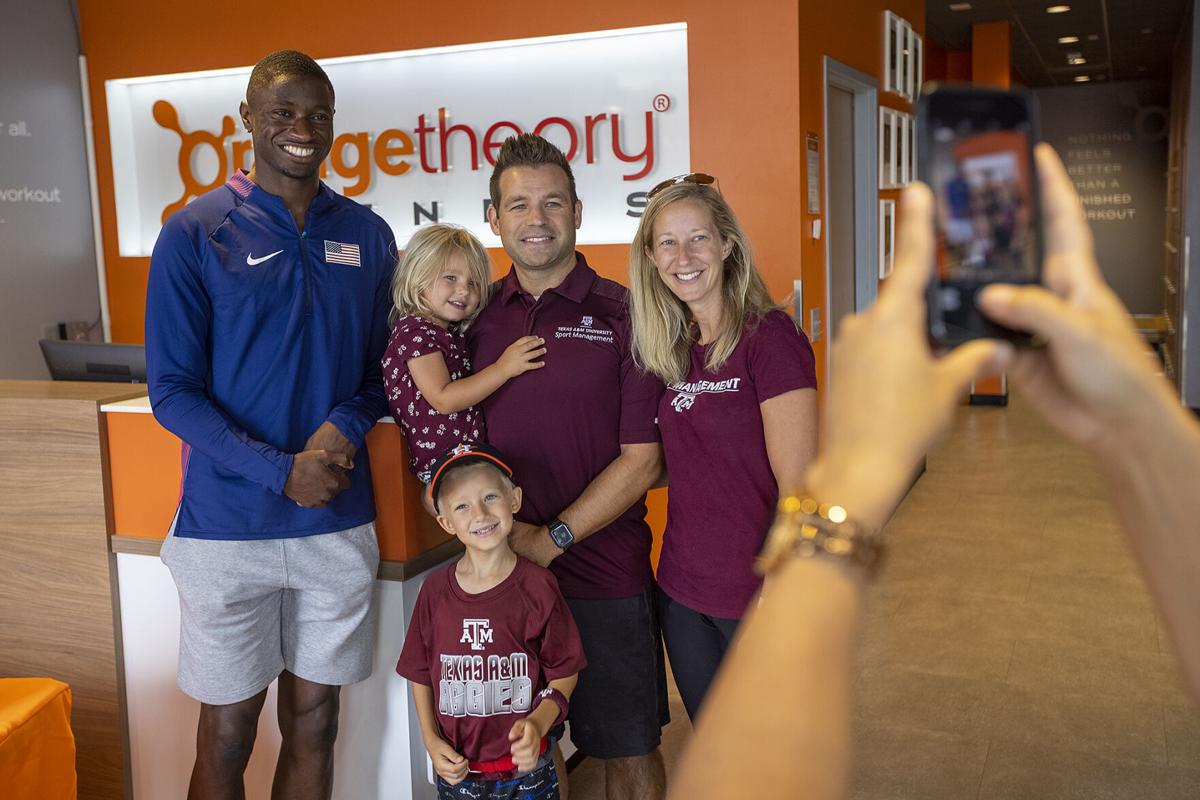 Sporting a brand new Nike Team USA pullover, former Texas A&M track standout Bryce Deadmon paused when asked about the opportunity to meet his fans, a question that made him grin.
"I don't know. I've never really even thought about it like that. I don't really think of having fans. I don't think I'm that popular yet," Deadmon said with a laugh.
Ironically, OrangeTheory Fitness in Century Square held a special event Friday for fans to meet the Olympian before he hops a plane for Tokyo later this month to be a part of the 4x400 mixed relay.
However, the idea of representing the United States in the Olympic Games was one that had been on Deadmon's mind for years and on paper since New Year's Day.
Nikita Flowers, Deadmon's mother, had made a tradition of New Year's dinner with her children. As a part of that family gathering, she instituted an annual ritual that every family member documents their yearly goals and visualizes what it would be like to achieve those goals.
"I believe that once you write it down and you say it, then you focus on your vision," Flowers said, citing Bible verse Habakkuk 2:2. "Once you visualize something and write it down, I feel like it can come into fruition or it can be manifested."
Flowers couldn't have a family dinner at her home because of COVID-19 restrictions on Jan. 1, so she made her way to College Station. She came with poster board and magazines to help her son decorate his vision board. At the top of Deadmon's list was being Olympian, a statement he made with words and pictures taken from the magazines.
"It's always been a goal, but I remember at the beginning of 2021, when me and my mom kind of sat down and made a list of goals and aspirations we wanted to make and this was one of my goals and I started kind of realizing how possible it was, considering how fast I was running," he said. "I was like, 'Oh, wow, this can actually happen.'"
Deadmon made his final year at A&M special, posting a career best in the 400-meter with a time of 44.44 seconds. The effort ranks third all-time in the A&M record book. He also took the top time in A&M history in the indoor 300 meters at 32.73. Deadmon finished second in the Southeastern Conference outdoor 400-meter, running 44.50 and was a part of the second-place 4x400 squad, which ran 3:01.73. He was a first-team All-American in both events.
At the U.S. Olympic Trials, Deadmon ran a 44.96 in the 400, placing seventh in the final and was a part of a 4x400 team that ran a 3:01.64 at the trials.
He heads into the Olympics, which begin July 26, ranked No. 24 in the world in the 400.
That knowledge has steadied any nerves that could have arose on some of the big stages Deadmon has entered this year, he said.
"I'm just kind of repeating positive affirmations to myself all the time, like, 'I can do this. There's no reason why I can't do this. I'm ranked in the world right now, there's no reason why I should be scared of any type of competition that's lined up next to me. I can compete with anyone,'" he said.
However, the experience won't be exactly how he envisioned in his dreams. Due to a rapid spike in COVID-19 cases in Tokyo, and across Japan, all Olympic events will be held inside empty stadiums and arenas, the International Olympic Committee and Japanese organizers announced Thursday. According to ESPN reports, Tokyo had 896 new cases of COVID-19 on Thursday, which is a rise from 673 the week prior, a trend that has continued for 19 consecutive days.
"That's going to be terrible," Deadmon said. "I think the fans add a whole different type of atmosphere to the whole Olympics. Hearing people cheer and seeing cameras flash in the stands or seeing how many people are watching you compete, it definitely brings out a different type of performance out of athletes. So, the fact that there will be no fans there, it's almost kind of like this a practice meet."
Also, do to restrictions put on how long athletes can be in the Olympic bubble, Team USA track and field will not participate in the opening ceremonies.
"I was kind of bummed out about that, because I was actually really looking forward to that," Deadmon said.
After undergoing no less than four COVID-19 tests, athletes will quarantine for four or five days before competition. They must return to their home within 48 hours after their duration of competition comes to a close, Deadmon said.
The change in atmosphere won't take away from getting to participate in an event which will be in the Olympics for the first time—the mixed 400 relay. Two men and two women combine to run the four legs of the event. The event was first run at the World Championships in 2019.
"I kind of think of it as we're setting a precedent for the people who are coming after us in the mixed relay," Deadmon said, taking a moment to reflect on the historic nature of the moment. "That's really cool. I actually just thought about that [now]."
Deadmon could have the opportunity to run in more events, but won't know until he arrives in Tokyo, he said.
At the same point, half a year prior, when Deadmon put his goal of making the Olympics into life on this vision board, his mother echoed the same dream on hers. It is an achievement she has played an important role in since Bryce was 8 years old. For him to achieve at this level, this type of accomplishment, in track and field, is beyond what I ever imagined," she said.
His fans have taken notice. Those around town and even some from Chicago filed into OrangeTheory Thursday to meet their favorite Olympian. That helped make Deadmon's dream become more real.
"I didn't know you would be an Olympian," said one fan, who had been to several A&M indoor meets.
"Neither did I," he answered, modestly, with a beaming smile.