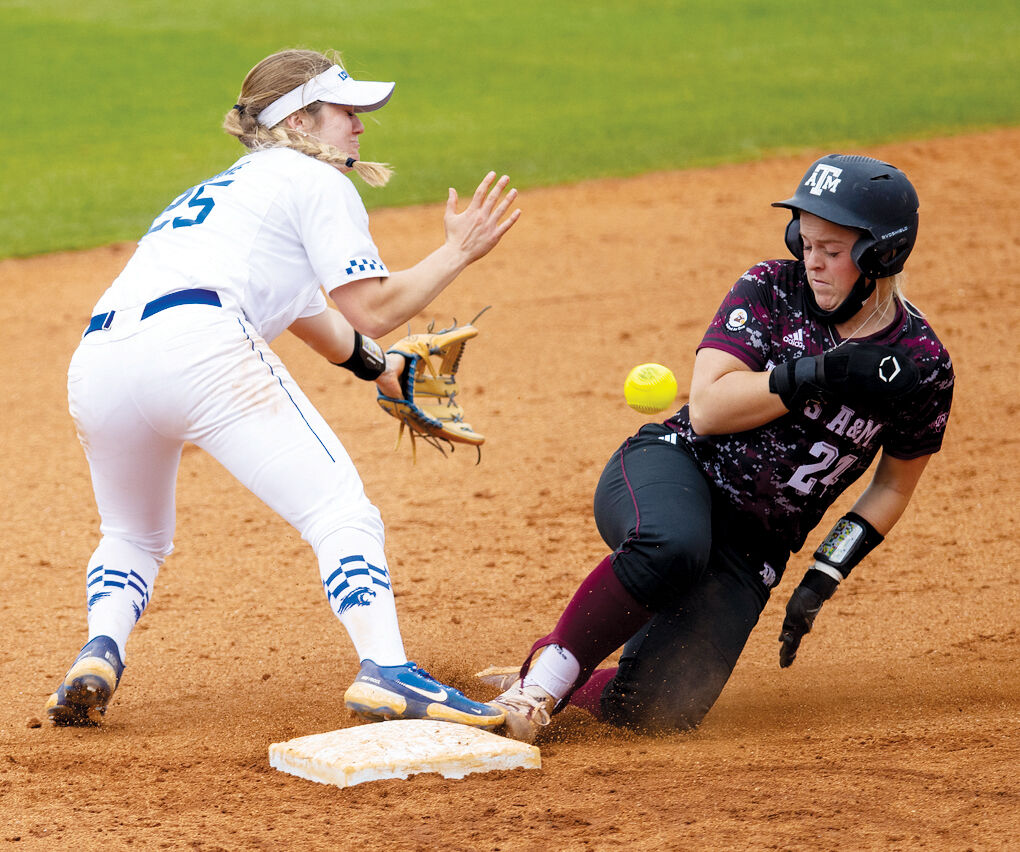 Haley Lee's game-tying home run in the bottom of the seventh inning was dramatic, but unfortunately for Texas A&M it was the extent of the Aggies' offense Saturday at Davis Diamond.
Kentucky came up with its own clutch hit to eke out a 2-1 victory in eight innings, clinching the Southeastern Conference softball series.
The 17th-ranked Wildcats bounced back from Lee's homer to regain the lead in the top of the eighth on doubles by Erin Coffel and Autumn Humes, who beat the Aggies in the batter's box and circle for the second time in 24 hours.
Humes struck out a career-high 11 and hit a solo home run in Friday's 5-1 victory. The fifth-year senior took the circle in relief Saturday after Lee's homer and struck out two more batters, stranding at second A&M's Makinzy Herzog, who had singled and stolen second base. Humes, who came into the series batting only .226 without an extra-base hit in 25 games, lined a 3-1 pitch into right-center field in the eighth to allow the Wildcats (34-12, 9-11) to win only their second SEC series.
A&M (31-16, 8-12) lost its third straight SEC home series because it couldn't get enough clutch hitting. The Aggies were poised for a big first inning when Bre Warren lined a single to left field to load the bases. But Kentucky retired the next two batters, and that trend continued as A&M went 0 for 10 with runners in scoring position after Warren's single.
"We certainly had our opportunities, especially early on," A&M coach Jo Evans said. "We strand 10 runners. We talk about how important it is to get off to a quick start. We had our chances early and couldn't make it happen."
That also was the case Friday night as the first two batters reached, but A&M didn't score.
"It's such a game of timely hitting," Evans said. "You look at what Kentucky did today. They hung on long enough to put a couple of hits together."
Kentucky scored first in the pitchers' duel, taking advantage of first baseman Lee dropping a two-out throw in the top of the seventh. Tatum Spangler followed with an RBI triple.
Lee atoned for the error by hitting the first pitch she saw in the bottom of the inning well over the center-field fence for her 22nd homer of the season.
"That's what great players do," Evans said. "I know what [the error] had to feel like to her, and for her to go up and have some control over the outcome, to go up and hit that ball. Who does that? Only great players do that."
A&M had three errors, but the Aggies also made some great defensive plays. Center fielder Kelbi Fortenberry made a diving catch of a sinking liner to end the seventh, preventing Kentucky from taking a 2-0 lead. Catcher Kelly Martinez twice threw out Lauren Johnson trying to steal — Johnson had been 10 for 10 in stolen bases. Martinez also threw out two left-handed hitters who tried to bunt for singles.
"I thought Kelly Martinez was absolutely terrific behind the plate," Evans said.
A&M senior pitcher Kayla Poynter (9-6) was the hard-luck loser. Chased last week at Mississippi State after four innings, Poynter allowed only one earned run in 7 1/3 innings. She scattered six hits, three walks and two hit batters and struck out three.
"She came out today with just a terrific performance by her," Evans said. "I thought it was really gutty. She threw seven innings of no earned runs against one of the best offensive lineups in the country."
A&M, which slipped into ninth place, has struggled mightily to score at home in SEC play since sweeping South Carolina the last weekend of March. The Aggies are 2-6 in their last eight SEC home games, scoring only one run in five games.
Kentucky senior right-hander Grace Baalman was the latest to stifle A&M. She scattered eight hits in 6 1/3 innings. Humes (17-6) allowed only one hit in 1 2/3 innings. They combined for only four strikeouts but walked only one.
NOTES — The final game of the series will start at noon Sunday. A&M will honor its seniors after the game, including third baseman Dani Elder, infielder Gabby Moreno, second baseman Ashlynn Walls and Poynter. A&M honored its "super seniors" earlier this season. ... It was A&M's first extra-inning game of the season. A&M's last extra-inning game was a 5-4 loss in eight innings to Texas-Arlington at Davis Diamond on Feb. 8, 2020. ... Lee is two behind the school's single-season record of 24 homers set by Meagan May in 2010. Lee is tied with Oklahoma's Tiare Jennings for the third-most homers in the country behind Oklahoma's Jocelyn Alo (25) and Arkansas' Braxton Burnside (24). ... Humes, who threw 138 pitches Friday, improved to 5-1 against A&M.