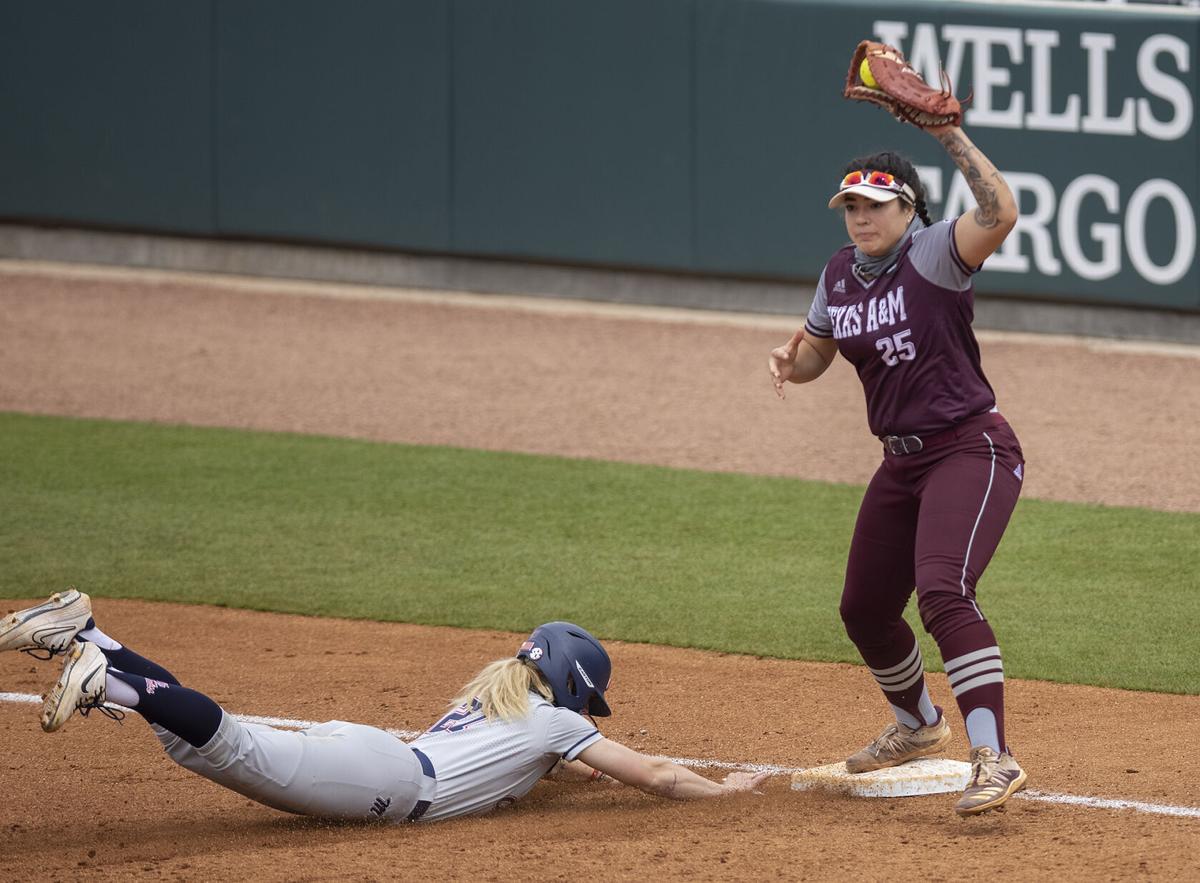 Two weeks ago, the Texas A&M softball team was losing slugfests. Now the Aggies can't buy a clutch hit.
Ole Miss' Ava Tillmann pitched six strong innings to lead the Rebels to a 3-1 Southeastern Conference victory at Davis Diamond on Saturday afternoon. The right-hander scattered five hits, striking out six and walking three in winning her fifth straight. Tillmann (6-1) almost duplicated the effort by fellow senior Anna Borgen, who pitched six innings in Friday's 2-1 victory.
Ole Miss (28-14, 10-7), picked by the SEC coaches to finish last in the league, won its fourth conference series of the season and won a series against the Aggies for the first time. The Rebels have won seven of their last eight.
A&M (27-13, 5-9) is going the other way. The Aggies lost their third straight series and have dropped eight of their last 10 games. Early in the skid the Aggies scored six runs in three straight games, losing each because of pitching and defense. In their last four losses, the Aggies have managed to score only five runs.
"At the end of the day, we've got to score some runs," A&M coach Jo Evans said on the radio postgame show.
A&M had chances Saturday but mostly with two outs. The Aggies produced five of their six hits with two outs, but none produced runs.
The other hit was a leadoff double by sophomore Shaylee Ackerman in the second inning. She moved to third on a groundout and scored on another grounder that Ole Miss first baseman Sydney Gutierrez booted, seemingly in a rush to possibly throw home.
A&M wasn't able to put that kind of pressure on Ole Miss' infield again. The Aggies had two batters reach in the third, fourth, sixth and seventh innings, but each time everything happened with two outs.
"It's really tough when you're in those two-out situations," Evans said. "Then you're looking at how many hits you have to put together to make something happen."
A 15-mph north wind blowing in didn't help, putting a premium on a small-ball approach.
"You can't really do much [with two outs]," Evans said. "You can't get runners going. There's not a lot you can do in that situation. You can't manufacture runs. You look at [Ole Miss] ... they were able to manufacture some runs. They did a good job with that."
Ole Miss never went down in order, putting constant pressure on A&M starting pitcher senior Kayla Poynter and her defense, which was strong early. The Rebels stranded two runners in the second inning and two more in the third. Ole Miss had runners on the corners in the fourth, but Tate Whitley popped up and A&M turned it into a double play because the runner from first was running with the pitch.
Ole Miss' Paige Smith doubled to start the fifth, the third straight inning the Rebels' leadoff hitter reached. She took third on a sacrifice bunt and scored on Jessica Puk's sacrifice fly to tie the game. With two outs, Ole Miss loaded the bases on two walks and a single. Gabby Alvarez lined a shot down the left-field line that was foul by inches or it would have scored at least two, but she eventually popped up.
The Rebels took the lead in the sixth. Whitley walked with one out and scored on Smith's second double. Smith went to third on a wild pitch. A&M senior third baseman Dani Elder booted a grounder by Autumn Gillespie, leaving runners on the corners. Puk followed with another sacrifice fly.
Ole Miss won despite going 0 for 7 with runners in scoring position, while A&M went 0 for 6.
"I could tell our kids [were] getting a little frustrated," Evans said. "We did strike the ball well at times."
Freshman Rylen Wiggins hit a trio of line drives but all three were caught, including one by shortstop Mikayla Allee over her head to end the fourth. A hit would have scored at least one of the two runners on base. Wiggins' other outs led off innings in which two more batters reached each frame.
"I'm just really pleased with how she's handling her at-bats," Evans said. "She doesn't have anything on the [box score] line to show for it. But I'm hoping she has enough maturity to understand what she's doing at the plate and those will fall at some point.
"I always feel the game will pay you back. You just keep respecting it. You keep playing hard. You keep respecting your opponent, and the game is eventually going to pay you back. Rylen is one of those kids who is due to get a payback."
Other than Ackerman's double, the only leadoff hitter to reach for A&M was freshman Bre Warren who walked in the fifth. Junior Haley Lee smashed a one-hop liner that Allee snared to her left, making for an easy double play as she tagged second and threw to first.
Poynter (8-4) allowed eight hits, striking out one and walking four, while stranding 11 runners.
"She gives up two earned runs on the day and gives us a chance to win," Evans said. "I know I sound like a broken record, but that's what I am asking. I'm asking for our pitchers to go out and give us a chance to win a game."
Evans said her message afterward to the players was to keep fighting.
"Keep playing it. Keep playing it the way it's supposed to be played," Evans said. "Don't panic. Create some opportunities for ourselves. It's going to take that one hit to get ourselves on the right track."
NOTES — Ole Miss had won only twice in 17 games against A&M heading into the series. ... Ole Miss' senior right-hander Savannah Diederich pitched a scoreless seventh for the second straight day. ... Allee was hit by pitches twice, giving her 18 for the season. ... Smith had three of Ole Miss' hits and Alvarez added two. ... A&M is hitting .216 (22 of 102) with three extra-base hits in its last four losses.