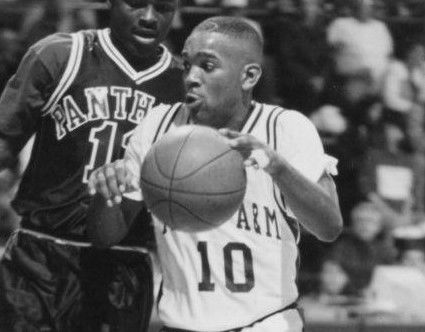 Former standout Texas A&M men's basketball guard David Edwards has died.
Edwards, who played with the Aggies from 1991-94, had been in intensive care with coronavirus, according to former teammates, via social media.
"Never in a million years would I have even imagined my backcourt teammate would go before his time," said former teammate and four-year letterman Charles Henderson (1991-94) on Facebook. "I just got the news that Dave Edwards passed away. For those that have been praying for him, he is now in a better place.
"This coronavirus has hit me in the heart. We need to find a vaccine. Dave was one of the fiercest competitors and best point guards that I've ever met. Nearly unstoppable. [I] learned how to become tough as nails competing against him everyday and shaking off adversity. Will also remember the 4 years we were together after you transferred from Georgetown to Texas A&M. RIP Dave Boogie!!!! #NYNY #JamaicaQueens #RuckerPark"
The death of Edwards in his hometown of New York was first reported by The Dallas Morning News, which received confirmation from an A&M official.
Edwards played at Georgetown for a season before transferring to A&M to play for Tony Barone. Edwards earned second-team, All-Southwest Conference honors his first two seasons and was a first-teamer his last season. He made the league's all-defensive team all three seasons. Edwards in 85 games with the Aggies averaged 13.5 points, 7.1 assists and 4.9 rebounds.
The 1993-94 team was 19-11, including 10-4 in the Southwest Conference to tie Texas Tech for second behind Texas (26-8, 12-2). The Aggies, after losing to Texas in the finals of the SWC tournament, played in the National Invitation Tournament, losing in the first round at New Orleans 79-73 in overtime.  The 5-foot-9 Edwards averaged 13.5 ppg that season to rank second on the team behind Joe Wilbert (14.5 ppg).  Edwards had helped Barone seemingly turn the corner in his third season, but that was Barone's only winning season in seven.
Edwards in the 1993-1994 season led the SWC with 265 assists (8.8 avg.), which is still a school record. Edwards in the 1992-93 season had 177 assists, which is seventh in school history.
Edwards had 15 assists against TCU on Jan. 25, 1994, which tied the school record set by Tony Milton against Marshall on Dec. 7, 1989. That record was matched by Kyle Kessel against TCU on Feb. 26, 1996, and Acie Law IV against Texas on Feb. 5, 2007. Edwards twice had 14 assists which is tied for fifth most in a game in school history. He did it against TCU on Feb. 20, 1993, and against SMU on March 10, 1994.
Edwards had nine steals against Prairie View A&M on Nov. 25, 1991, to tie the school record set by Darryl McDonald against Lehigh on Dec. 29, 1986. That's still a school record.
Concerned about COVID-19?
Sign up now to get the most recent coronavirus headlines and other important local and national news sent to your email inbox daily.