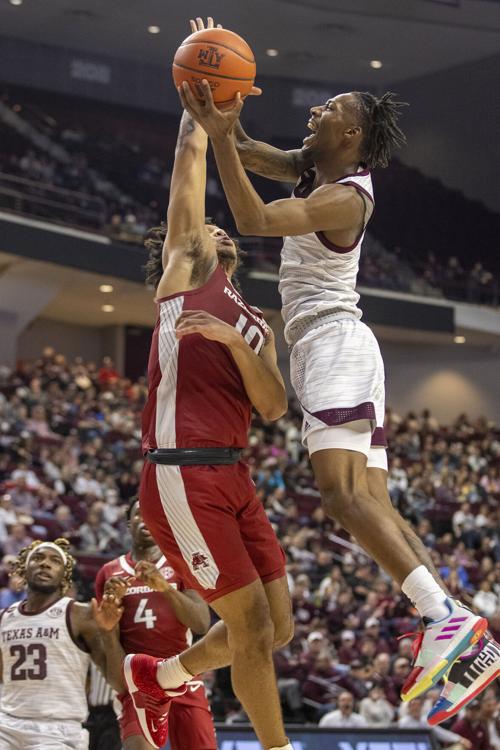 Sophomore guard Hassan Diarra sank two clutch free throws with 14 seconds remaining to help ice Texas A&M's 86-81 win over Arkansas on Saturday in Southeastern Conference men's basketball play. He later got a hug from A&M head coach Buzz Williams, who told him that he loved him.
It was a little extra thank you for making the most of just four minutes of playing time after working so hard from the Aggie bench.
"[Diarra] is coaching as if he's an assistant coach the entire second half," Williams said. "He's telling our guys, yo, we've got to make free throws. And then he comes in and goes 2 for 2, and that seals the game. Do we have a No. 1 [player] on our team? I don't know. Do we have a No. 1 that can have an impact in a game? Maybe. But I think it's the depth and knowing that you may play and may not play ... I don't know what the game is going to present, but are you ready? I think that matters."
The Aggies (13-2, 2-0) entered Saturday's contest ranked last in the SEC and 324th in the nation in free-throw shooting at 64.9%. They fared even worse Saturday before their final four shots from the charity stripe, hitting just 12 of 26 for 46%.
Of the five players on the court in the last 14 seconds, Diarra had the lowest free-throw percentage at 55.6%. But he hit both of his free throws, bouncing the second off the back iron and watching nervously as the ball floated towards the top of the backboard before falling through the net. Sophomore guard Marcus Williams followed by hitting two free throws with four seconds left, extending the Aggie lead to five.
An overall 53% performance from the line wasn't good enough for A&M's players, though they managed to hold on to the victory.
"We need to hit free throws," senior guard Quenton Jackson said. "If we hit free throws, this game ain't even this close to be honest."
While A&M was able to hit the four that mattered, their free-throw struggles were part of losing most of a 17-point lead late in the second half. The Razorbacks (10-5, 0-3) mounted a 10-0 run in the final four minutes of the game to pull within 79-78. During that stretch, the Aggies committed three turnovers and missed two field goals.
Jackson then hit the shot of the game, draining his only 3-pointer for an 82-78 lead with 34 seconds left.
"It was a bad shot," Buzz Williams said with a smile. "I think it speaks to his moxie. I think it speaks to his confidence. I think it speaks to how much he cares. Like most coaches would say, no, no, no, and then it goes in and you say, yes, yes, yes."
Jackson finished with a team-high 16 points. Henry Coleman III had 14 for A&M, while Andre Gordon had 13, Tyrece Radford 12 and Wade Taylor IV 11. Coleman also pulled down a team-high nine rebounds.
Razorback leading sorer JD Notae carried the Arkansas offense with 31 points, hitting 5 of 8 from 3-point range. Four of his 3-pointers came over the last 10 minutes.
For the second straight SEC game, A&M gave up all or most of a double-digit lead and was forced to win in the final minute. The Aggies knocked off Georgia 81-79 on Marcus Williams' game-winning 3-pointer Tuesday.
"I think it's good that we can get a 17-point lead, but it's also concerning that we lose a 17-point lead," Gordon said. "I think it's a good thing that we're up 17 points. That means we're a really good team. We play well together. I think we should be able to put two halves together."
NOTES — Fans stretched all the way to the back rows of Reed Arena as part of an announced 7,967 in attendance Saturday. Jackson said he could sense the crowd would be a factor during warmups. "Did you hear them?" he said. "That was lit. I knew they were going to be behind us. When we were in warmups, I saw people walking up in the nosebleeds. Nobody ever sits in the nosebleeds. I knew this was going to be a good one."... After a slow start to his Aggie career, post Javonte Brown had a productive 11 minutes that included three points and three rebounds. "I think JB's attitude over the last two weeks has been phenomenal," Buzz Williams said.