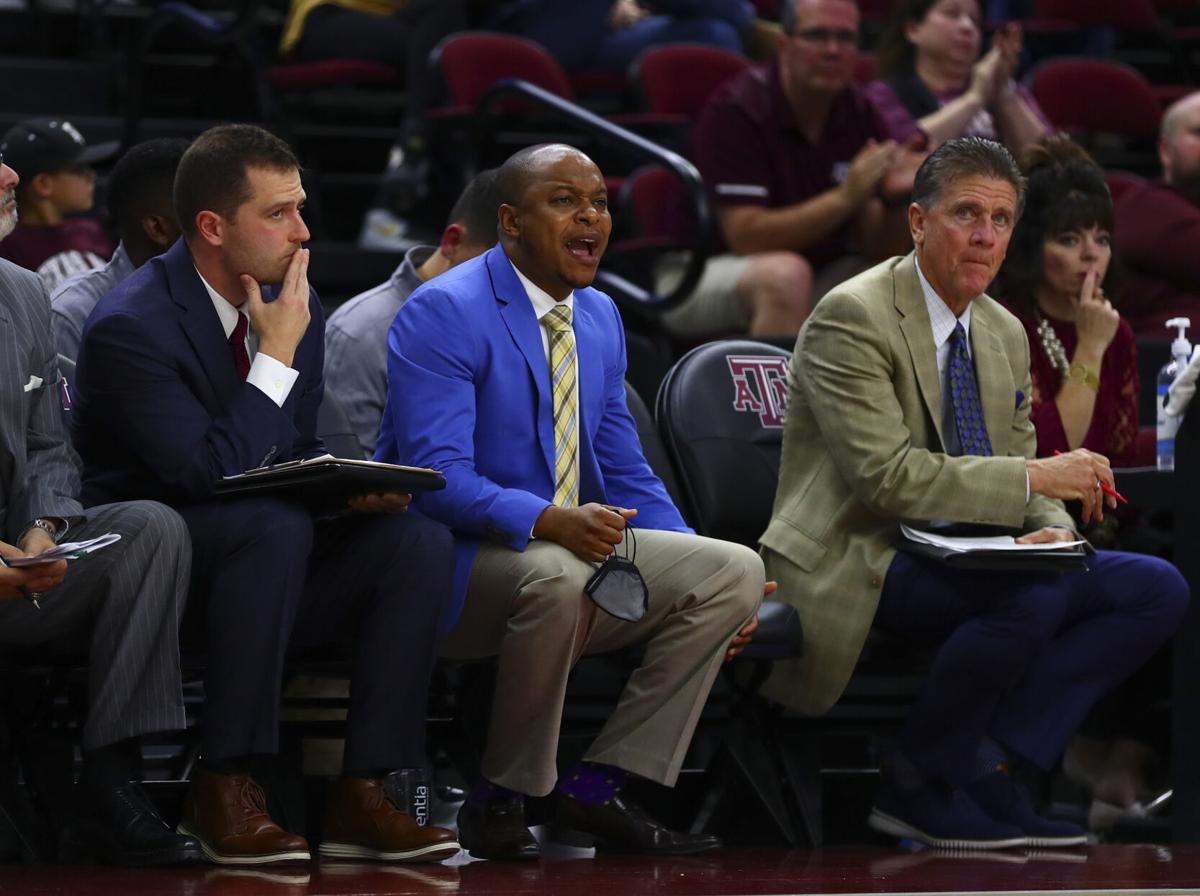 With his boss serving a two-game suspension, Texas A&M assistant coach Devin Johnson will get his first opportunity to serve as a Division I head coach at 7 p.m. Wednesday when the Aggie men's basketball team opens the regular season against North Florida at Reed Arena.
"At the end of the day, it's on me," A&M head coach Buzz Williams said of his NCAA-mandated suspension. "Obviously, this all began during the lockdown. I don't think any of it was overly intentional. We were actually — not me — we were just trying to help find some safety for our guys."
The NCAA levied the two-game suspension against Williams and two years of probation for the program in August over rules violations that included impermissible contact with recruits and holding supervised workouts during the COVID-19 shutdown.
Johnson also will coach the Aggies on Friday against Abilene Christian while his boss for 11 seasons is not allowed to enter Reed Arena or communicate with anyone in the program for the day.
"I can tell you that in my soul I'm struggling with it in a way that I can't articulate and say it publicly, " Williams said on his weekly radio show.
Johnson said he will try to be a mirror image of the Aggies' head coach during his two-game stint in charge.
"I never thought this opportunity would come, but being around [Williams] and learning from him for the last 11 years, I feel as prepared as possible to run a Coach Buzz team from being around him for so long," Johnson said. "I just hope I do a great job, man, but it's very, very exciting for me to have this opportunity."
Johnson followed Williams' unique path to coaching. After playing a season of junior college basketball, he ended his playing career and transferred to New Orleans in 2005, the same year Hurricane Katrina devastated the city. He was one of the first people Williams met when Williams arrived as the new head coach at UNO after leaving A&M as an assistant.
"Literally at the press conference, there were three people there not counting my wife," Williams said. "He was the fourth person that I met. The first three were the chancellor and the [athletics director] and the president at UNO."
Johnson said he wanted to serve in some kind of role with the team but didn't know Williams' background, which began as a team manager while an undergraduate at Navarro. The youngster quickly learned the amount of responsibility the former manager puts on his undergraduate assistants.
"He told me, I was you," Johnson said. "I'm looking at myself. I was you. So when you tell me that you want to help, that means you're going to have to do everything. And at that point when he told me I was going to have to do everything, I didn't know what that meant until I was in the midst of doing literally everything."
Johnson helped UNO scout opponents and develop game plans. After graduation, he took a job with the New Orleans Hornets, whom he had interned with previously, and worked with game presentation, group coordination and season management for five years.
Williams then came calling, and Johnson joined Williams' coaching staff at Marquette, building community initiatives and summer camps while working as the program's video coordinator for two seasons. Johnson then followed Williams to Virginia Tech, where he spent four seasons as the program's director of player personnel. He made the move to assistant coach before the 2018-19 season and helped the Hokies reach the Sweet 16 that year. Johnson again followed Williams after that season, this time moving to A&M.
Years earlier in his initial pitch to join Williams' program at UNO, Johnson said he already was friends with most of the team's players. Those relationships were an asset to Williams, whom Johnson describes as a players' coach.
"It's the same exact story as his," Johnson said. "He built relationships to get where he was, and then once he got to where he was and got those opportunities, he met the standard of the opportunity, and that's kind of how I've been going about it myself."
A&M freshman guard Manny Obaseki called Johnson "his guy" because of their one-on-one talks about basketball and life. The team is more than excited to put two wins on the first-time coach's resume.
"He's a great guy," A&M guard Andre Gordon said. "He knows exactly what he's doing. He's a father figure for us. We have someone we need to talk to about something on a personal level, we can reach out to him. I'm excited for him. He's going to do a great job."
Williams broke the news to Johnson casually during a staff meeting three weeks ago, mentioning he would need to meet a few extra times with his assistant that week, because the 38-year-old would be leading the team during his two-game hiatus. For Williams, picking Johnson to lead in his stead was a no-brainer.
"I absolutely adore him," Williams said. "This is a great opportunity for him. He will handle it well. We have done things leading up to now for him to have even more reps. He's more than prepared."
Over the last three weeks, which included a private scrimmage with Baylor, Johnson has run one of A&M's practice teams in a head coach role. He also took over the reigns for parts of the scrimmage, Williams said.
The most important factor for Johnson is trying to manage the program exactly like Williams, so players aren't knocked off balance when the head coach returns to his duties Sunday as the Aggies host Texas A&M-Corpus Christi.
"I might make some mistakes, but the most important thing I want us to do in both games is we adjust and learn together," Johnson said.
Johnson said he hopes to become a head coach or general manager in the future. Williams unabashedly said he hopes this week's opportunity leads to that same destination as well. In the meantime, Johnson said he will continue to mimic and learn from the man who has given him his biggest opportunities.
"I was nothing, man," Johnson said. "I was a student manager, and now I'm getting an opportunity to be an assistant at the highest level for a hall of fame coach that was a student manager like me. I mean, that says a lot. It makes me excited every day I go to work."
NOTES — Forward Henry Coleman III will return to A&M's lineup Wednesday after missing the team's exhibition game on Nov. 1 against Texas A&M-Kingsville with an injury. A&M guard Hayden Hefner is out due to an elbow injury, Williams said on his radio show.