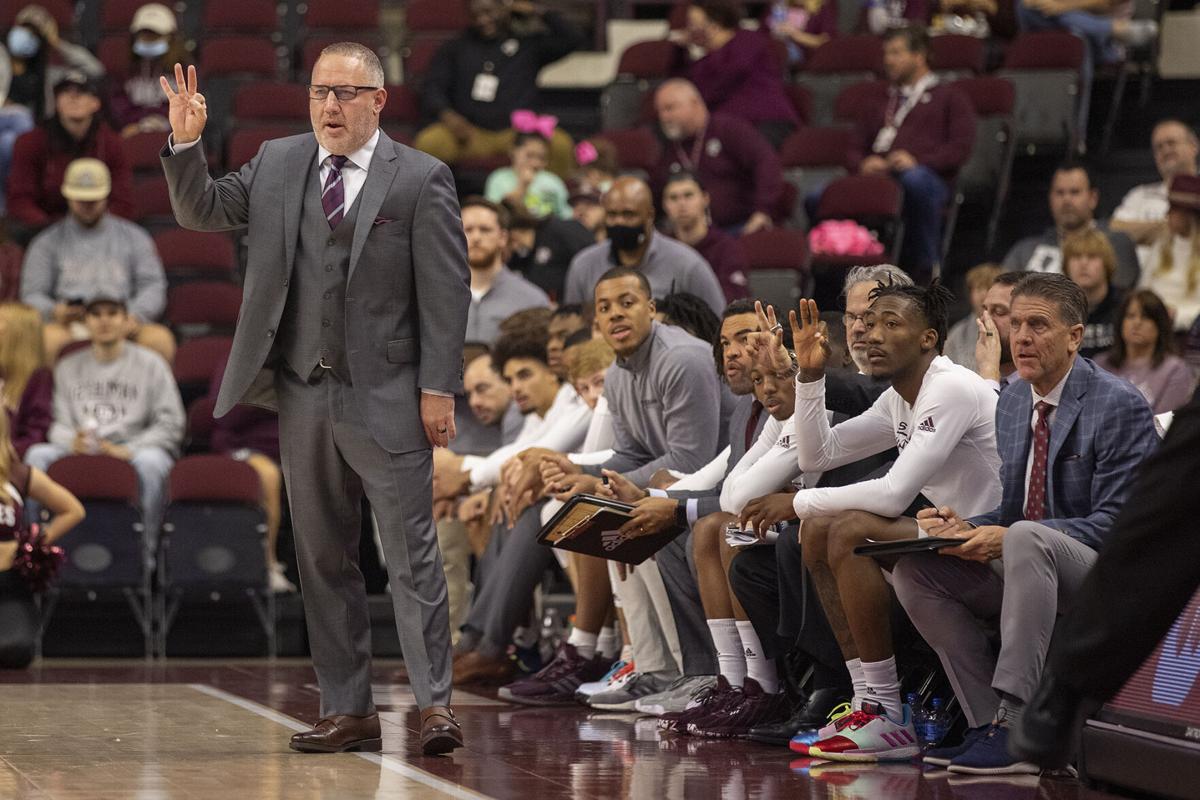 In the world of college basketball, data points tend to only mean games that the NCAA tournament selection committee can analyze to make the field of 64 teams.
For the Texas A&M men's basketball team, every time a player touches a ball it can be a data point thanks to the integration of HD Intelligence insights, which the Aggies added during the offseason.
The data analysis company provides analytics into A&M's program as well as scouting information into other programs — an edge head coach Buzz Williams said couldn't come soon enough.
"I was a little hesitant," Williams said. "I was aware of the company and I knew the people and they came in visited. In hindsight, I shouldn't have been as hesitant, because I think it's really good. I think, five years from now, every program at this level will be doing it."
Colton Houston and Matt Dover, a pair of Harvard graduates, started the company three seasons ago with the goal to provide the same level of deep mathematical analysis to college basketball programs that are available to NBA teams. The difference is professional teams have in-house teams that produce analytic reports for their coaches and players.
Between men's and women's college basketball, HD Intelligence has a clientele of 35 programs, including several in the Southeastern Conference. In fact, the SEC's top three last season — Alabama, Arkansas and LSU — all utilized the service.
"On our staff, [we have] multiple people who have experienced working on college basketball staffs," Dover said. "And so they are experienced with taking that data, and then helping to interpret it for coaches and drawing out insights to tie the data to strategic decision making. Because at the end of the day, data itself doesn't help you win basketball games. You've got to have people that can help figure out how to draw insights from that data."
HDI analyzes every A&M practice and game and can provide detailed break downs of the team and every individual player. At first, Williams and his staff thought they would ingest the data and decide what to distribute down to the players. But as the season moved along, the players had an appetite for the quantitative benchmarks the reports provided.
"If you want the truth, you have to figure out all the numbers and stats and stuff about yourself," forward Ethan Henderson said.
It's the same insight players will ultimately receive when they decide to enter the NBA draft, director of scouting TJ Ryan said.
"For these players, their resume is being built by every single possession they're on the floor, especially by people who study the numbers like the company we're paying does," Ryan said. "One day when they want to go play at the next level, those teams pay for companies like this or have multiple people on their staff that can do stuff like this to fully dive into the numbers and get a better feel for it."
Forward Henry Coleman III has been very interested in all of his rebounding percentages and analytics, Williams said.
Freshman guard Wade Taylor IV said his personal breakdowns tell him what spots on the floor he needs to improve his shooting percentages. The team data also shows what lineups produce the most offense and play the most sound defense together.
"It's great," Taylor said. "It helps us prepare for who we're about to face and it even helps us get better."
Free throw shooting is also something the numbers have indicated needs improvement. The Aggies sit last in the SEC and 337th in the nation in free throw percentage at 63.7%.
Each week the data analysis breaks down the team's strengths and weaknesses with numbers pointing in the direction of how to form a game plan. Some of the effects can be seen in A&M's 13-2 overall record.
"It's well worth the money," Williams said. "It saves me a lot of time and gives me at least an hour more sleep every night."
The Aggies have a chance to extend their six-game winning streak at 7:30 p.m. Tuesday when they host Ole Miss (9-5, 1-1) at Reed Arena. A&M is coming off two straight SEC wins against Georgia and Arkansas.
Williams said Ole Miss plays one of the most unique styles in the conference, which includes being very multiple on defense.
"I actually think that it has allowed our prep with our players to be more succinct than ever before," Williams said. "It removes a lot of, 'I think this is what it is.' It's just data."