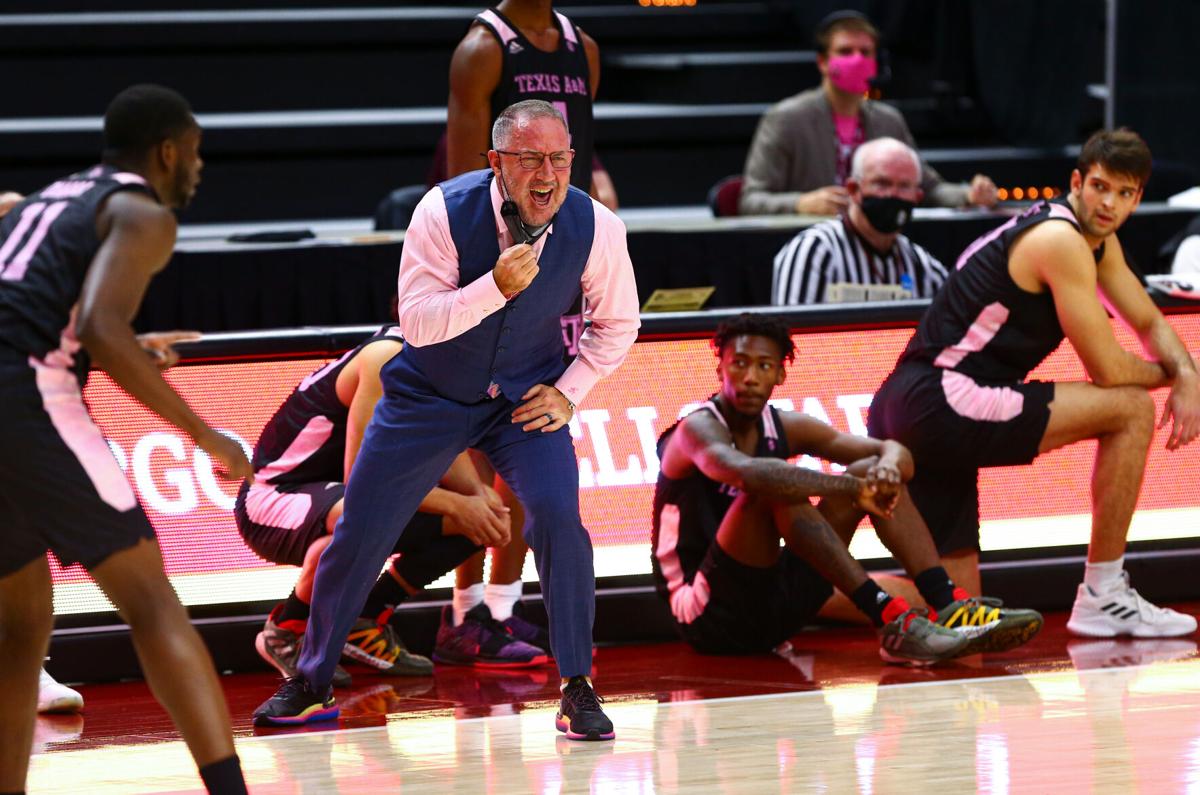 Texas A&M head men's basketball coach Buzz Williams is a self-proclaimed "intangibles" coach who prioritizes relationships with players and staff above all.
Frequently, he goes on walks with players and gives them a chance to unload the thoughts. It was on these walks that discussions of transferring began to take shape between Williams and several of his players.
Since the end of the season in early March, nine A&M players have entered the NCAA transfer portal, a number that even Williams agreed looks high on the surface. But he said this offseason stands alone in the number of contributing factors, including the extra year of eligibility granted to all players due to the COVID-19 pandemic and the new rules allowing for immediate eligibility for first-time transfers.
"I can see Joe who reads your article [saying], 'Nine guys? What has Buzz done?' Like, yeah, I understand. But is that really the reality of it? No."
Three of the nine players who opted to leave the program are graduates who decided to use the extra year of eligibility granted because of COVID-19: guard Jay Jay Chandler, forward Savion Flagg and center Kevin Marfo. None of those players would count towards A&M's scholarship limit had they remained at A&M.
Flagg asked Williams for his advice on how to use his extra year. Williams said he viewed Flagg and the other two players just like any graduate transfer under the old transfer model.
"I handled it the same as all of them," Williams said. "'What do you want to do, because you don't count towards our scholarship limit? So if you want to come back, you can come back. If you want to go to another school, if you want to go to a different school, if you want to experience something different, you've already had your career here.'"
Had COVID-19 not been a factor, those three players would have left the program due to graduation anyway.
Flagg ultimately landed at Sam Houston State. Chandler signed with South Alabama, and Marfo, who came to A&M as a graduate transfer from Quinnipiac, will return to the Bobcats.
The other of A&M's "super seniors," guard Quenton Jackson, will return to play with the Aggies next season, Williams said.
The other six A&M players who decided to transfer include Emanuel Miller, Cashius McNeilly, Jonathan Aku, Jaxson Robinson, LaDamien Bradford and Jackson Young. Williams said that kind of exodus has a good chance of becoming the new normal. As of Friday, about half the teams in the Southeastern Conference had five or more players in the transfer portal, Williams said.
"Players having the ability to change, I think there is no problem with that," Williams said. "I think it requires the coaches to make adjustment based on that change. I don't think there is enough evidence to know long-term is that good? I don't know. But I know that kids need to have the ability to go."
In one instance, Young, a walk-on, originally came to A&M more to study coaching under Williams than to actually play. He rarely practiced with the Aggies but got bit by the bug to return to playing and asked for Williams help to find him a program. Williams said he happily obliged.
Beyond players, Williams confirmed that associate head coach Jamie McNeilly also will not return to the program after coaching under Williams for the last 11 seasons. According to reports from the Minneapolis Star-Tribune and the St. Paul Pioneer Press, McNeilly is expected to join new Golden Gopher head coach Ben Johnson at Minnesota.
"I think it will end up being better for him," Williams said. "He's been with me my whole career. Coached him. Love him. Love his family. But he's looking for a new situation, a new opportunity."
Jamie McNeilly recruited both Miller and guard Cashius McNeilly — all three are Toronto natives. Cashius McNeilly also is the nephew of Jamie McNeilly.
Miller lead the Aggies in scoring last season, averaging 16.2 points per game. Cashius McNeilly never suited up for the Aggies after taking a medical redshirt his first season and opting out of his sophomore year due to COVID-19.
While there is a chance the pair could follow McNeilly to his next destination, Williams said with all transfers it's rarely just one factor that plays into the decision to leave.
"Is one thing connected to another is connected to another? Is it COVID? Is it the transfer portal? Is it that I didn't get to play? Is it I just want a new start? I think every situation is different, but it's all under the same umbrella. So that's what has been the case with each of those guys," Williams said.
Five scholarship players are currently undergoing spring workouts with the Aggies: Andre Gordon, Hassan Diarra, Hayden Hefner, transfer Javonte Brown and Jackson.
With incoming transfers Marcus Williams, Aaron Cash and Ethan Henderson as well as signees Manny Obaseki, Wade Taylor and Ashton Smith, the Aggies have three remaining scholarships to fill for next season. Just as the transfer portal has taken, Williams hopes it will give in return from the almost 1,500 players currently in the portal.
"You can look at the portal in one way, but you can also look at it in another way," he said. "It also allows us to have opportunities to find the right people, to find the right positions. We're not done yet, and I don't know any high-major team is necessarily done."
Ultimately, Williams is rebooting the program after two seasons at A&M.
"Am I excited about the five guys that are still here? Yes and very thankful," he said. "Am I upset about the ones that left? No. I want those kids to do what they believe to be right. Are we choosing and recruiting the right ones in the portal? I hope so."