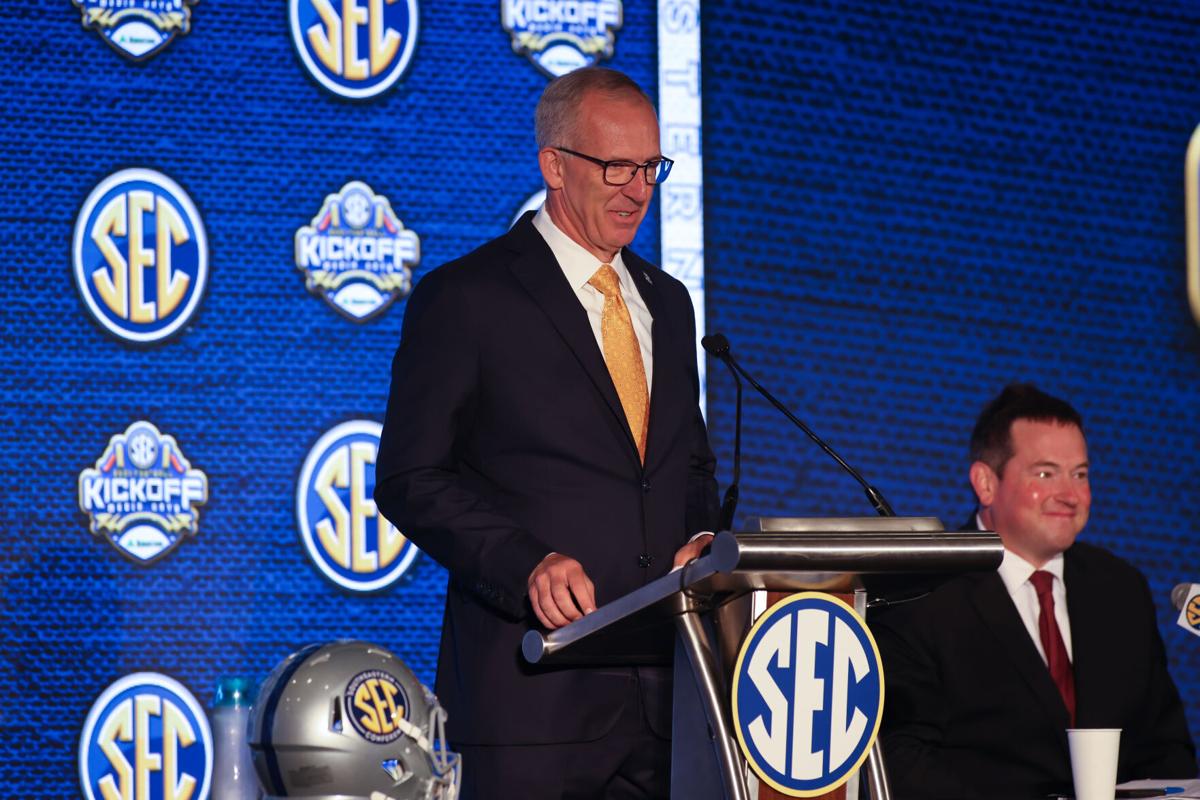 • Texas A&M athletics director Ross Bjork said that vaccination efforts for the Aggie football team is "a work in progress."
At Southeastern Conference Media Days on Monday, commissioner Greg Sankey said six of 14 SEC football teams had reached the 80% mark of student-athlete vaccinations. Bjork declined to give A&M's vaccination percentage.
"I would classify our vaccine percentage as a work in progress as we approach the seasons for all of our sports, since the numbers are changing daily," Bjork told The Eagle on Tuesday.

Georgia football coach Kirby Smart said his team is over 85%.
"We're proud of that, but we're not stopping there," Smart said. "It's not about a number. It's not about a threshold. I think everybody wants to write who's over and who's under. What it's really about is being able to save our season, being able to keep our players safe. We want to keep our players safe. We want to keep our coaches and staff safe. We want to keep our family members safe, and that comes through vaccinations."
South Carolina coach Shane Beamer said Monday that the Gamecocks were approaching 80%, while Florida's Dan Mullen and LSU's Ed Orgeron didn't offer numbers.
• Top-ranked mother: Kentucky's Darian Kinnard, who is rated college football's top run-blocking tackle by "Pro Football Focus," gushed when asked about the role his mother has played in his life.
"Oh, man, I don't think I have enough time," Kinnard said. "I could take all day talking about why I love her so deeply and why she's gotten me to this point in my life."
Kinnard said his mother helped get the family through tough times, something he will never forget.
"I know about y'all's mama. I know y'all love your mama," he said. "But I think I might love mine more than y'all. That's all I'm going to say."
• Who are you?: Kirby Smart was recognized while eating at a hamburger joint in Augusta, Georgia, this summer, leading to him giving autographs and holding a baby for a picture.
"I had an elderly lady come over to our table and say, 'You must be somebody famous,'" Smart said. "I said, 'No, ma'am, I certainly don't think so.'"
She then guessed he was a professional golfer.
"I said, 'No, ma'am, I'm not,'" Smart said. "Then she said, 'Are you a NASCAR driver?' I said, 'No, ma'am, I'm not.'"
The lady guessed track star as Smart's two daughters giggled at the encounter.
"At this point, I said, 'No, ma'am, I coach football at the University of Georgia.'" Smart said. "I always say humility is a week away, so it was pretty humbling to have the elderly lady accuse me of being a NASCAR driver, golfer and also a track star, which couldn't be anything further from the truth."
• Spiller's Heisman odds: A&M junior running back Isaiah Spiller has 50/1 odds to win the Heisman Trophy, according to www.BetOnline.ag. Georgia quarterback JT Daniels leads the way at 5/1. Oklahoma quarterback Spencer Rattler is 7/1 with Alabama quarterback Bryce Young and Ohio State quarterback CJ Stroud tied at 10/1.
Spiller is tied with four others for the 18th-best odds, including Alabama wide receiver John Metchie III.
• Pretty pricey: Secondary tickets to the Texas A&M-Alabama game on Oct. 9 at Kyle Field are going for $400.45, according to tickpick.com. The only SEC ticket that costs more is LSU at Alabama on Nov. 6 at $434.25.
—ROBERT CESSNA & RAVIS L. BROWN