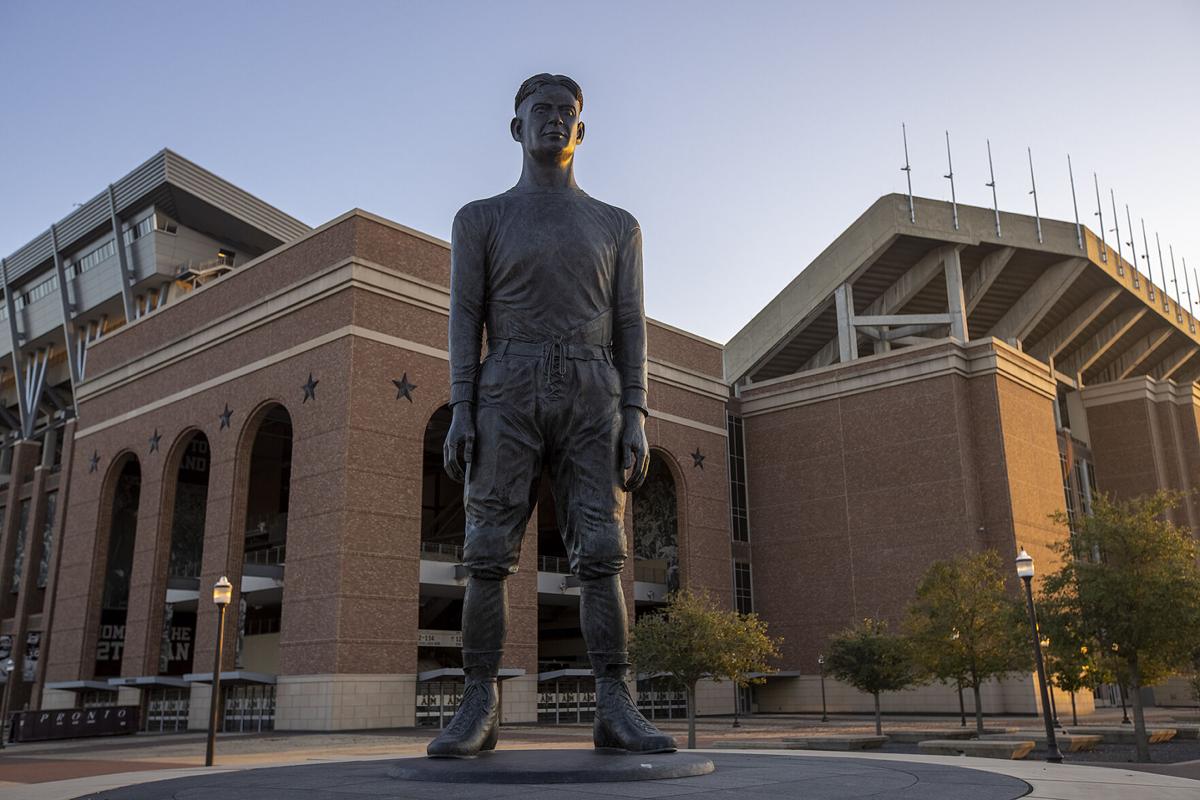 The 12th Man continues to amaze and grow, a Texas A&M tradition that originated 100 years ago today.
Approximately 36,000 students attended each home football game last season, lending the most support of any student body in the country. They stood from end zone to end zone in three decks behind the opposing team's bench, following in a tradition started by E. King Gill.
On Jan. 2, 1922, the Aggies played Centre College in the Dixie Classic in Dallas. After numerous players were injured, Gill was called down from the press box by A&M coach Dana X. Bible and stood ready if the Aggies needed him. The undermanned Aggies pulled off a 22-14 upset of powerful Centre.
Gill wasn't needed on the field, but his support started one of college football's greatest traditions. Aggies have been ready ever since, a bond that unites players, coaches, fans and everyone connected with the school.
A representative of the student body wears No. 12 on the football team, which evolved from the 12th Man Kickoff Team that featured 10 walk-ons and a scholarship kicker.
The 12th Man represents the identity of the student body and fan base at Kyle Field. Everyone who attended A&M's 41-38 victory over top-ranked Alabama on Oct. 9 felt the power of the 12th Man.
On the 100th anniversary of Gill's famous call to action, former players, coaches and others connected with the program reflect on what the 12th Man means to them.
— Travis L. Brown, Robert Cessna, Alex Miller, Michael Miller, Robert Premeaux Jr.
---
Former Texas A&M head football coach (1982-88)
"You go back to the original 12th Man in E. King Gill in 1922 at the Dixie Classic and the quote was: Standing tall, ready to help. You fast forward all these years, you see it, especially during big games like the Alabama game this year when the 12th Man actually helped win the game by standing tall, ready to help, which they did. All over the world, when you say 12th Man, they know that you're talking about Texas A&M. ... The students have always participated, but there's a couple of things that we did [to enhance it]. When we did the 12th Man Kickoff Team, that energized the students more. Then when we did the 12th Man towel. That energized the fans and the students."
Former Texas A&M head football coach (1989-2002)
"When I was a kid, I followed the Aggie games, and then I had an Aggie from my hometown who brought me up to an A&M-Texas game. I saw the game and went to the bonfire and saw the Aggie Band. I don't remember when I first heard the story of E. King Gill and the 12th Man. He was standing there ready to help if called upon, so that concept to me ... Aggies and the student body standing ready to help ... that philosophy or concept is what I've seen in practice all the years I've been at A&M. I'd go into little towns and you go in there and the school board, there's an Aggie on it and in the PTA. You've got the Aggie moms. Whatever is going on in that town of a volunteer/civic nature, you'll find Aggies involved in it. I've seen it. It's more than just something Aggies say. The reality is if you need something done or you need a volunteer for something, just get the word out among Aggies. You'll have all the help you'll need."
Former Texas A&M 12th Man (2016-18)
"You hear the story [of E. King Gill] and you hear about how he stood there the entire game, and I think that 100 years later, it speaks volumes about the culture at A&M and the rich tradition and history that goes on there. The entire student section stands the entire game. If they're willing to do that, you've got to be willing to go out there and play the entire game. I went to a game in high school and stood in the student section. I can tell you, it is not fun to stand for four hours. So learning about the story and seeing those traditions every day at A&M and every game day really just kind of shows you the value of what you're doing and what you're representing. It's not to be taken lightly."
Former Texas A&M football radio broadcaster (1985-2017)
"When I got here in 1985, I went to a lot of practices, and one of the things that would happen would be at the end of practice ... when the 12th Man kickoff team would go out and practice. The thing that caught my attention is that the scholarship players wouldn't go to the locker room. They would stay out and watch that part of practice, which was the end of practice and not necessarily something they were expected to stay and watch. It was really unique to watch that, because, obviously, our kicker was a scholarship player, and here are the other 10 guys and it was kamikaze. It was all out. The players would stand out there and yell and scream and encourage those guys on their kickoff coverage. That was the thing that stood out to me more than anything else, the scholarship players staying out there to encourage the guys on the 12th Man kickoff team."
Former Texas A&M 12th Man (2011)
"For me, it's courage, right? Because my story is different than a lot of other guys. I was a track guy first, hadn't played football in almost two years, so it took a lot of courage for me to go in there and say, hey, Coach Sherman, Coach Reynolds ... I think I can play, you know what I mean? And those guys would be like, chances pretty slim to none, you know? You might be on the scout team for a while, but the chances of you actually playing are slim to none. And I took that with a grain of salt. I was like, well, I'll show you. You know what I mean? It's just like ... he can give, like, if you're just a guy sitting in the stands to go out and be willing to sacrifice your body takes a lot of courage ... that takes some heart."
Former Texas A&M head football coach (1965-71)
"The 12th Man speaks volumes about A&M. That's the spirit of A&M, the spirit of Aggieland. That's what I think about when I hear [the 12th Man]. ... When I was coaching there and we got in a little bit of a bind, they'd play the ["Ballad of the] Green Berets." The band would strike up the "Green Berets" and that would sort of fire up our football team, but the spirit of Aggieland is just what Texas A&M is all about. I love the song. I just love everything about it to too tell you the truth."
Texas A&M Class of 1986, co-founder of the 12th Man Towel
"First, we had the idea, and we had to convince other folks who were involved — people with the 12th Man Foundation, people in athletics, Jackie Sherrill — that this was a great idea, and once we did that, we were wondering if people would buy them. We'd never had anything like that, and as soon as we started selling them, they were gone. We did some more, and those were gone. That first Cotton Bowl that we went to, I was there, and everybody on the A&M side you could see had a towel. It was just humbling to see something that you had been part of to create had taken off and made that big of an impact. That was moving."
Texas A&M Associate AD, Athletics Communications
"To me the 12th Man embodies what Texas A&M is all about. I think about all of athletics, the fans that show up at the Mitchell Tennis Center. Tennis is supposed to be a little more reserved, yet the Aggie fans, when we're rolling, they're tremendous. There's no doubt about 'Olsen magic,' and I go back with Shelby Metcalf at the old Holler House on the Brazos. That was a tough place to play when the Aggies get in there and get rolling. I think it's really unique, and I think it personifies what Texas A&M is all about."
Former member of the 12th Man Kickoff Team (1983-87)
"When you're part of the 12th Man Kickoff Team, it's being part of something that's much bigger than yourself. It's obviously an honor and privilege to wear the Texas A&M jersey, but at the end of the day for me, it's being part of something much better than yourself. I also feel like being on the team embodies all the core values of Texas A&M. ... We had the student section that stands up for the entire game, but when we took the field, we had another student section that stood up — we had the student-athlete section. Every scholarship guy on that sideline stood up and walked over to watch us. We got both student sections on their feet, and I'll never forget that."
Texas A&M Assistant AD, Athletics Communications
"It's our biggest tradition. It's our national brand. It is something unique we have that makes us different than everybody else."
"When I was a student in 1985, we were playing Texas at Kyle Field ... and we had kind of broken the game open. The crowd was going nuts, and it got so loud in Kyle Field that the Texas quarterback, he kind of backed away and wouldn't take the snap, and the officials were allowing it, because it was just so loud. Eventually, the crowd, the 12th Man, quieted down, so he went up, he took the snap, and then the Wrecking Crew just overwhelmed the Texas offensive line and sacked the quarterback. It encapsulates everything about the 12th Man. Standing behind your team, being loud and being there for your team. In that moment, it was the perfect example of the storm of the 12th Man."
Former member of the 12th Man Kickoff Team (1983-84)
"At the time, I thought this is what it's like to be a real 12th Man and that's being part of something you would never be part of, because you really are not good enough. As I look back today, it was an opportunity to take students like us and merge with the scholarship athletes who we believed lived on a different level. These guys were untouchable. They were the best there was. So I look at it differently now, because I think we made a bridge between that gap. Back then I think it was the greatest thing in the world to be a Texas Aggie football player. I was in the Corps of Cadets, and to play for Jackie Sherrill, this phenom who came from Pittsburgh, it was just an amazing, amazing opportunity. It was just an amazing connection between my world in the Corps of Cadets and the Texas Aggie football team, and I was just a little blip on the screen."
Former Texas A&M 12th Man (2006-08)
"For me, it's pretty simple. [E. King Gill] was ready, right? He was ready to do anything. I think you can see that across all the people that have worn [No. 12]. Whether they chose to or not, or whether it was because of E. King Gill, I don't know, but you look at myself. I switched from linebacker to fullback, because [head coach Dennis Franchione] asked me. ... I think John Ray did the same thing. He moved around from defensive back and safety and stuff like that. I think Cullen [Gillaspia] did the same thing. Blake Kendrick was somebody that I looked up to a lot. He was an amazing athlete. So was John Ray. They set the standard of what it's like. I think when you see those guys, they were willing to do whatever Coach asked for the team."
Former member of the 12th Man Kickoff Team (1986-87)
"When I was 10 years old, my sister took me to a game at Kyle Field, and a player from our high school [Jersey Village], a kid named Adger Armstrong, got hit and flipped into the end zone and scored a touchdown. I swore that day I'd play football at Texas A&M. You go through life thinking that's going to happen, and then you go to high school and it doesn't happen, because you're not good enough, not big enough. But I tried out and got a chance to play. Kyle Field is a special place for me. When the crowd gets up or a good play happens, I tell people I can feel E. King Gill speaking or whispering in my ear because the hair on the back of my neck just stands up and gives me goose bumps. And it did that when I was playing and it still does it to this day. I get that feeling when I'm there."
Former Texas A&M 12th Man (2001-2003)
"You really had to want it, you know, to A, be a walk-on, and then B, actually work hard enough and put yourself in a position to play, whether it was 12th Man on the kickoff team or other special teams or even a position as a walk-on. So I think a lot of people know what it is, and they think it's great to come out on Saturday and wear No. 12, but a lot of people don't understand the time behind it, the countless hours you put in before you ever get to put on No. 12 or [any] jersey and play on Kyle Field."
Former Texas A&M 12th Man (2019-20)
"I'd say wearing No. 12 gave me a true understanding and a true passion and love for what the entire university represents and that's just being a part of something bigger than yourself. For me it was understanding that no matter who's the 12th Man on the football team ... Cullen, he did it differently from me. I did it differently from him. Now Connor Choate, he's doing it differently from the two of us, just knowing that it's bringing whoever you are and applying it to the bigger whole that you're a part of."
Former Texas A&M 12th Man (2004-05)
"It's the overall A&M spirit of, hey, our guys are down and we need some help, and A&M fans and A&M alumni and A&M students are always there to support their team and support their school. It's a very unique story that not many schools have anything remotely close to. Really awesome from the history of Texas A&M, where we came from as a military school, and just the fact that a guy in the stands would say, hey, put me in if you need me."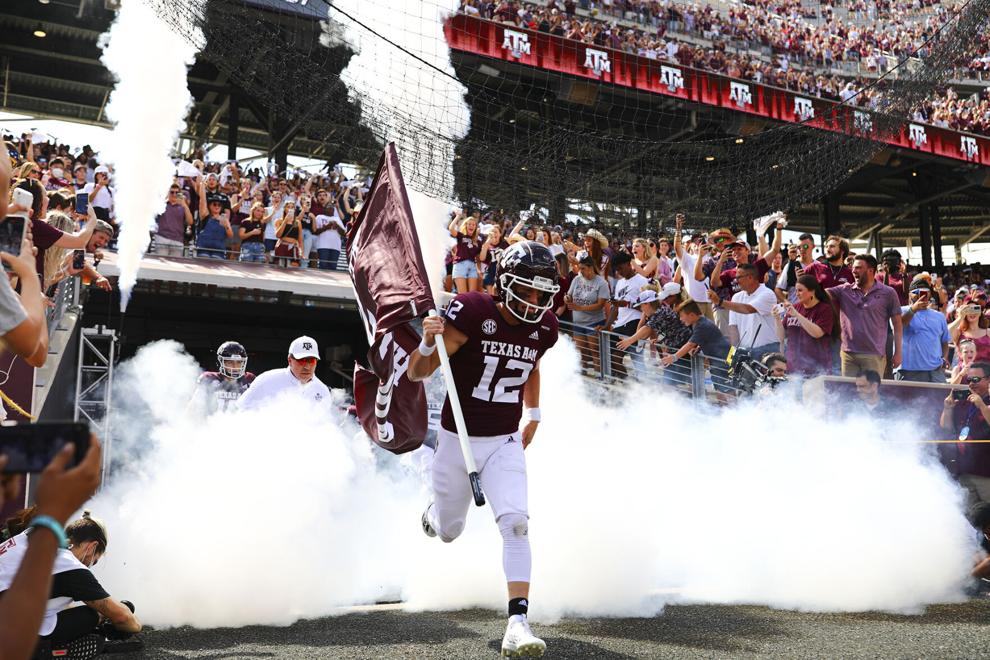 Texas A&M deep snapper and current 12th Man (2021-present)
"Oh, man, it's just like goose bumps [entering Kyle Field]. It's like an out-of-body experience every time. Just the roar, [people] going crazy, everybody rolling their towels, throwing their towels. The place is going nuts no matter who we play, so it's always just crazy coming out of the smoke and you just see 100,000 people and you're like wow. It's honestly just breathtaking. I can't believe I'm in this position to be able to do that, because when I was in high school, you know, being some horrible JV tight end, I never thought I'd be able to have the privilege to do this. It's a big blessing that I get to be able to do that and lead the team out."