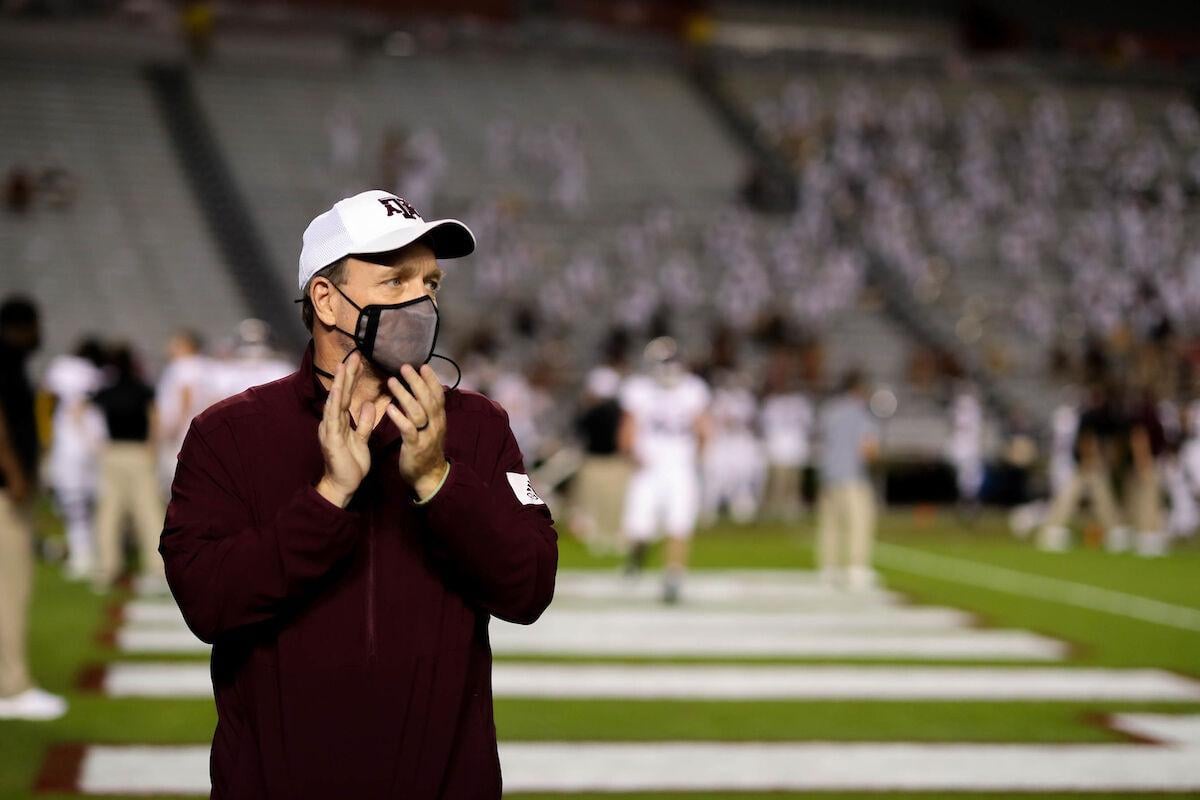 The fifth-ranked Texas A&M football team paused in-person activities because of positive COVID-19 tests after the team returned from South Carolina, head coach Jimbo Fisher said Monday during a Zoom press conference.
One player and one student worker tested positive after the trip, according to the athletics department. Safety Demani Richardson did not make the trip because of a positive test, Fisher said after Saturday's game. Fisher said "everything is full go" for Saturday's game at Tennessee.
"We'll plan on things and we'll see how the quarantine tracing and all the other tests that come back are," Fisher said. "You always plan for that and you make adjustments as you go."
A&M athletics director Ross Bjork later Monday told ESPN's Heather Dinich that the team had "over a dozen" players who will be out 14 days because of contact protocols. Bjork said there was "no way out of it," adding that they didn't have an outbreak, "it's just contact tracing. The level of concern is not that we have a bunch of positive cases; you just don't have the players because of your contact tracing."
The entire team and staff was retested Monday in an attempt to prevent the spread of the coronavirus and aid in contact tracing, Fisher said. The time spent retesting and the wait for test results is what triggered the suspension of in-person activities Monday, Fisher said.
"We're meeting and doing everything as if we would be here, we're just doing it on Zoom, which is one of the great things we've learned. We can do the film and video," Fisher said. "It was going to be lighter practice today, because we got back on such a late road trip, not getting back until three in the morning."
Accommodations will be made based on the results of those tests, Fisher said.
Richardson will not be available for Saturday's game, because of safety protocols that include a mandatory 10-day isolation period that the Southeastern Conference mandated on positive tests, Fisher said.
Fisher frequently in fall camp and during the season praised his team's ability to ward off COVID-19 threats while being socially distant and avoiding large gatherings. Almost all student-athletes at A&M are taking all online classes.
"It's extremely difficult, and not only for them, but for my staff and myself," Fisher said. "I'm very aware of the things I have to do and you have to do it constantly. It can happen to you without you even knowing. You can be as safe as you can be. Our protocols, I think are excellent, but it can just happen and that's the unfortunate thing about it."
Fisher and his staff are discussing how many possible practices they could miss before needing to postpone the game, but said players' safety is his primary focus.
The SEC inserted an extra week at the end of the regular season, Dec. 12, for possible postponed games before the SEC championship game on Dec. 19.
"Our commissioner is doing a great job," Fisher said. "Our league is doing a great job. Planning for the unexpected or the unknown is a hard thing to do. That's extremely hard. I think the forethought they've had to do that and the ability they've had to do that I think is great."
Be the first to know
Get local news delivered to your inbox!