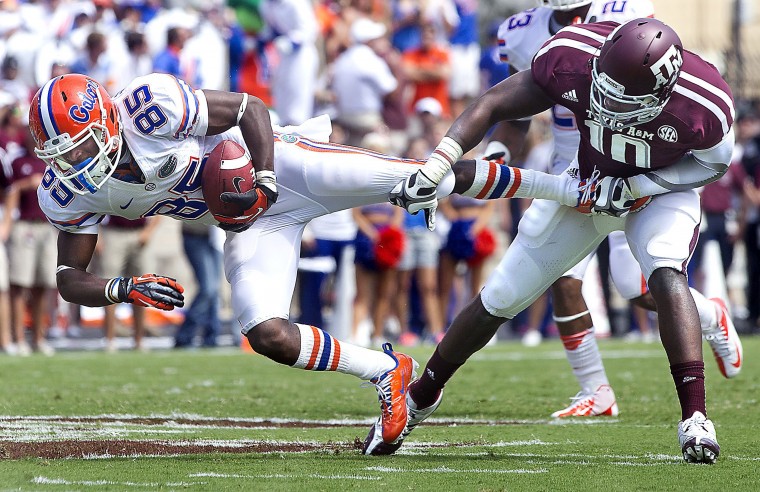 Tennessee and Florida will round out Texas A&M's 10-game, conference-only football schedule for the 2020 season. The Southeastern Conference announced each team's two additional games Friday on the SEC Network.
The Aggies will travel to Tennessee's Neyland Stadium for the first time in program history to face the Volunteers and will host Florida at Kyle Field. Dates and times for all of the SEC games will be released at a later date.
"We made every effort to create a schedule that is as competitive as possible and builds on the existing eight conference games that had already been scheduled for 2020," said SEC Commissioner Greg Sankey in a statement. "This schedule is a one-year anomaly that we have developed under unique circumstances presented by the impact of COVID-19."
The Aggies have faced Tennessee three times in program history. The Aggies defeated No. 8 Tennessee at Kyle Field in double overtime, 45-38, in 2016 in the lone meeting since A&M joined the SEC in 2012. Tennessee beat the Aggies in the 2006 Cotton Bowl, 38-7, and the 1957 Gator Bowl, 3-0.
Third-year A&M head coach Jimbo Fisher, who came from Florida State, will get another shot at former rival Florida. This will mark the Gators' second trip to Kyle Field, the last a 20-17 Aggie loss in 2012, the first SEC conference game in program history.
A&M beat the Gators 19-17 in the Swamp in 2017, led by quarterback Kellen Mond. In his sixth start with the Aggies, Mond went 8-for-24 passing for 180 yards and also rushed for 52 yards on 15 carries and a touchdown.
The series with Florida is knotted at two a piece, with a 37-14 Aggie win in the 1977 Sun Bowl and a 42-6 Gator win in Gainesville in 1962.
Fisher was 7-1 against Florida while at Florida State.
The SEC, which typically has an eight-game league schedule, opted to play only conference games amid COVID-19 concerns. A&M, which will play every West Division opponent, had been scheduled to play permanent East crossover rival South Carolina and Vanderbilt from the East.
The Aggies will host LSU, Ole Miss, Vanderbilt and Florida and is expected to host Arkansas. The Aggies are scheduled to play Arkansas at AT&T Stadium in Arlington as part of the Southwest Classic, but officials are working to move the game to campus to give A&M five home games and five road games.
According to the A&M athletic department, the move of the Arkansas game to Kyle Field this season is not quite official yet. I would still expect it to get done.

— 𝕋𝕣𝕒𝕧𝕚𝕤 𝕃. 𝔹𝕣𝕠𝕨𝕟 (@Travis_L_Brown) August 7, 2020
The Aggies will travel to South Carolina, Tennessee, Alabama, Auburn and Mississippi State. 
Gallery: Texas A&M volleyball practice
Scenes from Texas A&M volleyball practice.
Be the first to know
Get local news delivered to your inbox!