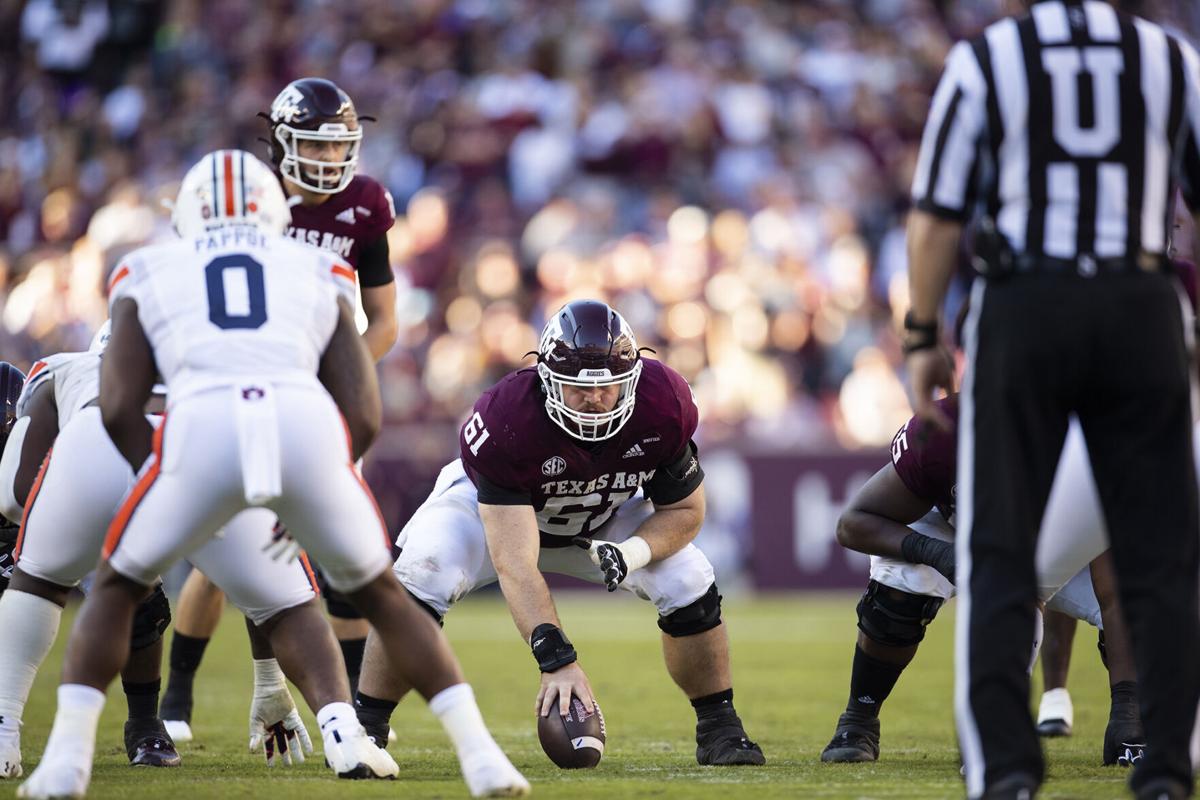 There was never a question Bryce Foster was destined to be an offensive lineman. By the time he entered kindergarten, Foster stood 5-foot tall, weighed 100 pounds and sported calf muscles the size of a body builder's dream.
His bulky size didn't matter to Foster in the third grade, when he wanted to test his pass-catching skills in a youth 7-on-7 league. The league thought otherwise, saying he couldn't play because he was too big. Though disappointed, he poured that youthful energy into his second passion, learning how to throw a shot put.
Now a two-sport athlete for Texas A&M, Foster hasn't lost his ability to pivot when needed — and with a smile on his face.
"He's always been one that turns difficult situations into something fun," his mother Heidi Foster said.
Now 6-5 and 325 pounds, Foster starts at center for the Aggie football team and plans to throw the shot put and discus for the track and field team.
As a four-star football recruit from Katy Taylor, he pushed opponents around at either guard or tackle for the Mustangs. Head coach Chad Simmons moved Foster to match "The Mountain" — as he was nicknamed — against the opponents' strongest defensive lineman.
On rare occasions, that meant playing Foster at center.
"He was just so dominant here," Simmons said. "He did a lot of the same stuff, but he was just so physically superior to most the guys he went against that he would just throw guys around like a rag doll and go block a second guy. He's not a skill, receiver-type athlete, but he's one of the best athletes I've ever coached, and that's 35 years worth."
So when the recruiting class of 2021's fifth-best interior offensive lineman in the country according to 247Sports.com arrived in Aggieland, Foster reportedly believed he might have an outside chance to claim one of the three vacant spots on A&M's offensive line at guard or tackle. But a few months into his Aggie career, Foster called his parents to deliver some different news: Head coach Jimbo Fisher wanted him to begin practicing at center.
"I was like, oh good Lord, that's a lot of pressure," Heidi Foster said. "He did it a couple of times in high school when he had to. I said, OK, you practice, and he goes, I'm just going to play where they tell me to play."
Practice he did, so well that Foster called his parents on FaceTime just two days before the Aggies' season opener to tell them he would be starting at center. The heir apparent to the position, junior Luke Matthews, had suffered a shoulder injury that required surgery, moving Foster up the depth chart.
"I'm going to do the best I can," Foster told his parents.
His beginnings at the position became a roller coaster ride with some success but also some hiccups. A few times Foster missed his target, quarterback Zach Calzada, resulting in lost yardage, but the poor snaps told one small part of the story. Foster was learning how to call out blocking assignments and, in essence, lead the entire offense.
"I don't know how to explain how hard it is, especially when you haven't played a lot of center," Fisher said. "First, you have to snap the football. If you ain't ever done that, trust me, that's not as easy as it looks. Second, you're making all the calls. Outside the quarterback, you have as much responsibility and knowledge of run calls, where we're blocking and schemes as anyone."
A&M's offensive line struggled through the first five games of the season, and it showed. The Aggies produced below average rushing numbers against Colorado and New Mexico then suffered losses to Arkansas and Mississippi State.
Foster's growing pains also showed and understandably so. The true freshman was learning a new position, while also learning how to adapt to college life.
"I thought, oh my gosh, this is a kid who just went to prom three months ago," said Heidi Foster, who struggled to deal with the criticism of her son on social media. "He wasn't used to it, and he was trying so hard. He was trying. He was studying the playbook. He was recovering from a couple of minor injuries, adapting to college life, studying for exams, and y'all are criticizing this kid while you are sitting at home, drinking beer and watching TV. That was hurtful a little bit."
Foster kept with a tradition he started with his father. As Foster began playing football, the two would spend most of Saturday or Sunday watching video of his play, breaking down what he did well and finding ways he could improve. They continued the ritual this season, and as was the case with the entire team, things seemed to finally click during A&M's victory over Alabama in early October.
To his mother, Foster reached a point where he wasn't overthinking his role. Instead of worrying about keeping his quarterback off the ground, he became "The Mountain" once again.
"We were like, impose your will, man. Do what you do," Heidi Foster said. "You make holes for the running back to run behind your butt all the time. This is what you've done all your life. You've got to keep making those holes. Just do it. Just do what you do every day. Now he's doing it, and it looks better."
Entering Saturday's matchup with Prairie View A&M, the Aggies rank a respectable 44th in rushing offense at 186.3 yards per game. A&M running back Isaiah Spiller has six 100-yard rushing games this season and Devon Achane has four. The Aggies also have the fifth-best sack percentage allowed in the conference at 4.08% and the sixth-best pressure percentage at 30.90%, according to SECStatCat.com.
Foster's growth is a big part of the A&M offensive line's improvement.
"He's learned to play with better power," Fisher said. "Before I think he'd gotten away with being so big and so strong that he didn't have to play with as much leverage, because he was able to manhandle guys in high school. I think he's learned to drop his pad level, and I'm starting to see his athleticism in the things that he does. He has a chance to be a really, really, really good player, and he's a great kid."