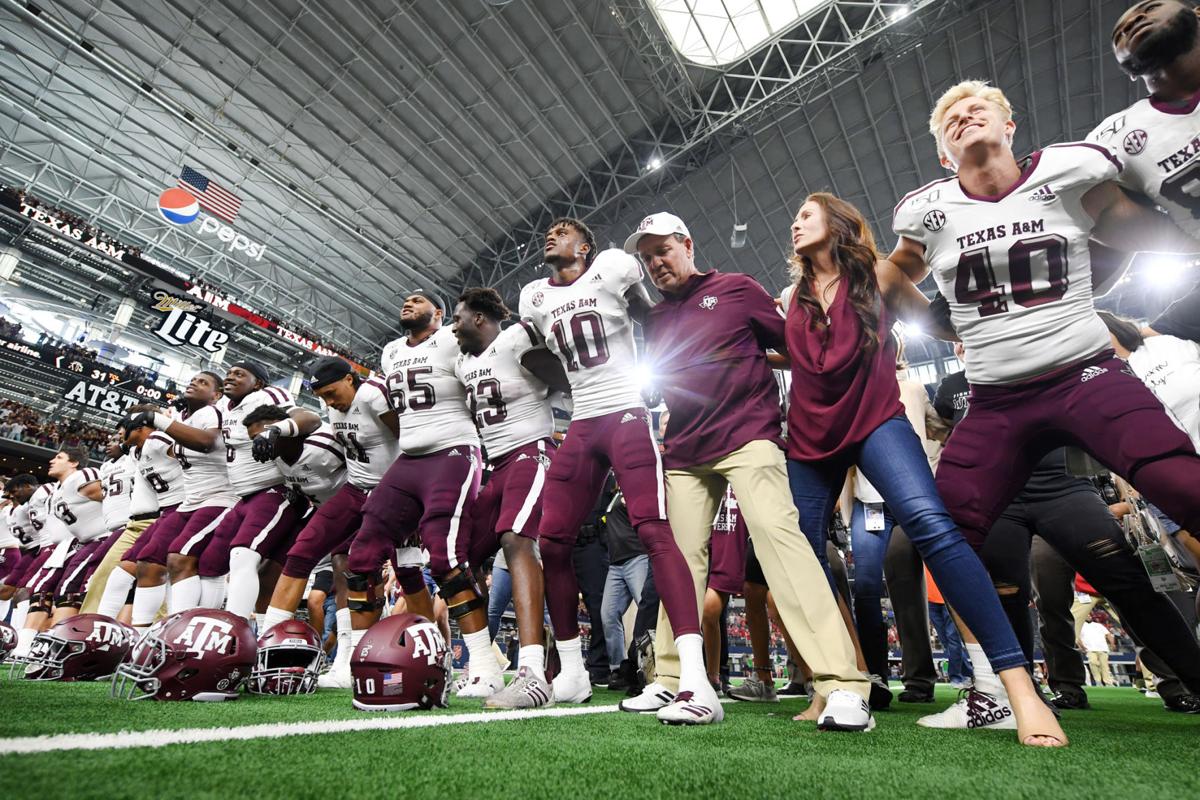 The Southwest Classic between Texas A&M and Arkansas will return to AT&T Stadium in 2021, Texas A&M athletics director Ross Bjork said Tuesday.
Speaking on a Facebook Live town hall meeting, Bjork said Arkansas passed on its opportunity to host the Aggies in Fayetteville, Arkansas, next season and will return the annual game to the home of the Dallas Cowboys. The A&M athletics department confirmed that it was a joint decision between the programs to return to Arlington. The series will continue to be played in Arlington through the end of the contract in 2024, Bjork said.
"The Cowboys obviously agreed," Bjork said in the video. "They were going through the same thing with their protocols. It's one year back on campus. Next year we will return to AT&T Stadium. Really, Arkansas gave up a home game, if you will, in Fayetteville by returning that game to AT&T Stadium for the '21 season. We'll play '22, '23 and '24 is the last year of the current agreement."
Arkansas athletics director Hunter Yurachek commented on the series via Twitter on Tuesday afternoon.
"As a result of the ongoing pandemic & SEC only schedule, all parties agreed to move the SW Classic game with A&M to campus in 2020," the tweet read. "The current plan is for 2021 SWC game to remain in Arlington per contract. We will actively access future circumstances that may alter these plans."
The Southwest Classic has been played at AT&T Stadium since 2009 except for two years in 2012-13 when the game returned to each campus after the Aggies joined the Southeastern Conference. A&M is 6-3 in the series in games played at AT&T Stadium.
Bjork said he hopes they can negotiate a return to campus when the contract ends.
This year's game was scheduled to be played in Arlington but moved to College Station due to the COVID-19 pandemic. Both Bjork and Yurachek agreed on making the move for this season, Bjork said.
"Our plan, and Arkansas still has some work to do, is to move that game back to campus after the '24 contract is expired," Bjork said in the video. "We think this game deserves to be on campus. It's an SEC game. We need to play as many of those games on our campus as possible. We'll see the benefit of that on Saturday night with our home crowd."
A&M is expecting a full 25% capacity crowd at Kyle Field for the game at 6:30 p.m. Saturday. That equates to approximately 27,000 fans. Kyle Field operates on approximately 110,000 capacity, though its seating is listed at 102,733. A&M leads the nation in average attendance for this season at 24,391.
Bjork said he does not see an increase in the percentage allowed to attend games this season. As classes wind down around Thanksgiving in a change made due to the pandemic, some single-game tickets could be released depending on how many student tickets are pulled, Bjork said.
"I don't see us going from a 25% and now we're at 50%," Bjork said. "I don't really see that. I don't know if our community is ready for that. Let's take it step by step. The more time we have, the more information we have."
The Fightin' Texas Aggie Band has been in the stands for games this season, but Bjork said he doesn't believe they will make a return to the field in 2020.
"I don't see that changing where we can have the band on the field. I think the decision in making that a season-long decision is in place now."
Ultimately, the priority remains to ensure football games can be played with some fans in attendance, Bjork said.
"We've had the most fans of any college sporting event so far in the country," Bjork said. "We need to be thankful for that, and we need to protect that as long as we can these last three games."
NOTES — Tailgating will not be allowed before and after Saturday's game against Arkansas. "Let's not disrupt things outside the stadium that would impact things inside the stadium," Bjork said. ... Bjork said the A&M baseball team is hoping to play a full schedule in the spring. "Our expectation is that we will play a full season," he said. "When do we start? What does nonconference look like? We're just now starting to have those conversations. Before we leave for the winter break, we need to have an idea what the schedules do look like. I think that is fair to our athletes, so there isn't this uncertainty out there."
Be the first to know
Get local news delivered to your inbox!