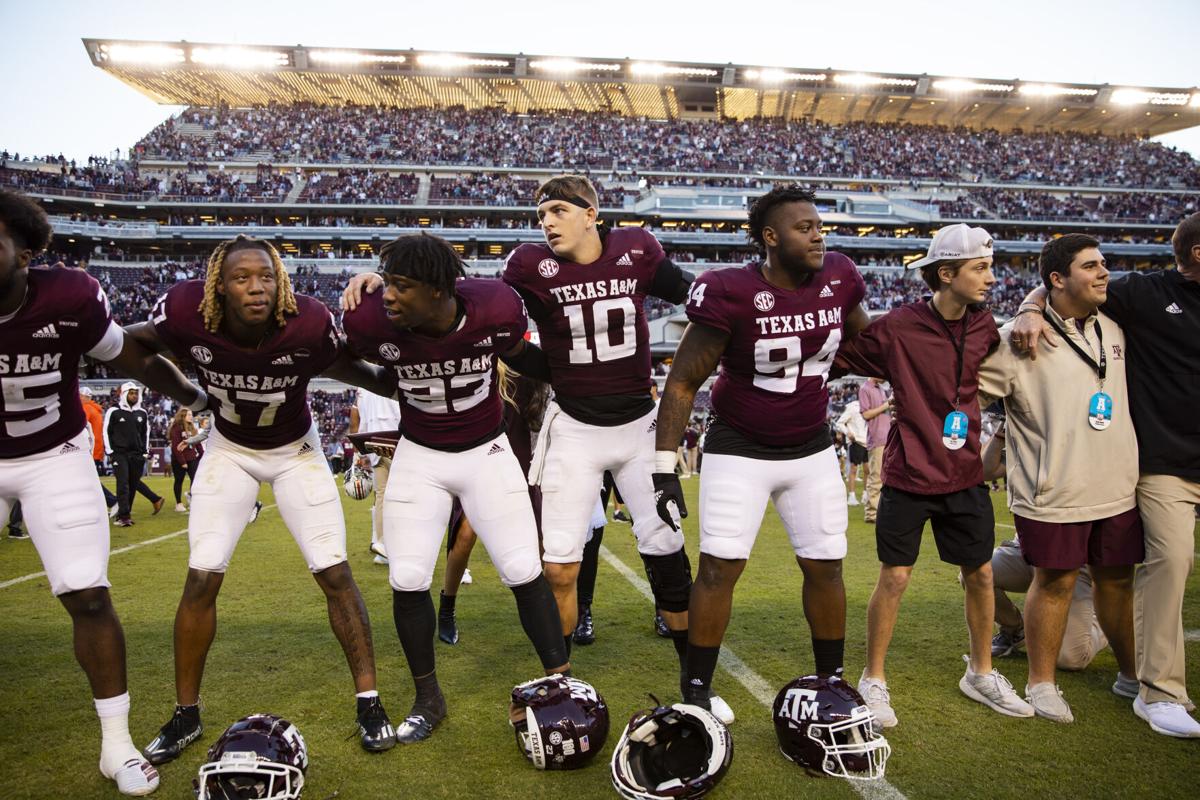 OFFENSE: C
What went right: Texas A&M quarterback Zach Calzada threw for 192 yards and didn't throw an interception for the first time in seven starts. A&M rushed for 217 yards, averaging 6.2 yards a carry, and Caleb Chapman had a 49-yard reception for the team's longest pass since the opener.
What went wrong: A&M dropped too many passes and converted just 3 of 13 third downs, missing on its first eight tries.
Bottom line: Settling for field-goal tries five times is unacceptable, especially considering A&M had first-and-goal from the Auburn 5-yard line and again from the 4 on two of those kick attempts.
DEFENSE: A+
What went right: A&M forced two turnovers, sacked Auburn's Bo Nix four times and scored the game's only touchdown as defensive end Micheal Clemons rumbled into the end zone on a 24-yard fumble recovery.
What went wrong: Auburn converted a third-and-9 by outnumbering the defense with a bunched wide receiver formation. That led to Auburn's lone score.
Bottom line: A&M stifled Nix, who threw for only 153 yards in 41 attempts with his longest completion going for 15 yards. Nix had three carries for 21 yards but ended with minus 18 yards because of the sacks.
SPECIAL TEAMS: B
What went right: A&M's Seth Small made four field goals with a long of 47. Ainias Smith also had a tough 2-yard punt return in traffic, which paid dividends on Auburn's next punt when he made a fair catch at his own 5 and Auburn's Ladarius Tennison tackled him to draw a 15-yard penalty with the score tied 3-3. That kept A&M from starting inside its 20 for the fourth straight time.
What went wrong: Devon Achane returned a kickoff just 10 yards to A&M's 10, leading to a quick three-and-out with A&M punting from its 12. Small also missed a field goal.
Bottom line: The unit continues to be a plus for the Aggies.
COACHING: B
What went right: A&M converted a fourth down in its own territory that resulted in its first field goal. A&M's defensive pressure constantly forced the issue. Auburn gained 3 yards or less on 44 of its 70 plays with 28 going for no gain or a loss.
What went wrong: A&M drove inside the Auburn 25 five times but couldn't score a touchdown.
Bottom line: The Aggies looked refreshed coming off the bye. They won the line of scrimmage, and the defense consistently made open-field tackles, something that had been a problem.
OVERALL: A-
What went right: The Aggies were mentally sharp, committing a season-low four penalties for 30 yards.
What went wrong: A&M didn't score on five straight possessions after getting a field goal on its first drive.
Bottom line: A&M beat Auburn at home for the first time in five meetings and extended its winning streak to four straight. The Aggies will move up to 11th or 12th in the College Football Playoffs heading to Ole Miss next week with a chance to crack the top 10.