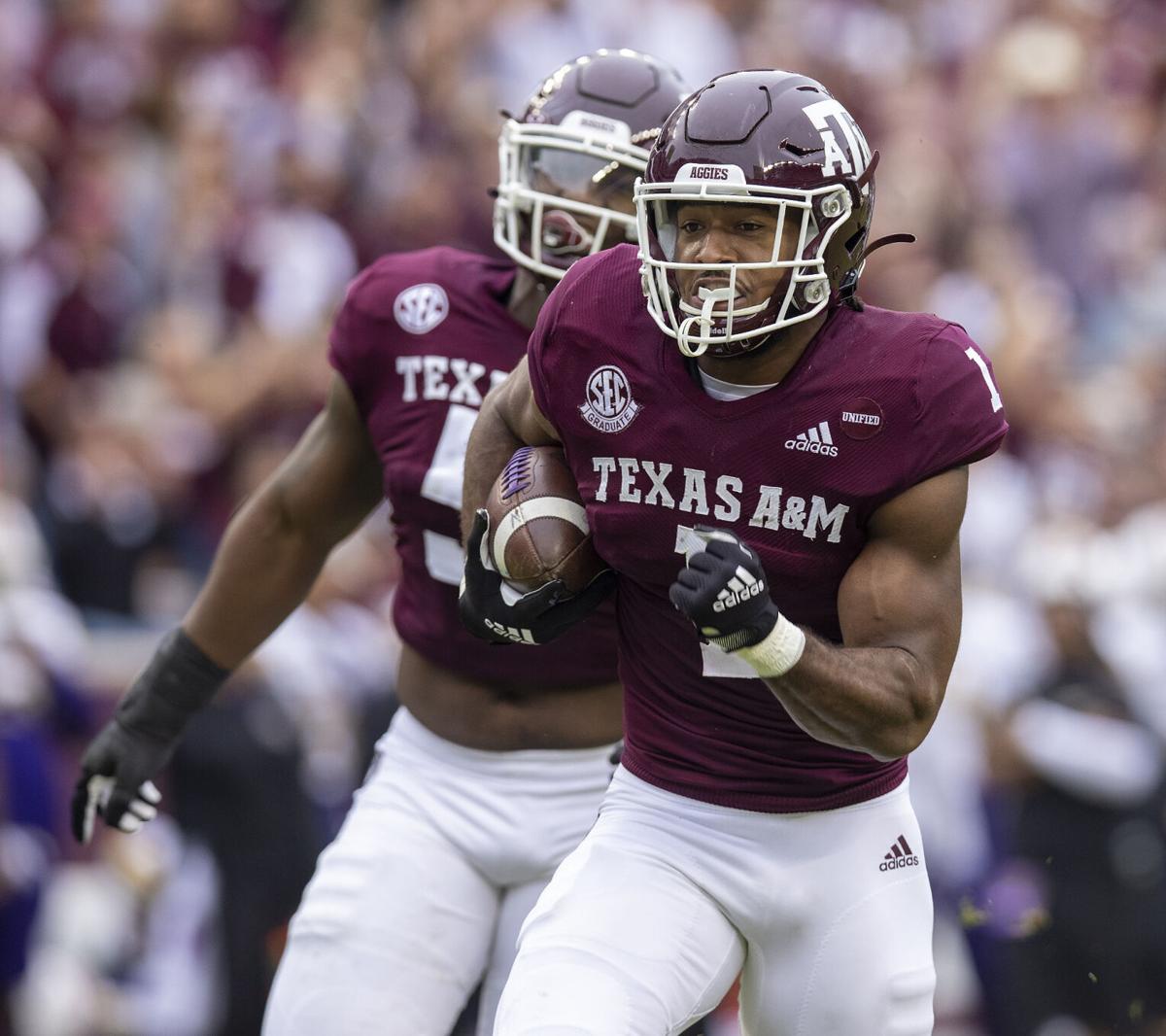 FIRST QUARTER
Bad start: Prairie View A&M quarterback Jawon Pass threw a perfect 35-yard pass on the game's first play that went through the hands of wide receiver Trejon Spiller. Texas A&M came up with sacks on the next two plays.
Gamble fails: Prairie View couldn't convert a fourth-and-1 from its 34-yard line as Pass got stonewalled on a sneak by defensive tackle DeMarvin Leal and linebacker Aaron Hansford. A&M then scored in four plays.
Scoop and score: A&M nickelback Antonio Johnson leveled Pass, who dropped the football with Hansford returning it 17 yards for a touchdown. Johnson got a running start on the blitz and timed it perfectly, getting to the line of scrimmage at the snap.
Wise decision: A&M's Moose Muhammad III made a running catch of a low punt and returned it 23 yards. The freshman entered the game with only one previous punt return for no yards.
Key statistic: A&M had four sacks for 25 yards, while Prairie View completed just 1 of 3 passes for 2 yards.
SECOND QUARTER
Wrong way: A&M quarterback Zach Calzada lost 7 yards on a busted play from the Prairie View 3 on second down. A&M couldn't overcome the setback and settled for a field goal. On the play, Calzada turned left to hand the ball to running back Isaiah Spiller, who went right. Spiller seemed at fault since the line went left.
A hand in things: A&M's Fadil Diggs partially blocked a punt, though it still covered 26 yards.
Trickery: Calzada handed the football to running back Spiller, who gave it to wide receiver Yulkeith Brown, and Brown ripped off 45 yards, the team's sixth-longest run of the season.
Key statistic: A&M scored more points in the first half than it had in seven of its previous 10 games.
THIRD QUARTER
So much for form: Calzada threw a 30-yard touchdown pass to Muhammad in the back of the end zone, unleashing a perfect spiral off his back foot.
Double down: Prairie View's Jaden Stewart ran for 40 yards on third-and-11 to put the Panthers in position to kick a field goal. The Panthers had picked up only 45 yards on their previous 28 plays. It was the second-longest run allowed by A&M this season.
A little respite: The Prairie View fans cheered when Luis Reyes hit a 25-yard field goal.
Key statistic: The teams combined for 121 yards rushing on 21 carries (5.8 average) in the quarter.
FOURTH QUARTER
Fab freshman: A&M's Amari Daniels scored his first career touchdown on an 8-yard run untouched to cap a 12-play, 74-yard drive. The Miami native carried the ball on the last five plays of the drive for 40 yards.
Helmet throw: Panther offensive guard Kolbi Lewis had his helmet ripped off, and it rolled close enough to the Prairie View sideline that it was retrieved by an assistant coach.
A first: The Aggies committed their first penalty when backup nickelback Deuce Harmon was called for pass interference with 11 minutes, 40 seconds left in the game.
Key statistic: A&M's backup running backs Daniels and LJ Johnson combined for 76 yards on nine carries in the quarter.