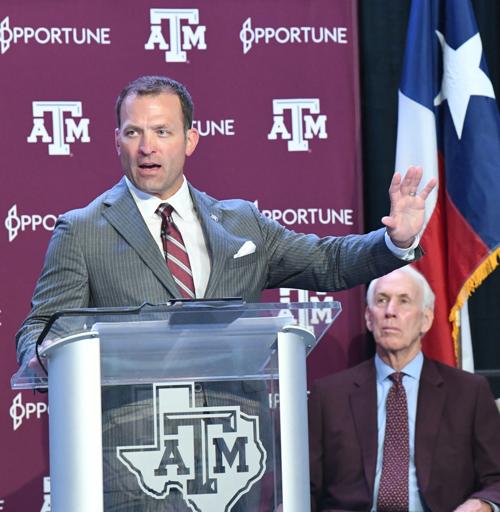 As the number of positive cases of COVID-19 has spiked in the Brazos Valley over the last several days, the Texas A&M athletics department has not been immune. 
A&M Athletic Director Ross Bjork told The Eagle Wednesday that the number of positive cases among A&M's student-athletes has increased, as the athletic department expected. Bjork declined to give the exact number of positive tests, saying the department is following the reporting guidelines of the Brazos County Health District.
"We aren't at liberty to give exact numbers, and we're following how [the health district] reports their numbers," Bjork said in a text message. "They don't give breakdowns on groups of cases." 
In a video interview released by the Texas A&M University System Wednesday, which was filmed last week, Bjork told Chancellor John Sharp that there were less than five positive tests upon initial screening in early June, all of which were asymptomatic. 
According to Bjork, a laboratory from Dallas came to College Station to assist in the initial testing for returning student-athletes in early June. 
"One of the things that we're excited about, as we get into practices and competition, is having access to regular testing. We think we can deploy all kinds of resources here at Texas A&M for rapid response testing, quick turnaround if we need it," Bjork said in the video.
Wednesday, the Brazos County Health District reported the highest single-day total of new cases in the county since the beginning of the pandemic with 145, moving the total number of cases over 1,000. Of those cases, 507 are considered active, an increase of 129 from Tuesday. There is also a high mark of 27 hospitalizations as of Wednesday. 
Since Saturday, 304 positive tests have been reported in Brazos County. 
Of the 1,025 cases, 282 are people in their 20s, and 91 are ages 15 to 19. Brazos County Alternate Health Authority Dr. Seth Sullivan told The Eagle last week that all positive cases of A&M students will be reported in the health district's numbers.
"We're anticipating that's going to be a lot of contact tracing," Sullivan said of the return of students to campus. "We anticipate a lot of cases, and as we anticipate cases, we need to identify all the contacts around those cases. It's going to require more resources than we currently have."
Additional resources for contact tracing will be available in the weeks to come, he said.
Tuesday, Baylor issued a release stating that three student-athletes tested positive for COVID-19 out of 59 who were tested. Last week, the University of Houston suspended athletic activities after six student-athletes tested positive for COVID-19. Texas had two positive tests out of 58 football players that returned to campus, according to a statement from the athletic department early last week. Texas Tech reported positive tests in its football, men's track and field and women's basketball programs, but did not provide exact numbers. TCU is declining to release the results of student-athlete COVID-19 tests, according to a Fort Worth Star-Telegram report.