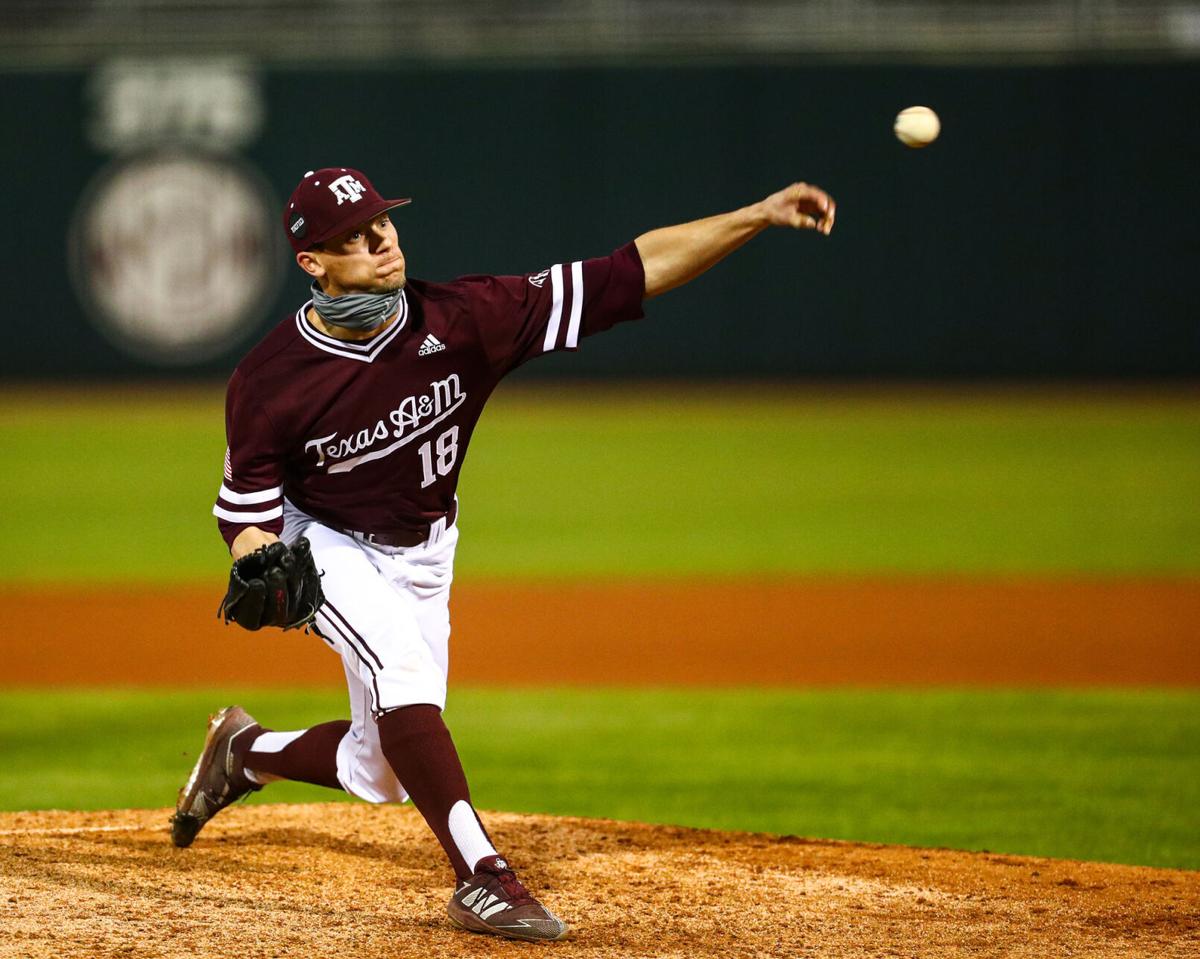 When Texas A&M relief pitcher Chandler Jozwiak made an eagle playing golf at Brenham Country Club with his brother Tuesday morning, he knew it was going to be his day.
A few hours later, Jozwiak heard his name called in the 13th round of the 2021 MLB draft, selected by the Miami Marlins as the 389th pick.
"It feels awesome," Jozwiak said. "It was a lot more stressful and nerve wracking than I thought it would be."
As Jozwiak's golf round came to a close, the Marlins gave him a call to let him know they were interested in taking him, but the anticipation still proved fierce for the left-hander. He gathered with his parents, brother and sister-in-law at their family home in Brenham and wired a laptop into the TV, so they could watch the MLB.com live stream of the draft teleconference and hear the long-awaited announcement.
That is, until his mother ended the wait prematurely by watching a text-based draft tracker that flashed her son's name before it was announced.
"My mom was looking at it and couldn't stop herself," Jozwiak said with a laugh. "She was crying before they said my name, so she kind of ruined it, but I'm glad she was happy about it."
Jozwiak himself said he was flooded with emotion when he saw his name called.
"I thought I was going to jump up and down, but it was more like putting my head down," he said. "I couldn't believe it happened. It's something you work your whole life for if you start playing baseball early, and when it happens, it's a different feeling. That's for sure."
Jozwiak was the fourth current Aggie taken in the 2021 draft, following left-handed pitcher Dustin Saenz (fourth round, Washington Nationals), right-handed pitcher Bryce Miller (fourth round, Seattle Mariners) and infielder Will Frizzell (eighth round, Washington Nationals). Aggie recruits Izaac Pacheco (Friendswood) and Logan Henderson (McClennan) were taken in the second and fourth round, respectively.
Jozwiak served as former head coach Rob Childress' go-to arm out of the bullpen, throwing 62 innings, which ranked second on the team to Saenz's 84 1/3 and fourth overall in the Southeastern Conference. Jozwiak struck out 72 and tallied a 3.84 ERA, the 11th best in the SEC. His season included a two-inning save in the Aggies' 2-0 midweek win over Texas, which later made the College World Series.
Born in Bryan, Jozwiak grew up in Brenham and is a 2017 graduate of Brenham High School. He threw a perfect game for the Cubs in the 2017 playoffs.
The reliever said he already had told new Aggie head coach Jim Schlossnagle that he is turning professional. Jozwiak, along with other seniors, could take an additional year of eligibility due to the COVID-19 pandemic.
Jozwiak will report to the Marlin's spring training facility in Jupiter, Florida, on Sunday or Monday at the home of the low-A Jupiter Hammerheads. The Marlins are owned by former New York Yankee shortstop Derek Jeter, a longtime hero of Jozwiak's.
"Hopefully I get to meet him, because he's one of, if not my favorite, baseball player ever to play," Jozwiak said.
Once in Jupiter, Jozwiak will reconnect with former A&M reliever Cason Sherrod, who is recovering from Tommy John surgery at the spring training facility. Sherrod was drafted in the 13th round by the Marlins in 2018 and had been assigned to the high-A Beloit Snappers before the injury.
"Hopefully, I get to hang around him and get a familiar face to show me around," Jozwiak said.
Sherrod will be ready to help.
"I'll be here to be any kind of asset that I can be for Chandler," Sherrod said. "I really do admire the way he goes about his business, and I think that's something that's going to set him up for a lot of success moving forward, just because when you think about minor league ball and you think about the grind, it's about being able to take care of your business on your own."
NOTES — Aggie sophomore reliever Mason Ornelas, who entered his name in the NCAA transfer portal last week, will follow Childress to Nebraska to finish his college career. Ornelas finished 2021 with a 5.11 ERA and a 3-2 record as one of Childress' few dependable options out of the bullpen. ... A&M recruits Rawley Hector (P, Anna) and Ryan Prager (P, Dallas Hillcrest) were not selected in this year's draft, though they were ranked in the top 500 prospects by Perfect Game. ... A&M picked up transfer commitments this week from Texas Tech right handed pitcher Micah Dallas, North Iowa Area Community College right-handed pitcher Robert Hogan, Hartford left-handed pitcher Nick Dombkowski and Mississippi State right-handed pitcher Xavier Lovett. Cal State Fullerton pitcher Tanner Bibee had committed to the Aggies but was selected in the fifth round by the Cleveland Indians. ... Former Bryan and Texas pitcher Kolby Kubichek was selected in the 18th round (532nd overall) by the New York Mets.