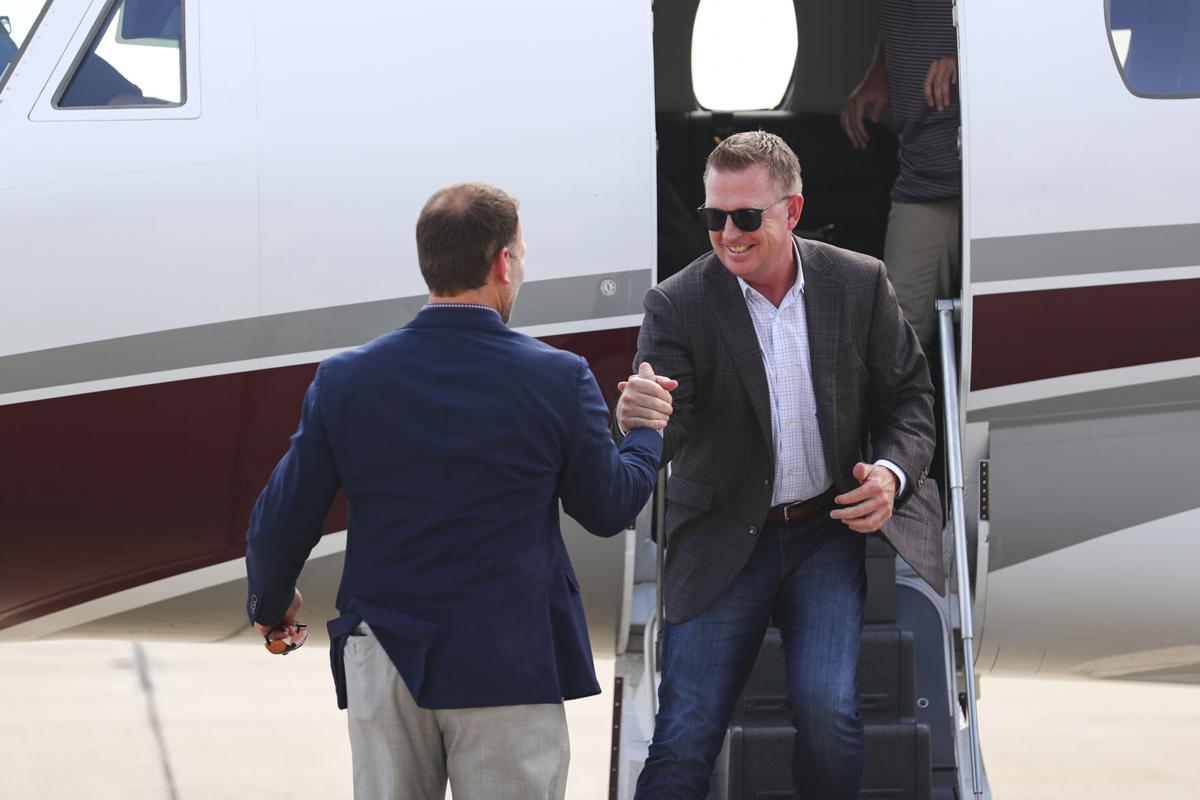 Texas A&M has hired TCU's Jim Schlossnagle as its head baseball coach, according to a press release from the athletics department.
"I am extremely excited to get things started in Aggieland, and I am humbled by this incredible opportunity," Schlossnagle said in a statement. "With the resources and facilities available at this world-class university, the foundation is here to win championships and make the 12th Man a regular visitor to Omaha."
Schlossnagle, who led the Horned Frogs to the College World Series five times in the last 11 years, replaces Rob Childress, who coached A&M for 16 seasons. Childress' contract is due to expire on June 30 and athletics director Ross Bjork announced on May 23 that Childress would not be retained.
In 18 seasons at TCU, Schlossnagle tallied the most wins for a baseball coach in school history with a 693-327 record, including a 255-107 conference record. He took the Horned Frogs to the NCAA tournament 15 times, including seven super regionals.
"As our search progressed, it became abundantly clear that Jim Schlossnagle had the experience, recruiting prowess, player development background and baseball knowledge to deliver a championship-caliber program for Aggie baseball," Bjork said in a statement. "He owns the best winning percentage of any college baseball program in Texas over the last 10 years, and his track record of success on a national stage speaks for itself."
Schlossnagle got a contract extension in 2016 after taking TCU to its third-straight CWS. His salary rose from $359,503 in 2010 to around $1.2 million in 2018, according to reports from the Fort Worth Star-Telegram, making him one of the highest-paid coaches in college baseball.
According to Drew Davison of the Star-Telegram, TCU countered A&M's offer with a five-year extension valued in the $1.3-1.5 million per year range, but Schlossnagle declined it and took the A&M job.
Schlossnagle's Horned Frogs won nine games over their five trips to Omaha, Nebraska, and advanced to the national semifinals in 2015-17. TCU ended A&M's seasons in all three of those years — in the super regionals in 2015-16 and at the CWS in 2017.
Seventy-seven TCU players who played for Schlossnagle have been selected in the MLB draft, most notably Cy Young winner Jake Arrieta, All-Star infielder Matt Carpenter, pitcher Andrew Cashner and catcher Bryan Holiday.
"He's a demanding coach, but he pushes you in a way that ... he's just a great motivator," former TCU outfielder Keith Conlon said. "I think he expects a lot, but everything he says he's going to do, he delivers on."
Though he has a pitching background, Schlossnagle operates similarly to a Major League manager in a more CEO role. This approach has created space for a broad coaching tree trained under him to spread across the country.
In the Southeastern Conference, Tennessee head coach Tony Vitello spent three years in Fort Worth as an assistant to Schlossnagle before moving on to an assistant's role at Arkansas then head coach for the Volunteers.
"I'm sure what [Childress] left behind is pretty strong as are all the programs in the league," Vitello said. "Coach Schlossnagle will go there, and he'll put his own spin on it.
Other head coaches who were Schlossnagle assistants include Houston's Todd Whitting, West Virginia's Randy Mazey and Incarnate Word's Ryan Shotzberger. Former player Steven Trout is also the head coach at Texas State.
"I think Texas A&M made a tremendous hire in Jim Schlossnagle," Whitting said. "Obviously, it's the championship culture he's going to bring with the multiple trips to Omaha. He's achieved at the highest level and turned TCU into one of the top five programs in college baseball. He'll take that exact mindset and work ethic and passion with him to College Station. I think they hit a grand slam hiring Schloss."
Schlossnagle has been linked to other job openings during his tenure at TCU, most recently with Mississippi State in 2018. Schlossnagle eventually pulled his name from contention at Mississippi State, which hired Chris Lemonis. Schlossnagle was rumored to be a top candidate for the Texas job opening in 2016 but told the Star-Telegram the only previous meeting he had with another program was with Auburn in 2005.
The Aggies nabbed Schlossnagle amid an active coaching carousel in top-tier programs this year.
LSU is the most notable program looking for a coach after Paul Mainieri announced he is retiring after his 15th season leading the Tigers. Traditional powers Cal State Fullerton and Arizona State are also looking for new head coaches this offseason, while Rice announced the hiring of alumnus Jose Cruz Jr. on Wednesday.
Schlossnagle arrived at Easterwood Airport on Wednesday afternoon alongside his children Jackson and Kati in preparation for a 1:30 p.m. Thursday formal introduction and press conference.