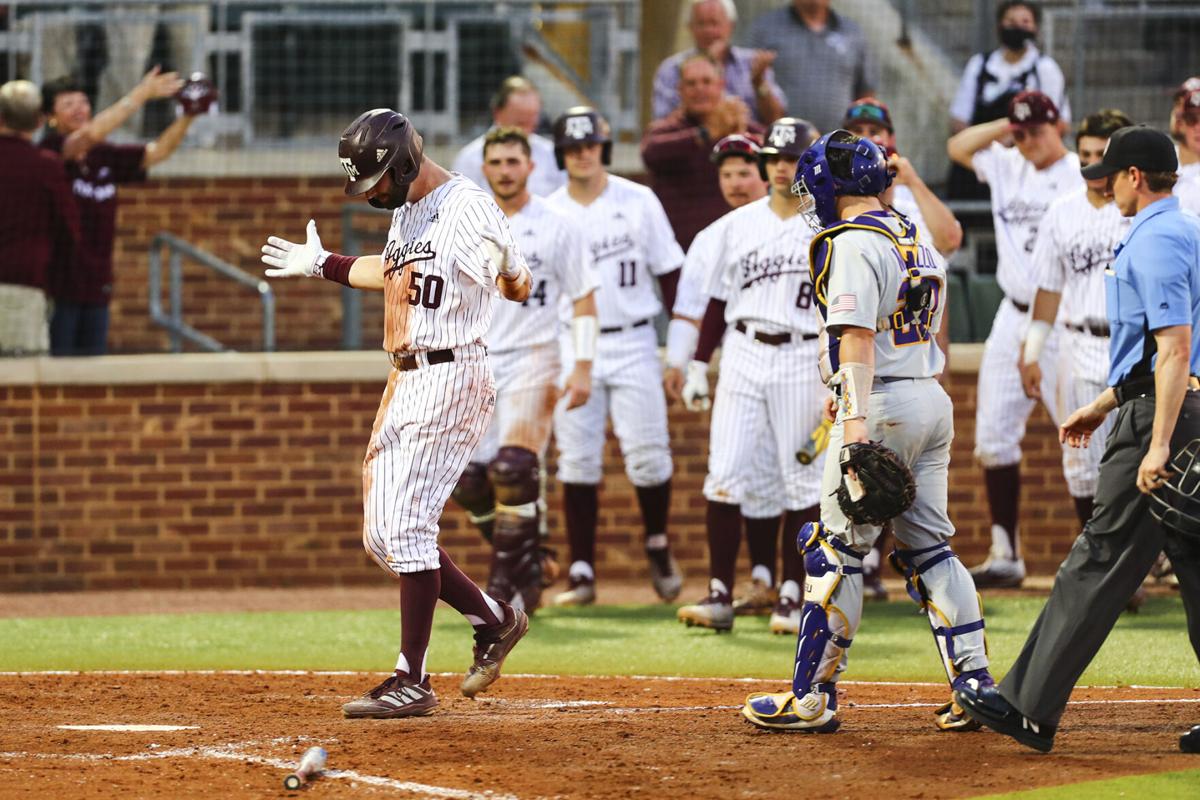 When a tumultuous 2021 Texas A&M baseball season ended, seniors Will Frizzell, Chandler Jozwiak and Dustin Saenz, along with junior Joseph Menefee, took a trip to the Frio River to clear their minds and get away from College Station for a few days.
It was a time to unwind, reflect on their four years in Aggieland and look ahead to the future.
All three seniors, who were part of the same recruiting class, will represent A&M in the Major League Baseball Draft, a 20-round event running Sunday through Tuesday.
"It's just been all of our dream — every baseball player's dream when they start playing — to get drafted and make it to the MLB," Jozwiak said. "So, being there and being able to talk about that and that it's become real life is pretty good to think about and a little scary as well."
The Aggies fell well short of their team goals this season, which included a 29-27 overall record, missing the Southeastern Conference tournament and ending a 13-year streak of NCAA tournament appearances. Regardless, Frizzell, Jozwiak and Saenz used their senior years to add to their individual resumes. Saenz, the Aggies' Friday night starter for the majority of the season, led A&M in wins with six, while posting a 4.27 ERA and striking out a team-high 104 batters.
Saenz is ranked as the 189th best prospect in the draft according to MLB.com and the 125th according to Perfect Game.
Jozwiak was former head coach Rob Childress' go-to arm out of the bullpen, throwing 62 innings, a mark only bested by Saenz, and ranked fourth in the SEC. Jozwiak struck out 72 and tallied a 3.84 ERA, the latter ranking 11th in the SEC.
"For my past few years, I was always known as that kind of go-to lefty, but I wasn't very consistent for all three of those seasons, but I think this year, for the most part, I was the most consistent out of the bullpen," Jozwiak said.
Jozwiak's season was highlighted by a two-inning save in the Aggies' 2-0 midweek win over Texas, which would go on to make the College World Series field. Jozwiak said he's been in contact with Major League teams and is optimistic he will hear his named called.
"Chandler, I lived with him all of college, and we've had our ups and downs since we were at A&M and we kind of just kept on pushing and working hard," Frizzell said. I'm really happy for that guy."
While pitchers tend to dominate the higher rounds of the draft, Frizzell, an All-American selection, enters the three-day draft ranked 435th overall by Perfect Game. The first baseman paced the Aggies in batting average, hits, doubles, home runs and RBIs. His .343 clip at the plate ranked ninth in the SEC and he finished 11th in the country with 19 home runs. He was first in the SEC in slugging percentage at .686.
His solo effort against Ole Miss helped push the Aggies to their second conference series win of the season, going 7 for 12 at the plate with five home runs. Frizzell earned SEC and National College Baseball Writers Association player of the week honors for his efforts.
"The Ole Miss weekend, for sure, as a whole was the peak of my season and I felt like the peak of my college career," Frizzell said. "I felt like I had so many weekends where I hit the ball so well and have a good weekend, but not a great weekend. You would see across the country, all these guys would have player of the week type weeks and I felt like I was close to that, but I had never really pushed through that barrier. That weekend, I felt like everything clicked."
Frizzell said he was as healthy this year as he had been through his college career, which aided in a strong defensive performance.
Like Jozwiak, Frizzell said he's been in contact with MLB teams, but is uncertain of who might call his name.
"I'm just really excited for the opportunity and to just start playing again, is really the main thing," Frizzell said. "I just really want to get back out on the field and start playing."
Along with the trio of seniors, Aggie starter Bryce Miller, and his upper 90s fastball, will have looks from teams. Miller is ranked 91st overall by MLB.com and 11th by Perfect Game.
Miller went 3-2 on the season with a 4.45 ERA and 70 strikeouts. While most of his time at A&M was spent out of the bullpen, he posted a career 8-6 record with a 4.07 ERA and 141 strikeouts.
"I'm definitely hoping and expecting to see Bryce Miller's name," Jozwiak said. "He's a very talented pitcher. I know if you asked him, he wished he would have had a better season, but he stuff is still some of the best I've ever seen. Very elite pitching ability."
A&M's new coaching staff, helmed by Jim Schlossnagle, will have a keen eye on four A&M commits that could choose the professional route over college. Shortstop Isaac Pacheco out of Friendswood is ranked 67th by Perfect Game, followed by pitcher Logan Henderson of McLennan Community College at 192, pitcher Rawley Hector out of Anna and pitcher Ryan Prager from Dallas Hillcrest at 419.
Last year, in a shortened five-round draft due to the COVID-19 pandemic, A&M's Asa Lacy and Christian Roa were selected and are both part of the same recruiting class as Jozwiak, Frizzell and Saenz. This year, the trio hopes to follow in their footsteps.
"It's a pretty special class that we came in with," Jozwiak said. "So it's pretty cool that Asa and Roa are getting their opportunity and hopefully we get ours as well."