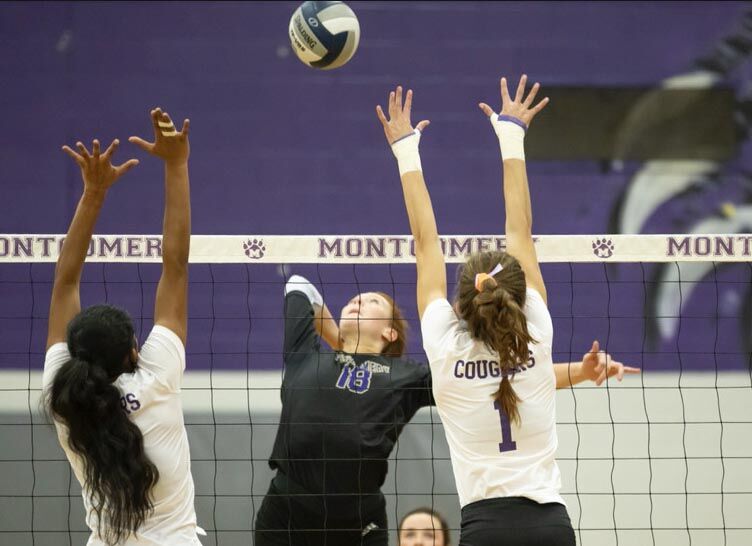 MONTGOMERY — The College Station volleyball team is peaking at the right time.
The Lady Cougars opened the Class 5A playoffs with a workmanlike 25-12, 25-21, 25-21 bi-district victory over the Montgomery Lady Bears on Thursday night.
College Station (18-4) advances to play 13th-ranked Pflugerville Hendrickson (19-3) in the area playoffs Monday or Tuesday at a site to be determined. Hendrickson advanced with a 25-9, 25-20, 25-12 victory over Lockhart.
College Station closed the regular season on a seven-match winning streak to earn the second seed in District 20-5A and set the tone against Montgomery with strong serving in the first set. The Lady Bears, tri-champions in 19-5A, bounced back to play even with College Station through the first several points over the next two sets, but down the stretch each time the Lady Cougars made fewer mistakes with better all-around play.
"We've been practicing on staying in system a lot and creating opportunities for us to be in system, and I think we did a really good job of that," College Station coach Kacie Street said. "I think in serve-receive, there were some runs where that's what we're going to work on before we go on to the next round, but overall we played pretty clean and executed our game plan."
College Station's top goal was to neutralize Montgomery setter Raina McWhirter, who showed an uncanny ability to put the ball almost anywhere when she had time.
"We wanted to make sure they were having to move her around quite a bit, so they didn't have the firepower from the outside or from the middle," Street said. "And I think we did well really attacking at her or going at her when she was blocking."
McWhirter, who has signed with Palm Beach Atlantic University, helped Montgomery take a 3-1 lead in the first, but College Station built a 15-7 lead with great serving from juniors Keira Herron and Caroline Coyle, who combined for nine points.
"We're an extremely aggressive serving team," Street said. "We've been like that all year, and you have to be in our district in order to create opportunities."
Montgomery (15-8) put itself in position to win the second set with strong serving from senior Skyla Rothand and junior Madison Chandler and kills from senior outsider hitter Emma Ely and 6-foot freshman Grace Ellis. But the Lady Cougars battled back from a four-point deficit to take a 15-14 lead, their first since 4-3. Montgomery regrouped after a timeout with a 4-0 run and College Station reciprocated with a 3-0 run after a timeout to tie the game at 20. College Station got a pair of kills from junior Emery Goerig and two kills and a block from senior Kate McKinney to win the set.
College Station had great balance all night with 35 kills from seven players. McKinney and Goerig each had eight. Senior Shreya Sunkari and junior Ana De La Garza each had six, and sophomore Riley Newton had five.
"I think we did really well, just siding out and playing our game and focusing on our team and ourselves and not really worrying about what the other team was doing," De La Garza said.
Montgomery had several impressive kills set up by McWhirter, but the Lady Cougars did a great job of hitting soft shots into open areas.
"We've been working on that," Street said. "We want to make our game a little more dynamic."
The 5-5 De La Garza typically attacks with powerful kills, but she had a couple dandy soft shots.
"We're all smart in where we place the ball," De La Garza said. "We know what's open on the other side of the court, so I think we just know where to place it and when to do that."
Those soft shots, along with a few power kills, led to errors by the Lady Bears.
Montgomery coach Kayli Kerr said her team might have eased up when it started to string points together.
"I think we would get a little bit comfortable and then they hustled," Kerr said. "A lot of balls that we thought were done, they didn't stop. I think it flustered us a little bit."
College Station battled back to win a couple points when some of the Montgomery players were about to celebrate.
"Those unforced errors came back to haunt us, especially in tight games," Kerr said. "And that's something we worked through all season and it got much better, but tonight it hurt us."
Montgomery tied the third set at 17, getting a pair of aces by senior Maddie Chappell. But the Lady Bears had a service error and two more unforced errors that helped College Station close out the match.
Newton closed the night on a kill with a set from Abby Peterek, who ended with 17 assists. Macy Nugent also had nine assists. College Station had 50 digs with 16 by De La Garza. Herron added eight and Peterek had six. Nugent and McKinney had five each with Goerig, Newton and Coyle each adding three.
NOTES — Kerr coached at College Station from 2016-18. ... Street, who was elevated from freshman coach to head varsity coach when Kerr left, beat her former boss for the second time. The other was a two-set victory in a 2018 tournament.
... College Station reached the regional quarterfinals last season, while Montgomery went just 4-14 in district and missed the playoffs. ... Ely had 11 kills and 16 digs for Montgomery. McWhirter had 24 assists and 10 digs.
Be the first to know
Get local news delivered to your inbox!