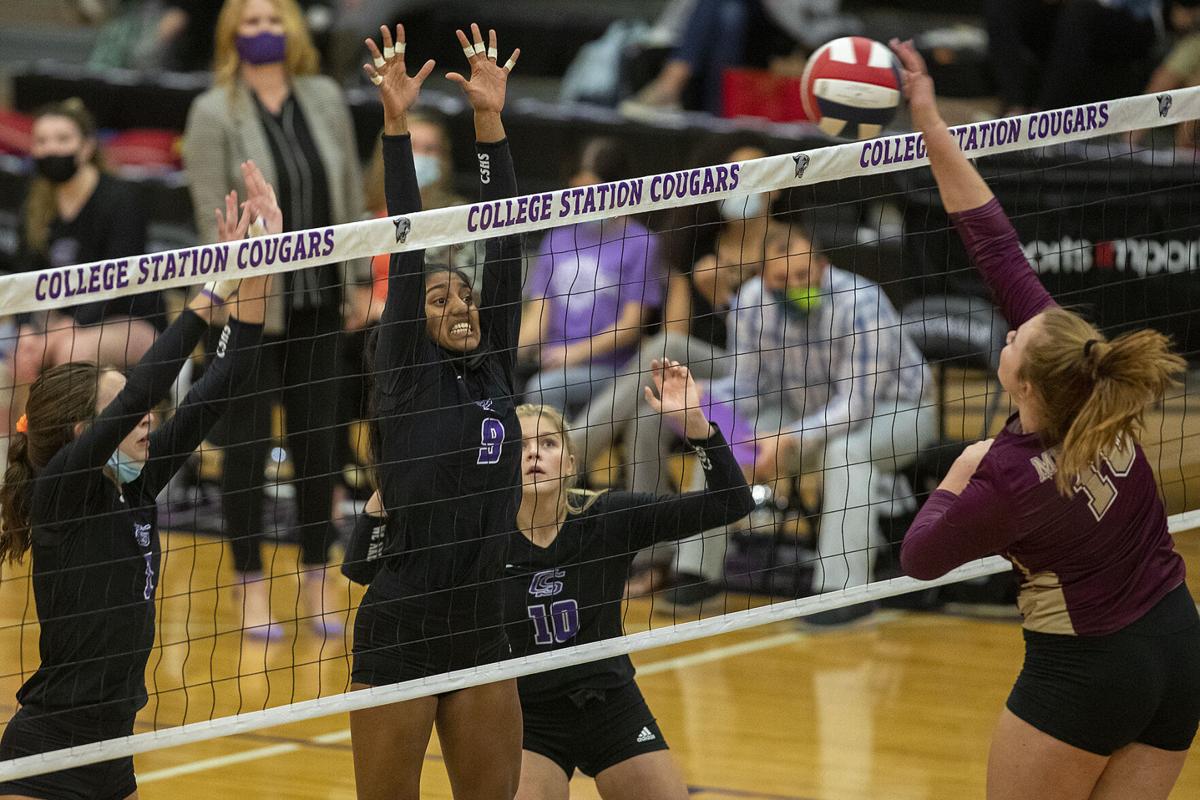 It took almost four weeks, but the College Station volleyball team finally finished what it started.
The Lady Cougars gutted out an emotional 25-23, 21-25, 25-12, 26-24 victory over third-ranked Magnolia West on Tuesday night in District 19-5A action at Cougar Gym.
College Station (11-4, 6-3) lost in five sets in the first meeting with Magnolia West (14-2, 7-1) but prevented a repeat with solid play to end the match in four sets. Magnolia West made a push for forcing a fifth set with a trio of big kills to tie the fourth set at 22, then took leads of 23-22 and 24-23, forcing the Lady Cougars to take a timeout. College Station responded with a kill by junior Emery Goerig to tie the game for the ninth time, then with Goerig serving, the Lady Mustangs made back-to-back errors to end the match.
"That's a big win for us," College Station coach Kacie Street said as her players celebrated. "That's a very good team."
Magnolia West's only other loss this season came against Class 6A Spring Grand Oaks in a nondistrict tri-match in Spring on Sept. 26. Other than that, the Lady Mustangs had lost only four sets — half of them in a 16-25, 25-13, 25-27, 25-21, 15-9 victory over College Station on Oct. 2.
In the rematch, the Lady Cougars again won the first and third sets but played much better with the match on the line.
"Our focus was, honestly, to play together, knowing that things don't have to be perfect in order for us to come out ahead," Street said. "We just really worked a lot on mentality this week. It was a lot of mentality, because [Magnolia West] is super talented."
College Station showed it is talented as well, executing the game plan and limiting bad stretches.
College Station scored the match's first four points, but Magnolia West rallied for a 10-8 lead. Undaunted, the Lady Cougars went on a 7-1 run for an 18-12 lead. Juniors Ana De La Garza and Emma Deegear each had two kills and senior Macy Nugent added an ace and an assist to cap the run.
Magnolia West stormed back behind senior outside hitter Alyssa May for a 23-21 lead. The Lady Mustangs hurt themselves with a long serve, and Goerig tied the game with an ace. A pair of kills by De La Garza gave College Station the set.
Magnolia West took a 6-1 lead in the second set and controlled play until College Station gained a 19-17 lead on a 4-0 run with the last three points coming off Lady Mustangs' mistakes. But after Magnolia West tied the game at 20, the Lady Mustangs closed out the set on a 5-1 run with all but one of the points coming off College Station mistakes.
College Station was at its best in the third set, breaking a 4-4 tie with six unanswered points. Nugent and junior Abby Peterek did a great job setting up the big hitters, who delivered crowd-pleasing kills as the Lady Cougars seemed to feed off each other. College Station also enjoyed a bit of luck. Deegear hit a desperation shot with her back to the court that hit the top of the net and crawled over, falling into open space for a 14-6 lead. De La Garza also got an assist from the net on a miracle shot for a 24-12 lead.
"Our middles were a lot more effective tonight, which speeds up our tempo," Nugent said. "So by establishing the middle it kind of gets all our hitters [involved] and creates a numerical mismatch, creating better chances for them."
The middle hitters were effective against Magnolia West, but Street said the offense started with Nugent and Peterek. Nugent had 24 assists and Peterek added 20.
"They ran the floor very well tonight," Street said. "Being able to distribute the ball to our different hitters at the right times takes a lot of practice and a lot of awareness."
De La Garza ended with 14 kills and Deegear added 13.
"We were really aggressive on the offensive side," Nugent said. "So for Abby and I, our job was a lot easier because our offense was putting the ball down."
College Station junior libero Keira Herron had 20 digs and Caroline Coyle added 16, many of them on blasts as the Lady Cougars seemed to frustrate Magnolia West's big hitters with their digs leading to assists by Nugent and Peterek.
"That's how you beat a good team like that," Street said.
Nugent gave her coach a lot of credit for the victory.
"She has done a lot with team building, chemistry building, which has helped, especially in the last match [against Magnolia West]," Nugent said. "It came down to grit. Teams were fighting it out when it came down to a dogfight. So we've done a really good job of connecting more, becoming a team more. We were able to fight it out and come together at the end, which we couldn't do that last time."
Be the first to know
Get local news delivered to your inbox!