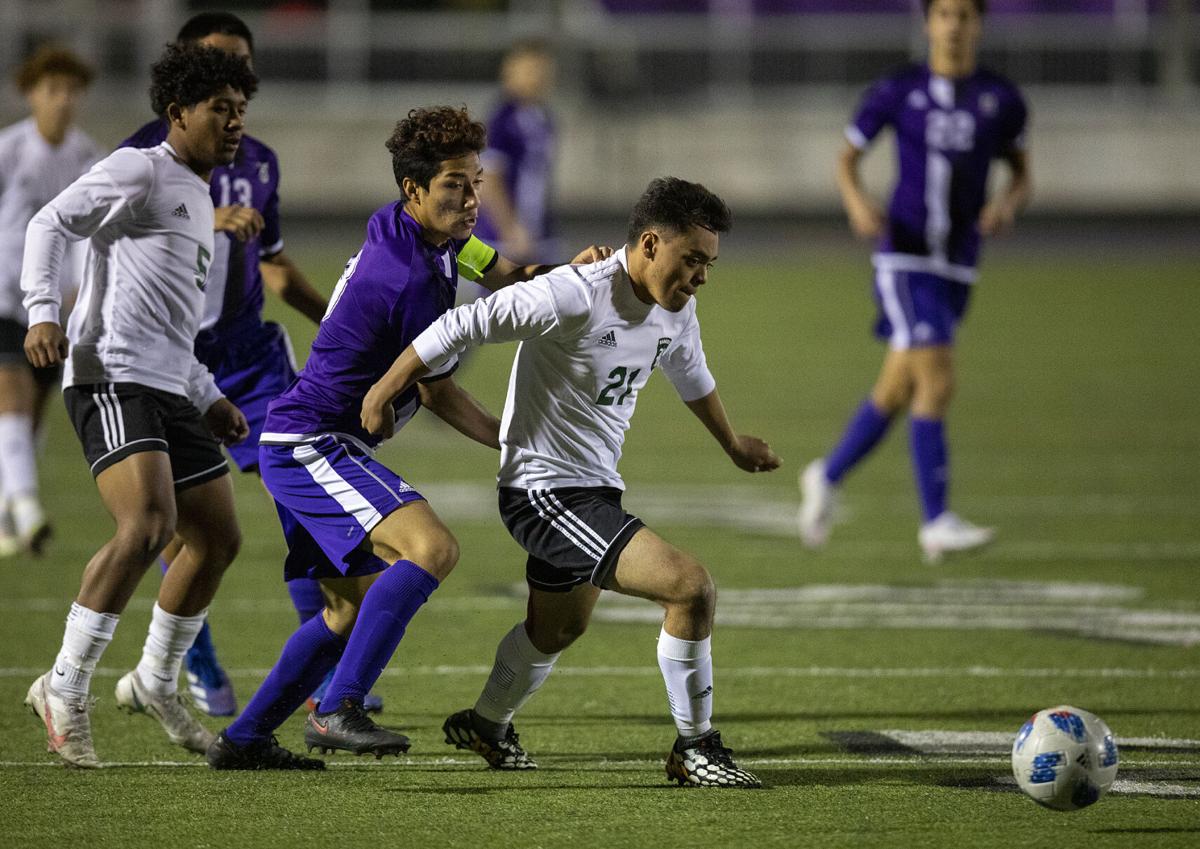 The College Station and Rudder boys soccer teams battled to a 1-1 tie in District 19-5A play Tuesday night at Cougar Stadium because of a trio of outstanding individual efforts.
A scoreless deadlock seemed imminent the way both defenses were playing backed by solid goalkeeping. College Station's Asaph Pineda found a way to beat both, slicing through traffic and hammering home a shot at close range with 22 minutes, 59 seconds left in the match.
It was a deflating blow to Rudder (4-8-3, 1-3-2), which had managed only one shot on goal in the second half despite having the wind at its back. College Station (5-2-7, 3-0-3) also had beaten Rudder 1-0 in the first meeting and had senior goalkeeper Daniel Gildin who had helped the Cougars post three other shutouts in 19-5A play.
The Rangers, though, were able to apply great offensive pressure in the final 12 minutes. Rogelio Martinez, who just a few minutes earlier had been cramping, was able to prevent Gildin from cleanly handling the ball, resulting in Rudder being awarded a penalty kick with 2:29 left. Osman Gutierrez deposited the equalizer just underneath the crossbar.
"I was trying to put it on the top corner, so he couldn't reach it," Gutierrez said. "I hit it almost where I wanted to."
Rudder head coach Dane Seydler said he was pleased his team was able to make adjustments in the second half.
"We had a lot of great chances in the first half, and then early in the second half we just couldn't capitalize," Seydler said. "The last game [against College Station], same thing, we had a crossbar hit. They've got a phenomenal goalkeeper. And finally we were able to break through."
College Station has been fighting a different problem. The Cougars have had trouble holding onto leads, something first-year head coach Chad Peevey understands is a learning process with a young team that includes only six seniors.
"I thought when A.J. put that one away we were going to finish it out," Peevey said. "We've got to grow and finish out games. They're just growing pains we have to go through. We have a lot more district games to keep growing and get better."
Pineda's goal certainly was something to build on.
Rudder goalkeeper Sammy Davila was matching his counterpart until College Station's Shane Grant, who was playing out wide, got a through ball to fellow senior Pineda.
"A.J.'s a pretty creative player," Peevey said. "He was able to beat a couple guys and then put it into the corner. He's a great player."
Rudder's defense had been tough to crack, Pineda said.
"Once I saw my opportunity, I made my run through behind the defenders and they played the ball and I finished it," Pineda said.
It had a chance to be the game-winner until Martinez fought through the defense, forcing a penalty kick.
"As long as it's not in the keeper's hand, they can fight for it, and everybody toppled over everybody and we ended up getting a hand ball," Seydler said.
Added Gutierrez, "We kept on fighting until the end."
That's something Peevey is hopeful his team takes from the game.
"This is the second time this has kind of happened to us," Peevey said. "We were up late in the game and we stopped being aggressive and stopped being who we are, and it just came back and bit us a little bit."
Pineda said they let up and paid the price.
"We need to keep our head in the game and finish it," he said.
NOTES — College Station fell out of a second-place tie with Magnolia West (10-2-3, 4-0-2) but will play the Mustangs in Magnolia on Friday. ... Katy Paetow (8-2-4, 5-0-1) leads the district. ... Rudder will host Magnolia on Friday.