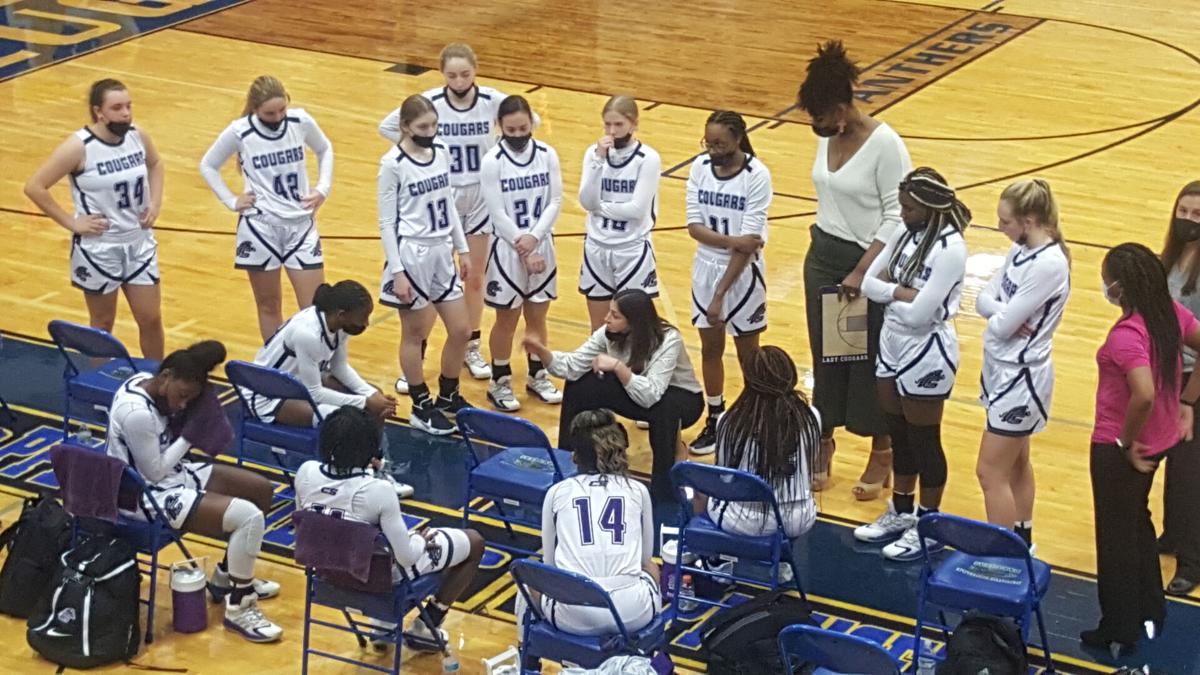 PFLUGERVILLE — The College Station girls basketball team used a breakout second quarter to beat Pflugerville Connally 62-44 in the Class 5A area playoffs at Pflugerville's Panther Gym on Monday.
The fourth-ranked Lady Cougars (22-3) advance to the regional quarterfinals against Kingwood Park on either Wednesday or Thursday. College Station could play three games in one week with the regional semifinals also taking place this weekend.
"This team is experienced enough to know if we are blessed and fortunate enough to play three games in one week, what that means is we are winning ball games," College Station head coach Megan Symank said. "Put this behind us and focus on things in hand — a win against Kingwood Park."
A week-long winter storm disrupted the playoff schedule and also kept the Lady Cougars from getting much practice time. College Station last played on Feb. 11 when it beat Caney Creek 69-17 in bi-district.
College Station showed rust early, but quickly picked up its defense and kept its playoff hopes alive.
"I think it definitely showed that it had been a couple of weeks since we had played a game and had to knock off a little bit of the rust," said Symank, who added that the team only practiced on Friday and Saturday. "We played a little bit too timid to come out with and I thought we did a much better job the second quarter."
The Lady Cougars trailed 11-9 after the first quarter and it would have been worse if not for Tanijah Richardson's 3-pointer from the corner a second before the buzzer. It was Richardson's only points of the night, but arguably was a crucial turning point.
"We weren't playing very well in the first quarter so that pumped a little bit of life into us and certainly got us going for the second," Symank said. "We talk about momentum shifts and how you handle that especially in the postseason. That was certainly a deflater for them and momentum that we used going into the second quarter."
College Station's press and pace forced six turnovers in the first three minutes of the second quarter. Na'layjah Johnson was fouled on a 3-point shot and made all three free throws before making the first 2-point shot of the game to tie it at 14. Johnson then found Cornecia Thompson on a breakaway and College Station never trailed again.
Senior guard Johnson finished with a game-high 25 points, but got plenty of help defensively, especially from Aliyah Collins, whose responsibility was guarding Connally's leading scorer Lashiyah Fowler. Fowler finished with 11 points, four of which came in the opening minute.
"Her matchup today was very, very important so she knew that she had a lot of weight on her shoulder," Symank said. "I told her she didn't do her job the first quarter and she did a much better job the second quarter and it showed. That's what got us going the second quarter. When she stepped up and played everything else fell in place."
Richardson wasn't the only one to contribute off the bench. Sophomore Jayden Davenport scored six points and battled against 6-foot-1 Irianna Rollins in the paint. Rollins finished with eight points, whiel Mariah Robinson led Connally with 15.
"We are rotating through that position and Davenport obviously brings so much athleticism and she is a young player and we are trying to get her the opportunities to score and put the ball in the hole," Symank said.
Jaeden McMillen was also responsible for keeping Rollins in single digits and managed 11 points despite having a couple of shots blocked by Rollins. Collins added eight points and Thompson had six.
Connally (15-9) kept in shouting distance by equaling the Lady Cougars' output of 14 in the third quarter. But an 8-0 run in the fourth, highlighted by a Johnson 3-pointer, gave College Station its biggest lead at 58-38.
College Station 62, Pflugerville Connally 44
College Station 9 18 14 21 — 62
CONALLY (15-9) — Jordan Barrera 0 0-0 0 0; Krystal Berry 1 2-2 3 4; Desiree Gomez 0 0-0 0 0; Lashiyah Fowler 3 5-10 2 11; Mariah Robinson 6 2-5 5 15; Kyra Barefield 0 0-0 0 0; Irianna Rollins 4 0-1 3 8; Karyme Lopez 0 0-0 0 0; Mahogany Wright 3 0-2 4 6; Alex Hernandez 0 0-0 0 0. Totals 17 9-20 17 44
COLLEGE STATION (22-3) — Reese Vivaldi 0 0-0 1 0; Aliyah Collins 2 4-4 2 8,Tanijah Richardson 1 0-0 1 3; Na'layjah Johnson 8 7-9 2 25; Cornecia Thompson 3 0-2 1 6 , Jayden Davenport 0 6-8 2 6, Ashonti Idlebird 1 0-0 1 2 , Bianca Youlton 0 0-0 0 0, Bianca Youlton 0 0-0 0 0; Ruby Valasek 0 0-0 2 0; Jaeden McMillin 4 3-3 3 11; Love Ryberg 0 1-2 2 1. Totals 19 21-28 18 62