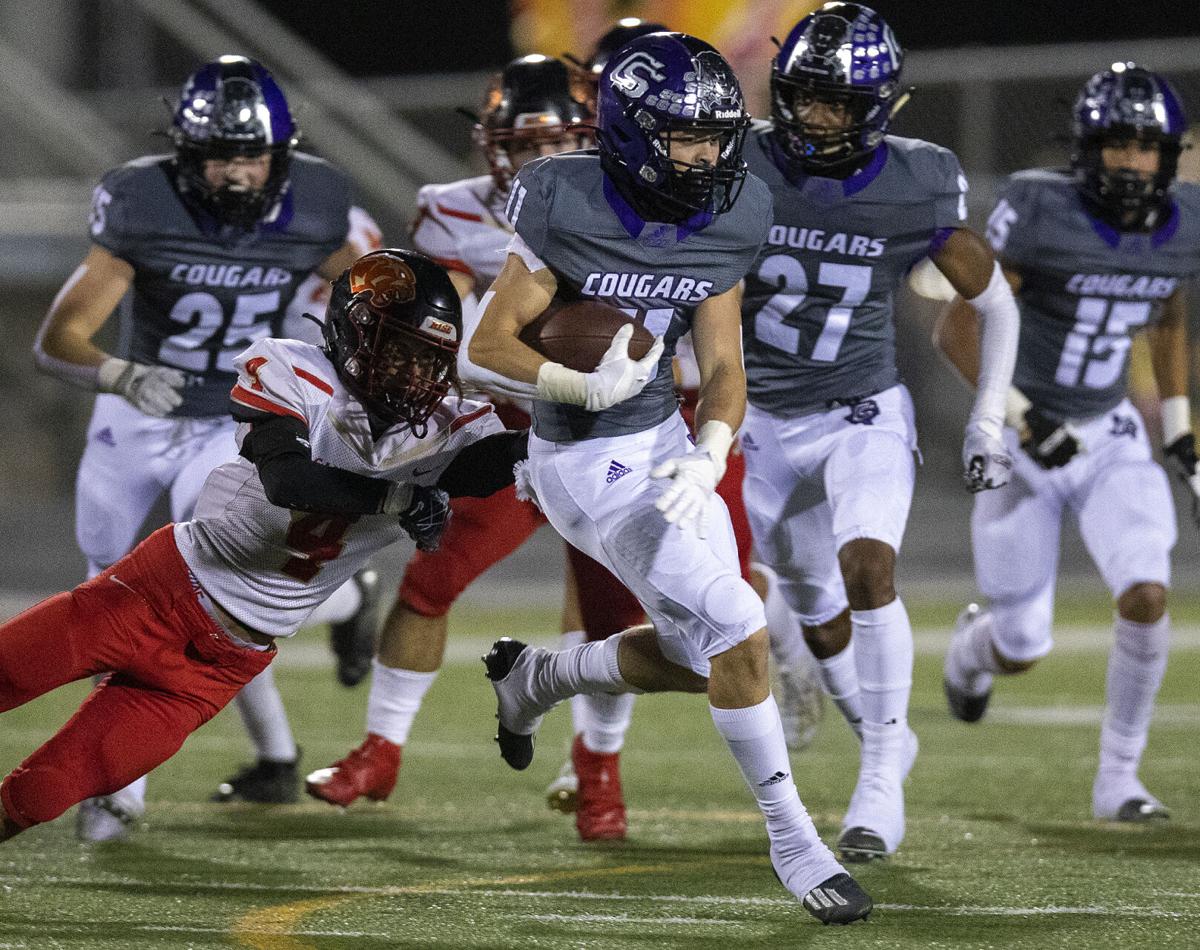 The COVID-19 pandemic may have kept the majority of College Station alumni from returning for Homecoming, but nothing could keep the Cougars out of the end zone in their 72-0 victory over Caney Creek on Friday in District 8-5A Division I play at Cougar Stadium.
Much in the same fashion as the Cougars' 64-0 blowout of Cleveland last week, College Station's first team played in the first half and cheered on their teammates after the first drive of the second half.
College Station's Marquise Collins, who had 10 carries for 111 yards, scored five straight touchdowns for the Cougars (7-1, 5-1), three on the ground and two on pass receptions.
After setting the school record with six touchdown passes against Cleveland, College Station quarterback Jett Huff continued his hot hand against the Panthers (0-8, 0-6). He completed 14 of 15 passes for 137 and four touchdowns, breaking the school record for completion percentage he set last week.
College Station's Traylen Suel caught three passes for 28 yards and a touchdown. Huff also threw touchdown passes of 11 and 16 yards to Collins and a 1-yarder to Will Henson
Roderick Brown again played until the first drive of the second half and amassed 75 yards on just three carries, two of them for touchdowns. Bradley Jones and Davion Mitchell continued to carve up the Caney Creek defense, combining for 134 yards on 15 carries.
After not allowing a completion last week and only 83 yards of offense, the Cougar defense was even better against the Panthers. Caney Creek crossed midfield just once against College Station's starters and finished with minus 49 yards of thanks to three bad snaps on punts. The Cougars held the Panthers to 0-for-10 passing with two interceptions.
With a fifth straight victory, College Station has all but clinched a seventh straight trip to the playoffs, though the second-place Cougars are still playing for the right to host a first-round playoff game.
College Station returns to action next Friday at Waller and will close out the regular season at home against Magnolia West.
NOTES — College Station had outscored Caney Creek 258-14 in their four previous meetings. ... The Cougars shut out the Panthers for the third straight time at Cougar Stadium. ... College Station has trailed just once this season — in the fourth quarter of its lone loss at Magnolia.
Be the first to know
Get local news delivered to your inbox!