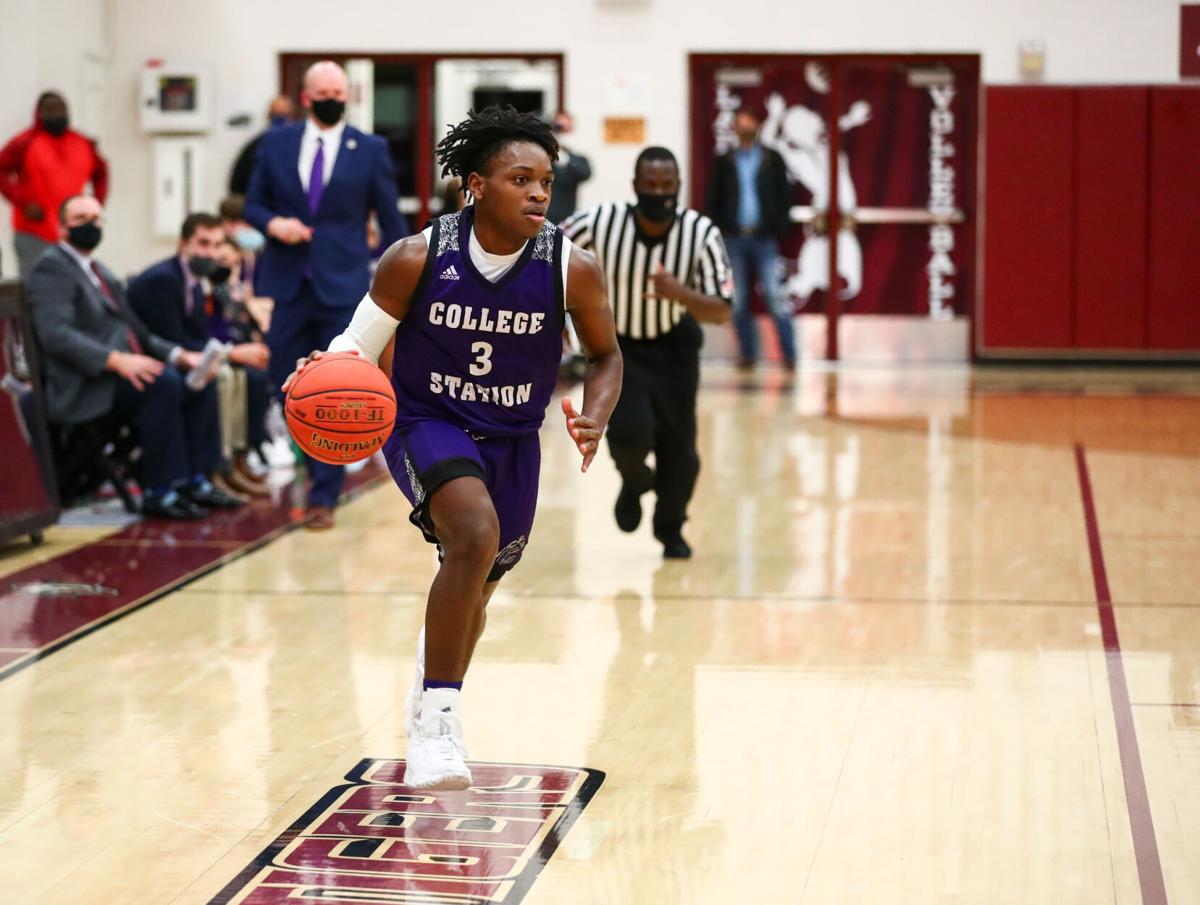 Three quarters of defensive dominance turned into an offensive outburst in the final eight minutes, and the College Station Cougars held on for a 48-46 win over rival A&M Consolidated on Tuesday night in District 19-5A boys basketball action at Tiger Gym.
"They just kept fighting and kept fighting and kept fighting," College Station coach JD Sullivan said. "They didn't get negative. They stayed positive with each other, kept picking each other up and encouraging each other. In a game that goes down to the wire like that, that's the difference in the game."
Consol had a chance to tie the game with 1.1 seconds left but missed two free throws. College Station's Byron Johnson rebounded the ball on the second miss and dribbled out the clock. The Tigers (3-6, 1-4) were just 14 of 31 (45.2%) from the free-throw line.
"We didn't do a great job on the line tonight," Consol coach Andrew Daily said. "That's one thing that can be a deciding factor in a close ball game, and unfortunately we didn't do a great job at all at the line tonight."
Likewise, making free throws proved crucial for College Station (8-12, 1-5). The Cougars made 6 of 7 in the final minute and 15 of 18 overall.
"We had some guys go to the free-throw line, Derion [Morriel], Darrell [Ellis], Justin [Dixon] all hit big free throws and Ronnie Johnson hit a huge 3 from the corner," Sullivan said. "With the crazy events that happened in the last 25 seconds, those wound up being huge points."
Tied at 24 going into the fourth quarter, both teams started making shots and trading baskets. Sullivan said reducing the number of turnovers helped the Cougars find a rhythm on offense.
Early in the period, College Station fed off a trio of 3-pointers from Ellis, who led the Cougars with 19 points off the bench.
"He knows he's got the green light, and he was feeling it," Sullivan said. "It didn't matter if it was a couple of steps behind the line or eight feet behind the line, he felt like it was going to go in and we just fed off of that."
Daily said he hopes the Tigers can learn from their loss as they look to bounce back at 6:30 p.m. Friday at Rudder.
"It gets to the point where your mindful of, 'What are we doing and what do we need to do to improve?'" Daily said. "That's basically what we're going to focus on is what we need to improve on defensively as well as offensively and as a unit as a whole."
Tuesday marked College Station's first district win of the season. The Cougars look to turn it into two at 6:30 p.m. Friday when they host Brenham.
"We've got eight games to go in district," Sullivan said, "and hopefully when the sun comes up tomorrow, we're not satisfied with what we did tonight and we use it more as momentum going into the next game."
NOTES — Sullivan won his 600th career game Tuesday. "It's not me. It's those players each and every year that are giving us everything that we can ask for," Sullivan said of reaching the milestone. "The beauty of it is we love each other, and even when we lose, we care about each other and we've got something that will last a lifetime after the scoreboard's turned off, after the ball quits bouncing."
College Station 48, A&M Consolidated 46
COLLEGE STATION (8-12, 1-5) — Ellis 19, Morriel 9, R. Johnson 7, B. Johnson 5, Bullin 4, Dixon 2, Peil 2.
CONSOL (3-6, 1-4) — Ali 15, Lewis 9, Edwards 7, Love 5, Minor 4, Jackson 3, Smith 2, Lero 1.
College Station 3 14 7 24 — 48
A&M Consolidated 7 7 10 22 — 46