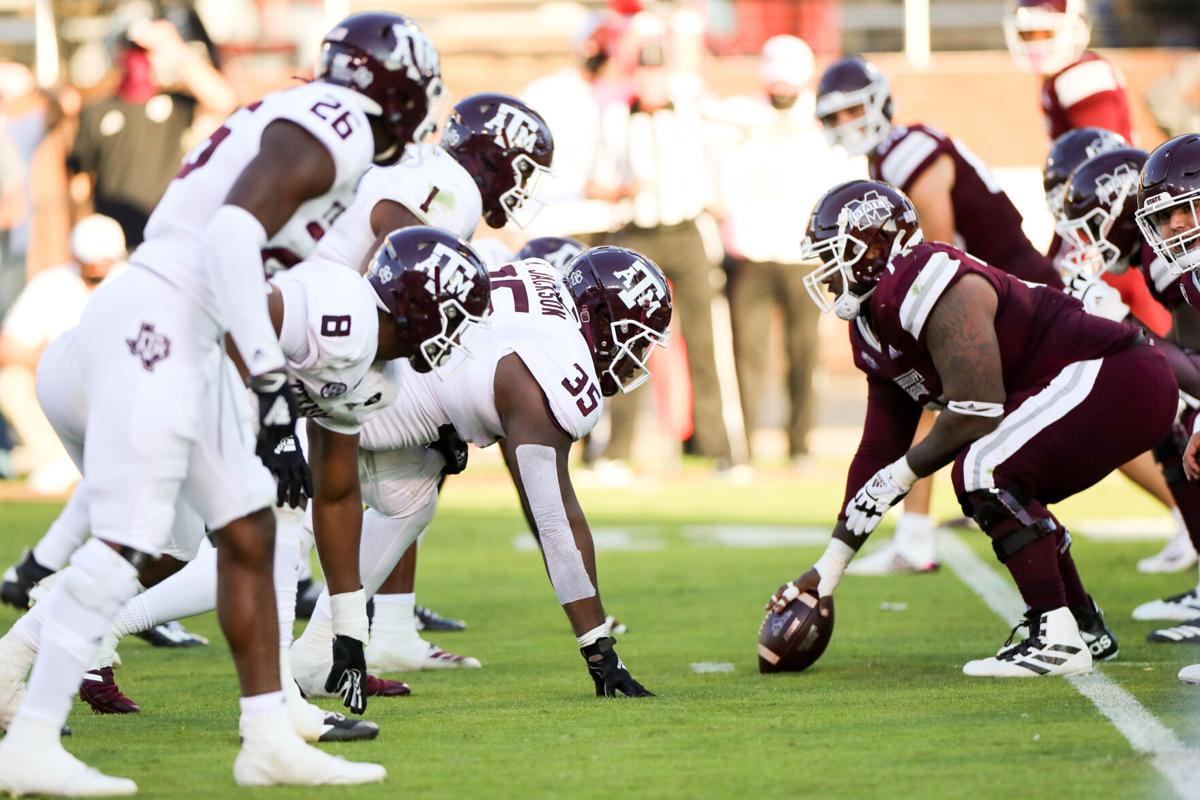 What went right: The offensive line paved the way for 186 yards rushing, averaging 5.5 yards a carry. A&M in 34 carries lost yardage only once, on the final play when everyone knew the Aggies would run. A&M didn't allow a sack for the third straight game.
What went wrong: Mississippi State caught a break on the deflected pass it intercepted and returned for a touchdown, but a low snap probably might have thrown the play's timing off.  
Bottom line: Isaiah Spiller just keeps getting better. He had 18 carries for 114 yards rushing.
What went right: A&M dominated the line of scrimmage, though it often rushed only three and did it without tackle Bobby Brown III who got hurt last week. Its ability to pressure the quarterback led to an interception, a fumble, six sacks, five quarterback pressures and five pass breakups.
What went wrong: The unit gave up its only points because it allowed a pair of third-down conversions and then gave up a 32-yard touchdown pass where the receiver found open space and eluded defenders.
Bottom line: A&M played smart and fast, grounding the Air Raid offense.
What went right: A&M's first blocked punt since the 2017 Belk Bowl led to a touchdown. Smith had a 22-yard punt return, the team's longest of the season.   
What went wrong: Three penalties during a punt return might be some kind of school record.  
Bottom line: A&M's special teams basically matched the seven points Mississippi State's offense scored as the kicking game had its best overall game of the season.
What went right: A&M's defensive scheme set the tone early. Three of Mississippi State's first four possessions were three-and-outs and the other ended with an interception.
What went wrong: A few correctable mistakes prevented this from being the 30-point blowout if felt like. A holding penalty wiped out a 49-yard reception to Ainias Smith to the Mississippi State 3 and two other empty A&M possessions had false start penalties.
Bottom line: A&M needed only four plays to go 75 yards and answer Mississippi State's first touchdown, pushing the lead back to three scores.
What went right: A&M took a 14-0 lead, building off Mississippi State's mistakes and lack of execution.  
What went wrong: A&M opened the second half by picking two first downs, but instead of turning that into a 21-0 lead, the interception gave Mississippi State hope, but not for long.
Bottom line: A&M ended a three-game losing streak in Starkville with tons of underclassmen having huge games led by Spiller and Smith.
Be the first to know
Get local news delivered to your inbox!