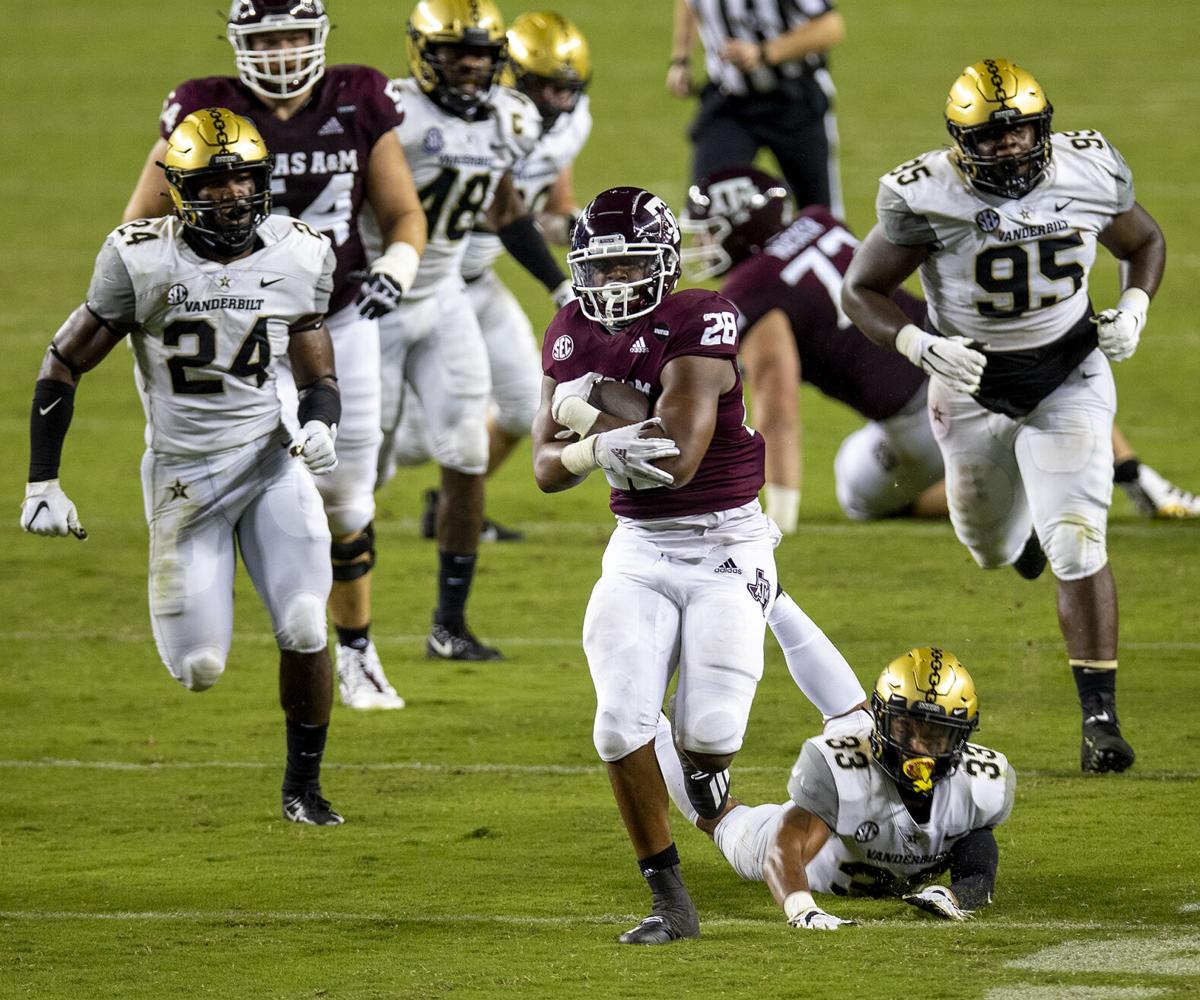 OFFENSE: D
What went right: Isaiah Spiller had some nice runs and Ainias Smith had a couple big plays.
What went wrong: The two fumbles by quarterback Kellen Mond were killers. A couple key penalties cost A&M points.  Mond missed a couple throws and his young receivers had at least four drops.
Bottom line: A&M averaged 6.8 yards, but the offense misfired from the get-go with three straight incompletions.
DEFENSE: C
What went right: Vanderbilt converted a third-and-9 on the game's third play and that led to a 13-play, 60-yard drive that gave the Commodores much-needed confidence.
What went wrong: A&M couldn't get off the field when it needed to; Vandy completed back-to-back third down passes on its touchdown drive.
Bottom line: The unit did dominate the fourth quarter, making Vandy look like the team most thought it would be. A&M had two sacks and a turnover in the fourth quarter, holding the Commodores to 13 yards.
SPECIAL TEAMS: F
What went right: Nik Constantinou averaged 45 yards on two punts and A&M allowed a pair of 18-yard kickoff returns.  
What went wrong: The botched 7-yard kickoff return by freshman Chase Lane put A&M's offense in a hole for the Aggies' first snap of the season, but the safety off Smith's punt return because of the penalty was brutal.
Bottom line: The television announcers said neither remembered seeing a safety on a punt return as two wrongs made history and contributed to a frustrating night at Kyle Field. 
COACHING: D
What went right: A&M did lean more on its running game in the second half. Smith showed why he was moved into the backfield. Senior linebacker Aaron Hansford had 11 tackles in his first start in place of Anthony Hines III, who opted out of the season.
What went wrong: A&M wasn't ready to play. Vandy had the ball for 6 minutes, 2 seconds on its first possession, then A&M went three-and-out.
Bottom line: Vanderbilt was the better team on too many plays.
OVERALL: D
What went right: A&M won the game, don't forget that.
What went wrong: A&M wasn't able to do anything consistently until the defense stepped up in the fourth quarter.  
Bottom line: That was as about as ugly a victory as you'll see. Vanderbilt is probably better than most think, but a 17-12 win? A&M is better than that. It better be or there will be more ugliness.
Be the first to know
Get local news delivered to your inbox!