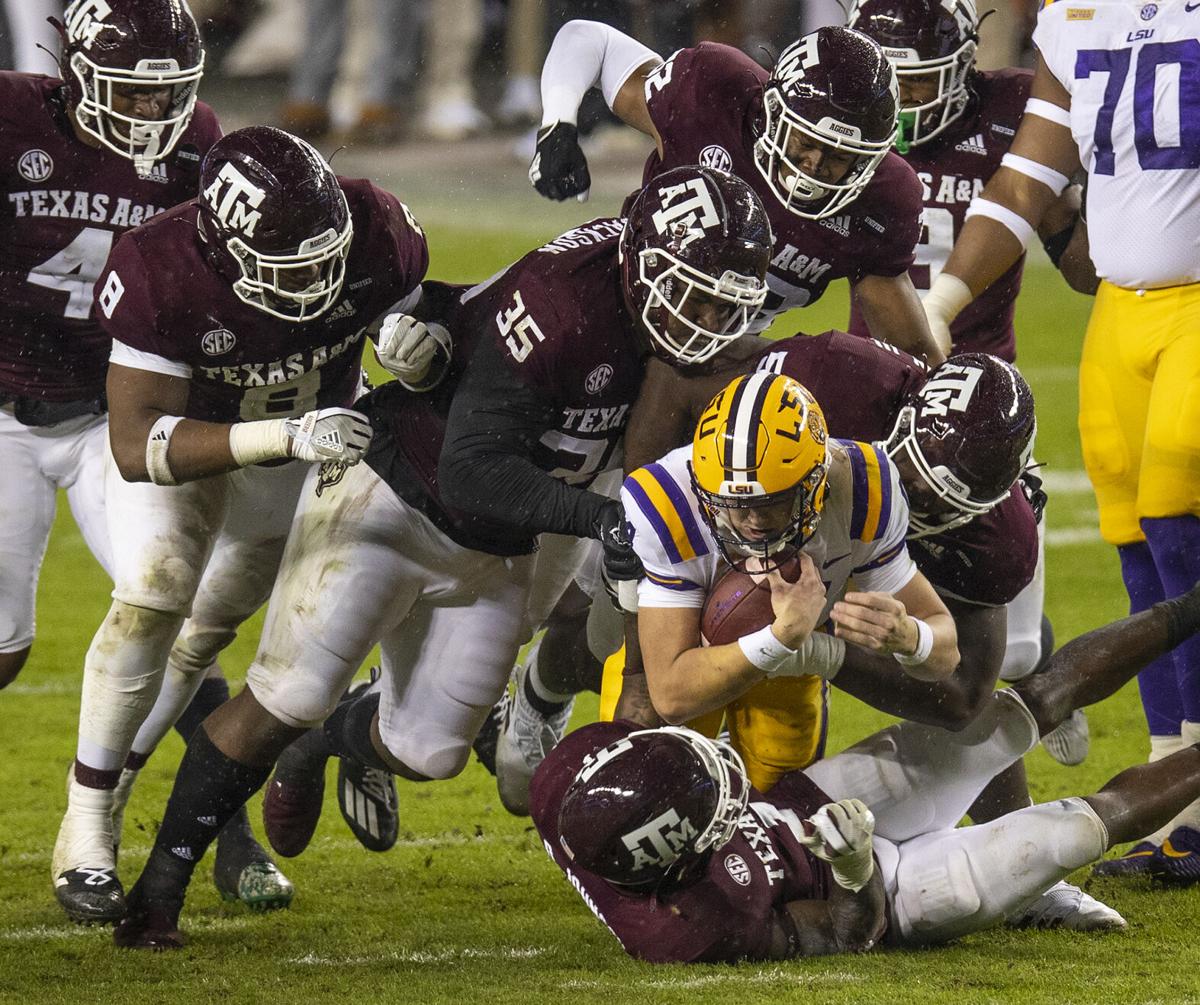 Texas A&M's offense looked like the weather Saturday night at Kyle Field.
But A&M's 20-7 victory over LSU came with some high-grade silver lining: defense. If the unit plays like that on a consistent basis, sunny days are ahead.
A&M's offense wasn't even close to championship form against the Tigers, struggling to a season-low 267 yards. We all thought the unit might show a little rust after the 21-day layoff after the team had to postpone two games because of COVID-19 issues. But there wasn't enough WD-40 in Aggieland to get the hinges moving again on an offense that moved about as awkwardly as the Tin Man.
That, like the day-long rain, will go away as quickly as it came. A&M's offense is too good to play that poorly again, which was evident by the four-game winning streak before the COVID issues.
A&M's defense more than picked up the slack. It came up with three sacks, two turnovers and forced seven three-and-outs. A&M held LSU to 267 yards — 86 of it coming on its scoring drive near the end of the game.
That was a championship effort. Some will look at the 20-7 score and question whether the fifth-ranked Aggies are indeed a threat to make the College Football Playoff. That's not a score that passes the eye test until you look closer and see what the defense did.
The defensive effort also comes on the heels of A&M holding South Carolina to 150 yards in a 48-3 victory. The offense rolled up 530 yards in that game, so the defensive effort was overshadowed.
But for two straight games A&M has held opponents to one score. With road games left at 22nd-ranked Auburn and Tennessee, a championship defense is worth more than a championship offense.
A&M held LSU to 36 yards rushing with the longest run going for just 10 yards. LSU hit a couple big passes, but A&M came up with two interceptions and returned one for a touchdown.
It's taken some time for the defense to come together. Starting linebacker Anthony Hines III opted out of the season before it started, then A&M lost defensive end Micheal Clemons five games into the season after he had four sacks. But Aaron Hansford has stepped in for Hines and joined with Buddy Johnson for a solid 1-2 punch at linebacker, and the defensive line, which is so deep, is developing into one of the nation's best.
The defense is starting to come of age in coordinator Mike Elko's third season, much as the offense has been in head coach Jimbo Fisher's third year. The offense had a hiccup Saturday night, but the defense made it go away. It's a great sign for the rest of the season.