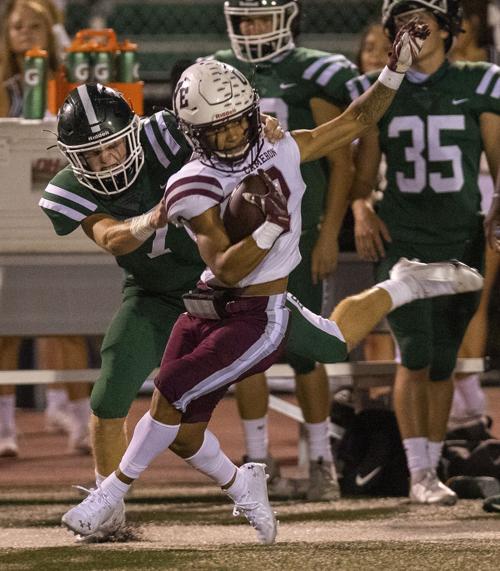 FRANKLIN — Halftime did Cameron's offense well.
The Yoemen scored on four of their five possessions in a second-half surge to secure a 37-8 victory on the road against Franklin at Hedrick Field on Friday night.
"We talk about at halftime getting more consistent and getting in there and focusing," Cameron head coach Tommy Brashear said. "We didn't mix it up as much [in the second half] and kept the same personnel on the field. We got a flow going, which I was proud of. We were a week better, and I like what we saw."
Cameron led 14-8 at halftime but had communication issues in the possession before halftime, which forced the Yoe to try converting a third-and-25. They quickly put away any doubt that the miscommunication would continue into the second half.
Junior quarterback Zane Zeinert broke off a 31-yard run to get Cameron to Franklin's 30-yard line on the first play from scrimmage in the third quarter. Zeinert inched Cameron closer with completions to Phaibain Bynaum and ZaKorien Spikes before Bynaum ran up the middle for a 16-yard touchdown with 8:45 left in the period.
Cameron's offense clicked the rest of the way. The Yoemen kicked a field goal for a 24-8 lead to end their next possessions. Bynaum and Spikes each scored one more time over the next two drives on a 10-yard run and a 9-yard reception, respectively, putting Cameron up 37-8.
After Cameron's two scores, Franklin had just enough time for one more possession but couldn't get covert in the red zone.
The Lions had just three days to prepare after canceling last week's game against Hearne due to COVID-19, and the team struggled to get anything going on either side of the ball. The Yoemen's capitalized on Franklin's troubles and held the run-centric offense to one touchdown.
It was a turnaround for Cameron's defense, which struggled in a 54-41 loss to Bellville last week.
"The defense played amazing," Brashear said. "We tried to keep it as simple as we could. We have a lot of young kids on defense. They played extremely hard and physical tonight, and we felt like we didn't last week, so that was one of our goals this week and I felt like they did that."
Cameron struggled to find a rhythm offensively in the first quarter, and Franklin's Malcom Murphy ended the Yoemen's first drive with an interception at the Lions' 30.
Cameron began taking control of the game when senior Randy Flores recovered a Franklin fumble to give the Yoe a big stop on a fourth-and-play to end the first quarter.
Moments later, Cameron sophomore wide receiver Pharrell Hemphill took advantage of a hole in Franklin's defense and ran 60 yards, mostly untouched, for a touchdown with 11:42 left in the second quarter.
Franklin answered almost four minutes later with a 4-yard touchdown run from Seth Spiller followed by a two-point conversion run by quarterback Bryson Washington to put the Lions ahead 8-7.
NOTE — Cameron sophomore offensive and defensive lineman Ja'Kobe Bailey went down with an injury late in the second quarter after Spiller's touchdown. The game halted for 11 minutes before Bailey was put on a stretcher and escorted off the field by paramedics. Brashear said Bailey's back was hurt during the play and he was taken to the hospital, but the team had no details of his injury after the game.
Be the first to know
Get local news delivered to your inbox!