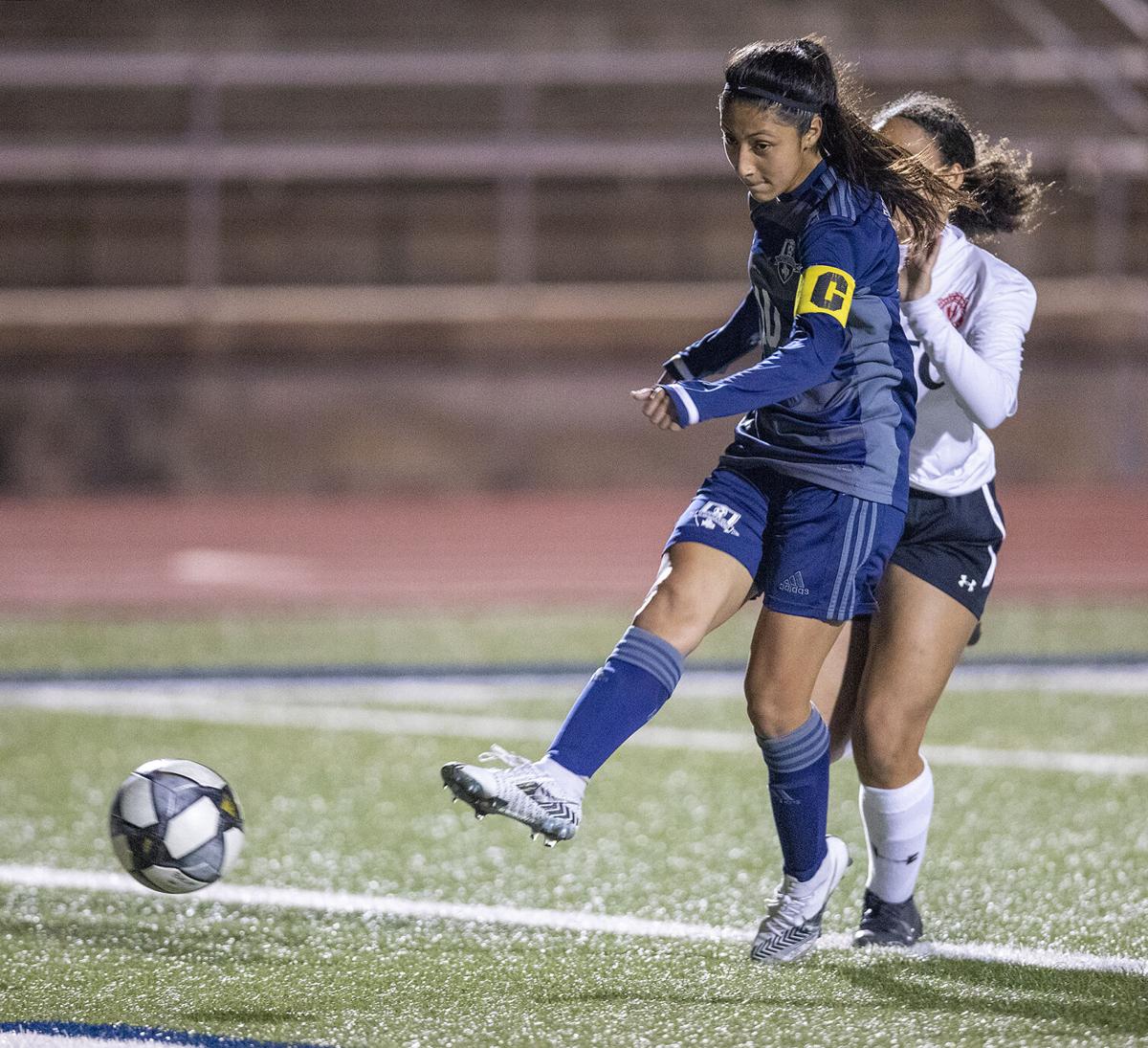 Striker Emeyda Cruz had an eye on several of the Bryan girls soccer team's records prior to the Lady Vikings' District 12-6A matchup with Harker Heights on Friday. Head coach Chris Gibson spoke with the junior on how to make some of these dreams a reality — a talk that revolved around becoming a complete player.
Cruz has the scoring part figured out.
Bryan cruised past Harker Heights 5-1 with Cruz scoring four times at Merrill Green Stadium.
"I want you to be a complete player," Gibson said he told Cruz. "We talked about not being a good goal scorer but really trying to facilitate the offense, whether it's through an assist or taking the ball and taking a shot."
Harker Height's flat four back line produced easy lanes for the Lady Vikings to connect with Cruz, who blazed into the backfield for multiple breakaway chances.
Three minutes after the opening kick, Cruz burned past the Lady Knight defense on a 50-yard breakaway run. She buried her first shot of the game in the bottom right corner of the net for a 1-0 lead.
Eight minutes later, Cruz scored again when she collected a rebound off a save and beat Harker Heights' goalkeeper Elizabeth Elison with a shot to the top left of the goal.
Cruz needed just eight minutes more to record her hat trick, and Bryan (5-1-1, 2-0) eventually led 4-1 at halftime.
Cruz got her fourth goal in the second half when she dribbled from midfield into the box and ripped a shot at Elison, who saved it. Cruz's followup shot banked off the post and rolled into the net for a 5-1 lead.
"I just took my time and settled the ball like Gibson said," Cruz said of the fourth goal, which she also called her favorite of the night. "Just stayed calm. That's what I did."
It was her first four-goal game of the season after tallying a six-goal game last season.
In the middle of Cruz's offensive explosion, Bryan senior Halee Hernandez ripped a shot into the top right corner in the 35th minute. And Lady Knight striker Aricela Ruiz netted the lone goal for Harker Heights (4-6-2, 0-2) on a low roller that snuck past Lady Viking goalkeeper Ally Surley with 10 minutes to play in the first half.
Surley made five saves on six Harker Heights shots. Backup Ashley Jarratt faced two shots and stopped both in the second half.
Bryan ripped 14 shots on goal, 10 of which by Cruz. Elison made nine saves.
As play reached the later minutes of the second half, Gibson said he was proud of the way his team settled into possession soccer, building on the continuation of the district slate. For Cruz, back-heel flicks and diagonal balls to the corner sprung the Lady Vikings for several late chances.
"We've been stressing throughout the season not to be reliant on just — we've got a couple girls that are quick — and just sit back and throw a ball and let them run, but let's connect and really work the outsides and work the width. It was good work at the end to continue to play and not just say, 'It's my turn to go score,' They played a full game."
And while Cruz enjoyed the goal-scoring spotlight, Gibson stressed that the junior handled the other parts of the game well.
"She started that today, and as you can tell, she put in some work," Gibson said. "That is probably the best complete game I've seen from her. She shot a lot more patiently. She didn't force anything, and she tried to just really take what was given to her."