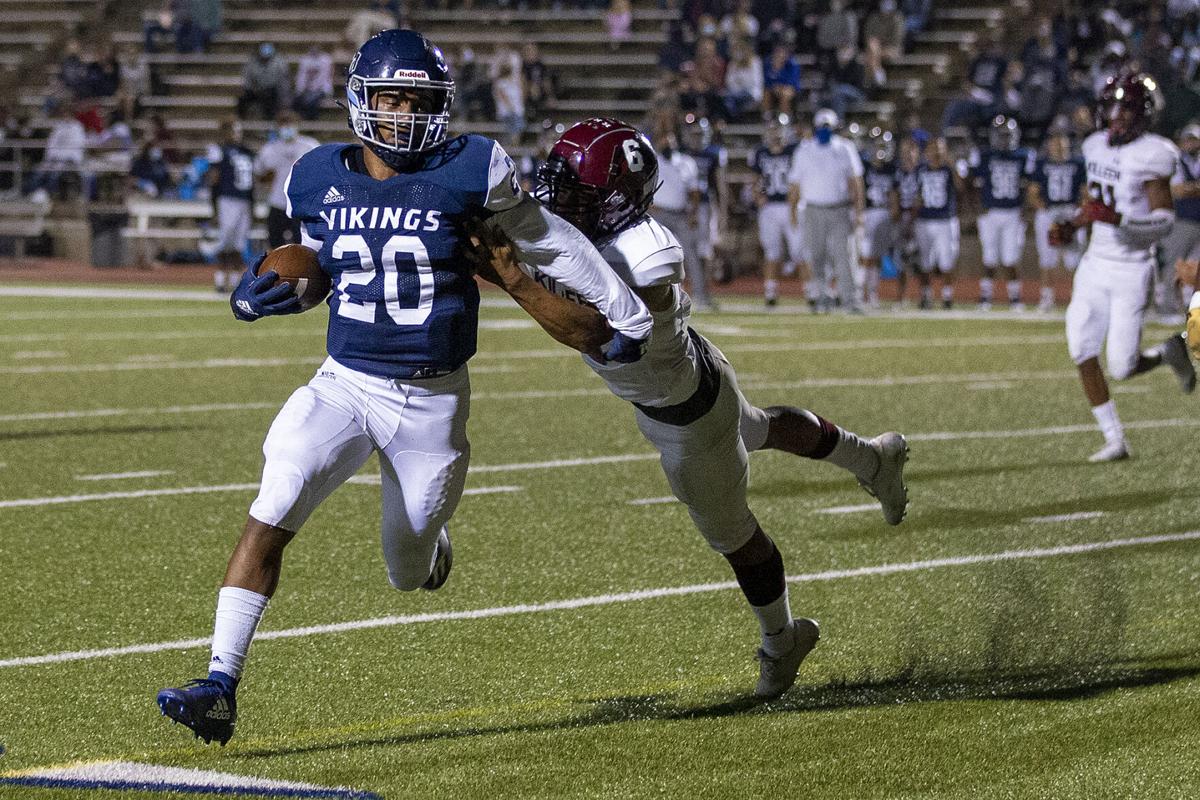 The Bryan Vikings played a nearly perfect first half, then responded to the Killeen Kangaroos' effort to make a game of it in a 45-27 victory in District 12-6A play Friday at Merrill Green Stadium.
The Vikings led 24-0 at halftime on Senior Night but saw their lead cut to 10 less than five minutes into the second half. Bryan (4-2, 3-2) answered with two quick touchdowns before the end of the third quarter to regain control.
"I think this is a young team that is getting more and more varsity snaps," Bryan coach Ross Rogers said. "We are getting better and better and getting more comfortable with our offense, and I think our defense for the most part played pretty well, just a couple of lapses there."
The lapses came on 48-yard pass from Killeen's Jayden Hill to Davontay Monroe on a third-and-21 from the Kangaroos' 14-yard line and on a 57-yard touchdown run by Kadarius Marshall in the third quarter.
Bryan sophomore quarterback Malcom Gooden ran for 32 yards then found Hunter Vivaldi for 15 yards to set up Tason Devault's 5-yard touchdown run to slow the comeback effort by Killeen (2-4, 1-3).
On the next Bryan possession, Gooden hooked up with Vivaldi again, this time for a 14-yard touchdown pass. After the defense posted its second straight three-and-out, Gooden looked right then threw back against the grain to senior De'Marion Johnson, who got a block then raced past the Killeen secondary for a 36-yard touchdown catch that gave Bryan a commanding 45-14 lead.
"I saw my guy," Johnson said. "He made the block, and I thought oh, yeah. I got to go get this with my family here, not disappoint them. Bryan High, we get a lot of doubt because last year we had a 2-8 record and this year is kind of like a bounce back year."
The Vikings are closing on a playoff berth for the first time in four years with two district games remaining.
When Johnson crossed the goal line at the pylon with a defender hanging on, the Vikings celebrated as if they had made the playoffs.
"He is such a well-loved kid, because he works so hard every day," Rogers said. "He brings it, and we had that ready to call. We called it at the right time and of course he showed his quickness. Great execution with [tackle Andrew] Buban out there in front of him."
The Vikings scored touchdowns on their first two drives, taking nearly six minutes off the clock on each possession. Bryan drove 83 yards and 51 yards, both times in 12 plays.
The opening drive included a sliding catch by Kenny Collins for 30 yards and finished with a Du'wayne Paulhill 3-yard run.
On the second possession, the Vikings took points off the scoreboard after Nico Bulhof made a 27-yard field goal, turning it into a touchdown. The Vikings had a fourth-and-1 at the Killeen 8 and were called for motion, so they brought on the field goal unit. Bulhof's kick was good, but Killeen drew an offsides penalty, so the Vikings went for it on fourth down. Gooden ran for the first down on the final play of the quarter and two plays later Paulhill got around the end on an option for a 7-yard TD run and 14-0 lead.
"Coaches like to draw it up that way," Rogers said. "It's great to score quickly, but when you can take the air out of them by keeping the ball, that is better than the other way."
Bulhof got to keep his three points on the next drive with a 41-yard field goal, his second straight game with a kick of at least 40 yards. Holder Jack Blackburn got an assist by pulling down a high snap.
The final TD of the first half was set up by a Jayrin Jackson fumble recovery at the Killeen 11. Devault scored on a delay on the ensuing play.
The Bryan defense played a big part in the dominating first half. Safety Matthew Cooks recovered a fumble after a big hit by Nic Carraway, who later had a sack as did Cesar Martinez. Senior Cameron White forced an intentional grounding call on Killeen that cost the Kangaroos 27 yards.
In the second half, J.T. Workman and Tanner Allen each had sacks and Blackburn broke up a pass to force a punt.
"A great thing on Senior Night that most our kids got in the game, guys who practice just as hard, so I'm tickled it ended up that way," Rogers said after the Vikings finished the 2020 home season with a 4-0 mark.
Bryan is scheduled to play at Copperas Cove on Friday.
Be the first to know
Get local news delivered to your inbox!