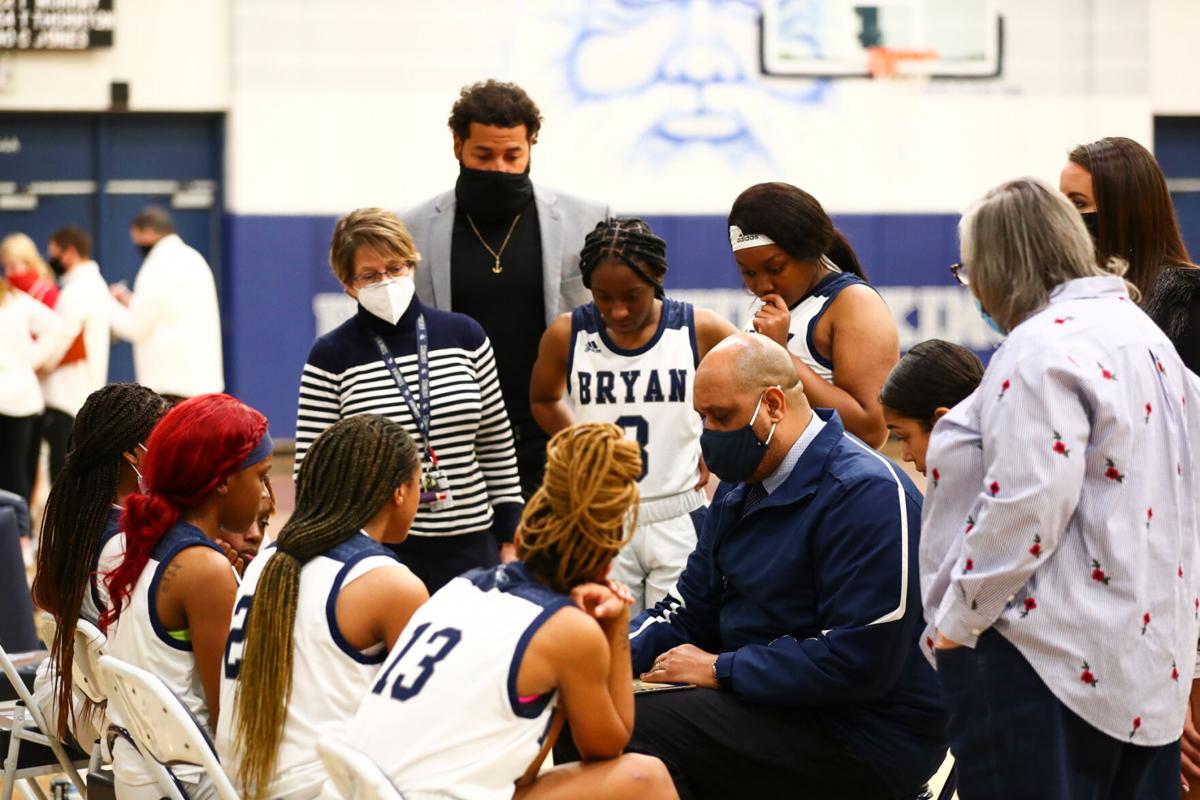 It's been a season of growth for the Bryan girls basketball team, but the Lady Vikings took a step back in a 44-38 loss to Belton on Tuesday night in District 12-6A play at Viking Gym.
Bryan (6-6, 3-4) had put itself in position to challenge for a playoff spot by beating teams it should until Tuesday. Belton, which was tied with Copperas Cove and Killeen for last place in 12-6A, built a 17-point lead and held on to break a five-game losing streak.
The Lady Vikings rallied to pull within 41-38 on a 3-pointer by Alexis Burton with 2 minutes, 34 seconds left. Bryan had two chances to get closer but turned the ball over and missed a short jumper.
"We definitely had chances," Bryan coach Chris Jones said. "The girls worked hard on defense and on rebounding in putting us in a better position to make plays and to win in the end."
The Lady Vikings couldn't erase a poor start as Belton (5-12, 2-5) had one of its best shooting quarters of the season for a 20-7 lead. The Lady Tigers hit four 3-pointers.
"We hit shots," Belton coach Brenda Gomez said. "Today was very different. We got good shots. We made good shots, and we got some really good rebounds."
Belton typically makes about 18-20% of its 3-pointers, Gomez said, but the Lady Tigers were razor sharp against Bryan. They hit a 3 in the closing seconds of the first quarter, then senior Shelby Foster banked in a long 3 at the halftime buzzer for a 29-16 lead.
Things didn't get much better in the second half for Bryan, which missed its first nine field goal attempts of the half as Belton build a 35-18 lead. The Lady Vikings scored the last eight points of the third quarter to get back in the game. Bryan freshman Taler Thornton scored on back-to-back layups off Belton turnovers, completing a three-point play on the second to pull Bryan within 35-26.
"I think we panicked a little bit," Gomez said. "We've just got to understand the game situation, and I didn't think we did that very well."
Belton did a good job running clock in the fourth quarter, but Bryan's Ja'jinae Williams and Thornton hit back-to-back driving layups to pull the Lady Vikings within 39-35 with 3:39 left as Belton struggled with Bryan's pressure. The Lady Tigers seemingly had thrown the ball away for the third time in four possessions, but a hustling junior Anna Beamesderfer surprisingly caught the errant pass and flipped it back to teammate MyKaela Johnson for a layup.
"That kid never quits," Gomez said. "No matter if she's made three turnovers in a row or if she made three baskets in a row, she does not quit. You can always count on her going at it 100%."
Belton again beat Bryan's pressure to put the game away on senior Karina Fisher's driving layup with 52 seconds left. Fisher inbounded the ball at midcourt and raced toward the basket, taking a pass over the defense in stride for a 44-38 lead. Foster led Belton with nine points. Fisher added eight and Beamesderfer had seven. Belton showed great depth with 10 players scoring.
"I thought most of the kids hustled," Gomez said. "Bryan is extremely quick, very athletic, very scrappy. They get a lot of their points just from hustle."
Thornton had 17 points for Bryan and Williams added 11.
"I think after we settled down and got going, we played a little better," Jones said. "Defensively, we were locked in. Early, I think a lack of focus led to some easy baskets for them."
Bryan, which ended a 43-game district losing streak by beating Killeen Shoemaker before Christmas, was coming off a 55-48 victory over Copperas Cove in which the Lady Vikings almost squandered a 14-point lead. On Tuesday they were the ones fighting back only to fall short.
"When you get down in games like that, you have to burn so much gas to get back in it," Jones said. "Late in the game, your shorts are a little short. Defensively, your rotations are a little late."
It's part of growing pains for Bryan, which has eight new varsity players. The Lady Vikings will look to rebound Friday against Killeen Ellison, which won 70-21 in the first meeting.
(Numbers after names indicate field goals, free throws made-attempted, fouls, points.)
BELTON (5-12, 2-5) — Nylah Modeste 2 1-2 1 5; Karina Fisher 3 1-2 3 8; Ayanna Jones 1 0-0 1 3 McKenna Maddux 1 0-0 2 2; Shelby Foster 4 0-0 0 9; Anna Beamesderfer 3 0-2 1 7; MyKaela Johnson 1 0-1 1 2; Lillian Small 1 2-2 1 5; Mo Jones 0 2-2 0 1 2; Campbell Brown 0 1-2 0 1. TOTALS: 16 7-13 11 44.
BRYAN (6-6, 3-4) — Ja'jinae Williams 3 4-4 1 11; Alexis Burton 2 0-0 1 5; Symoria Adkins 0 0-0 2 0; Destinee Nunn 1 0-0 2 2; Tierra Murray 0 0-0 2 0; Taler Thornton 5 4-7 2 17. TOTALS: 11 8-11 10 38.