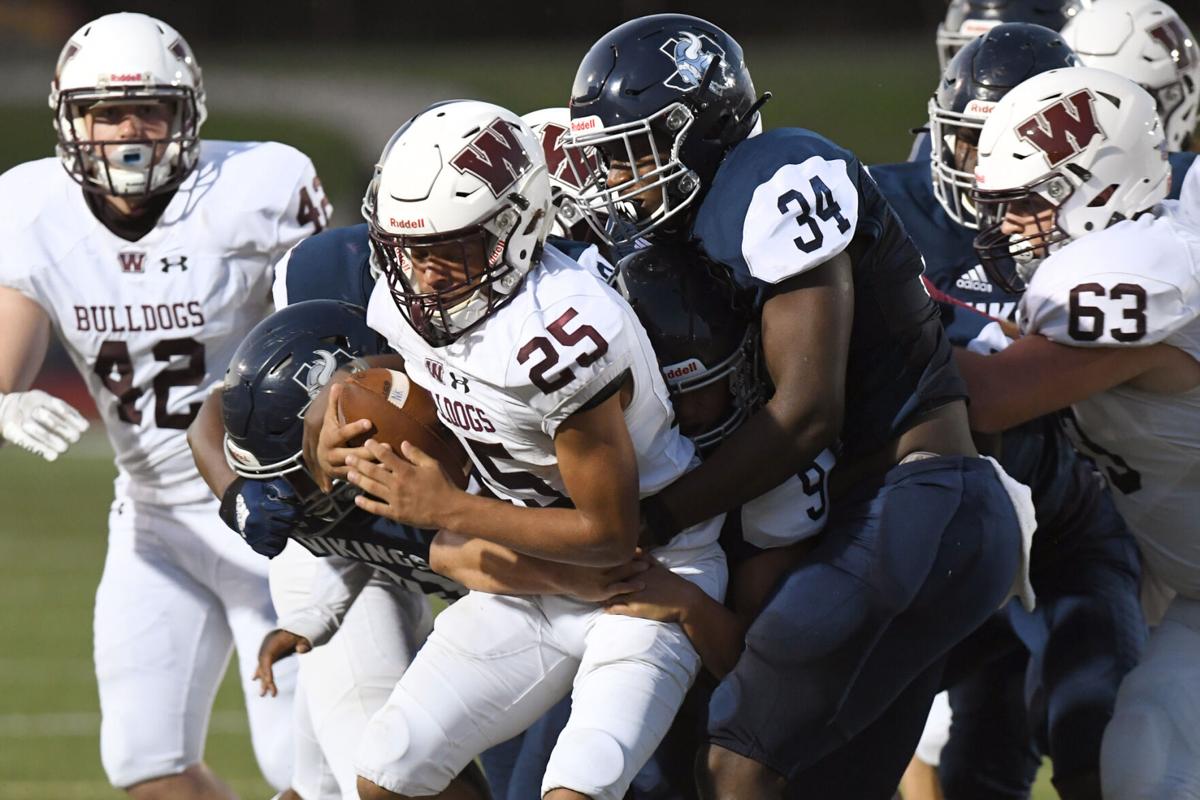 After two years of playing only two nondistrict games, Bryan head coach Ross Rogers was looking forward to getting a third game under the Vikings' belts this season before jumping into the district schedule.
The added game seemed to come at a particularly convenient time for the Vikings, who have eight sophomores and a freshman on the two-deep chart and start more juniors than seniors.
So much for best laid plans. After four positive COVID-19 tests and subsequent contact tracing that affected no less than 23 varsity players and four coaches, the Vikings lost two nondistrict games after an opening victory over Waller.
"We are just six weeks behind and you can say, you only missed two games coach, but we missed two games, scrimmages and all of spring ball," Rogers said. "[We are] not where we need to be."
On Friday, Bryan opens District 12-6A play against Harker Heights, which is 2-1 so far this season.
The Vikings had to cancel their games with College Park and Montgomery Lake Creek due to the COVID-19 cases. Of the seven other teams in Bryan's district — including Harker Heights, Temple, Belton, Cooperas Cove and Killeen Ellison — Killeen Shoemaker and Killeen are the only teams who have not played a full slate. Shoemaker originally had Nuevo Leon of Mexico on the schedule and Killeen lost a game to Waco High, which had to shut down for two weeks.
"It is what it is," Rogers said. "Everybody has dealt with it somewhat, particularly in 6A, and in this area we've been probably hit hardest."
Rogers was informed of a player testing positive two hours before the home opener against Waller and by the end of a midweek practice for the College Park game, the Vikings had four players test positive. With a majority of the players out with contact tracing, the Vikings have had to make major adjustments in their weekly routine.
"It's been a lot of technique, individual coaching, fundamentals, some team," Rogers said. "Defense wasn't hit as hard, we still lost five secondary guys, but offensively it was devastating so we had to bring what was left, only two or three offensive linemen and the JV to the team."
The Vikings did play a junior varsity game against Lake Creek last week with a handful of sophomores from the varsity and won. But it wasn't until Wednesday that Rogers had his full squad back on the practice field.
"Until this morning it felt like a ghost town," Rogers said. "By yesterday [those able the past weeks] were tired of practicing and not playing. Like today, we told them welcome back and it was fun and the kids have had a little pick-me-up in their step."
Rogers said he's had to bite his tongue a few times in the past two weeks and he's trying to look at the bright side. But no matter how he slices it, it doesn't make up for the loss of practices and games.
"[The] only advantage I can see is seeing more film [than our opponent], and I don't think we've had any injuries," Rogers said. "Oh, and we are 1-0 going into district."
To remain undefeated the Vikings will have to get a solid performance from their defense, which will be going up against a strong Harker Heights squad.
The Knights have a solid tailback in sophomore ReShawn Sanford and senior receivers La Princeton Dixon and Marcus Maple, who complement each other well with ball-catching skills and speed.
The defense boasts a strong nose guard in Elijah Serefano, who has great quickness from tackle to tackle, Rogers said. The secondary is strong, led by three-year starter Savonte Sanford-Paige.
"They got speed, big wide outs and the quarterback is big," Rogers said. "They went to the playoffs last year and a lot of these kids played."
A win on Friday would be a big step for the Vikings in making the playoffs for the first time since 2016, but it won't be easy in the eight-team district include Temple, Shoemaker and Ellison.
"Temple is Temple," Rogers said. "Every linebacker and defensive back looks like they run on the 4x100 and the offensive linemen are big thick kids."
Be the first to know
Get local news delivered to your inbox!