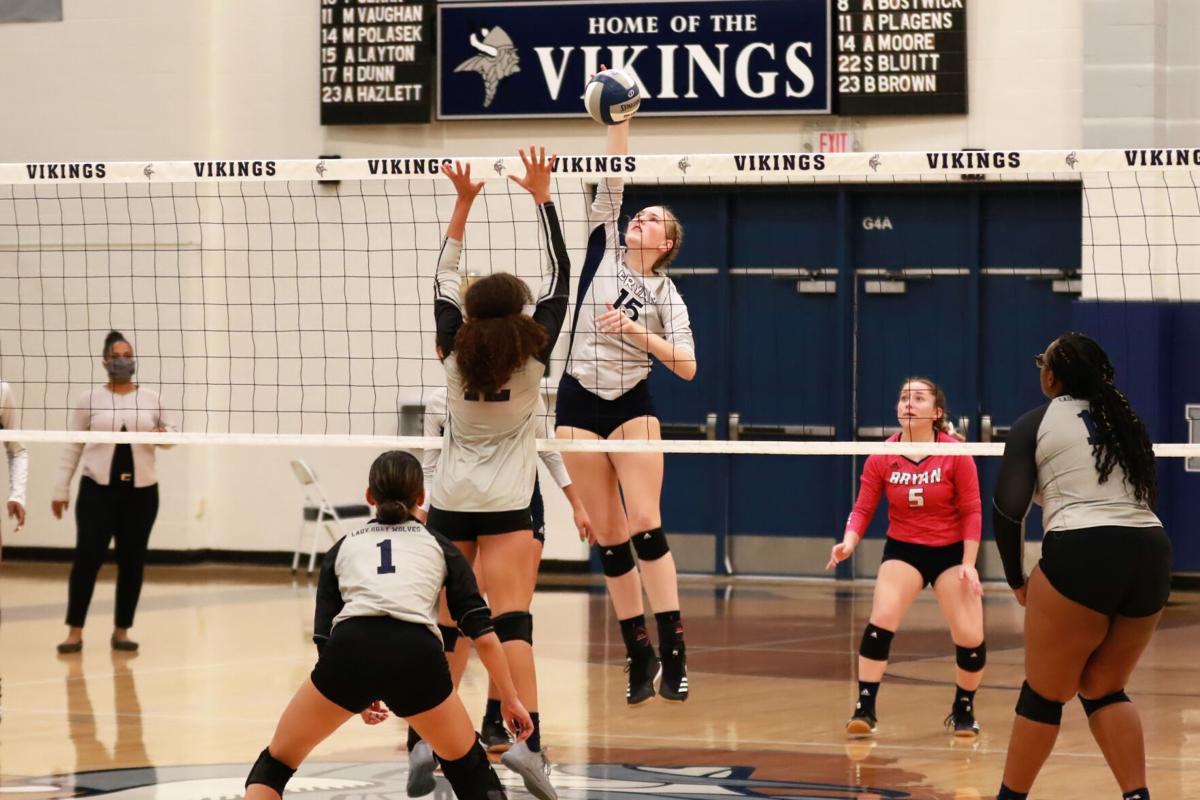 The Bryan and College Station volleyball teams head into bi-district play on a roll, each sporting a seven-match winning streak.
The Lady Cougars will play at Montgomery in Class 5A action at 6:30 p.m. Thursday. The Lady Vikings will take on Mansfield Lake Ridge at 6 p.m. Friday at Whitney in 6A play.
The Lady Vikings (14-8, 11-3) are one of the season's great comeback stories. Bryan, which had to halt summer conditioning drills before school started because of COVID-19, had to shut things down again from Oct. 13-27 because of positive tests. Bryan's chances of making the playoffs seemed slim then at 5-7 overall and 2-2 in District 12-6A play. But the Lady Vikings, who had to make up four matches in addition to three regularly scheduled matches, haven't lost since they've returned. Bryan's run included a four-set victory over district champion Harker Heights (15-3, 12-2).
"They're competing very well and we're able to finish," Bryan coach Stephanie March-Smith said. "I still think we have another notch to go."
March-Smith is confident her team will find that notch against Lake Ridge (14-5, 9-3 in 11-6A).
"We're going to have to block well," she said. "It ought to be a good game."
Lake Ridge is led by sophomore Clair Redmon, who has 174 kills. Junior Makenzie Washington adds 167, senior MeKayla Kroger 148 and senior Caiya Artis 109. Kaeyln Mack, a 6-foot-3 senior, has 48 solo blocks and Kroger has 42.
March-Smith said the Lady Vikings will be fine if they keeping playing as a team.
"That's our biggest mantra right now, just making sure that we go about it as a team, staying focused one point at a time," March-Smith said.
March-Smith, in her first season with the Lady Vikings, said the bonding time before the team's first COVID-19 shutdown laid the foundation for success. Players knew what their roles would be, what was expected of them and they had a great comfort level with each other.
"It just clicked," March-Smith said. "Even before some of them contracted COVID, they understood what was expected. They kept in contact with each other via Zoom meetings."
Junior Riley Cumpton leads Bryan in kills with 246. Junior Faith Clark adds 181, junior Morgan Rilee 98 and sophomore Allison Layton 94. Junior Alexa Garcia has 365 digs, Clark 218 and senior Megan Vaughan 205. Vaughn also has 521 assists.
The College Station-Montgomery matchup has an interesting story on the benches. Montgomery is coached by Kayli Kerr, who was College Station's head coach in 2016-17, posting a 45-45 record. Current College Station head coach Kacie Street was the Lady Cougars' freshman coach at the time, and she took over as varsity head coach after Kerr left.
"The volleyball community is pretty small anyways," Street said. "You're going to know a lot of the coaches of your opponents. I think it makes it more fun a lot of the times."
Both teams have played well for their respective coaches.
College Station tied Magnolia West (18-5, 11-3) for second place in 19-5A and the Lady Cougars won a district playoff for the second seed. The Montgomery Lady Bears (15-7, 12-2 in 20-5A) shared the district title with Montgomery Lake Creek and Kingwood Park but because of tiebreakers ended up being the third seed.
The stretch drive for College Station changed when it bounced back from a four-set loss at Magnolia with a four-set victory over Magnolia West, which was 14-1 at the time. The Lady Cougars added a five-set victory over Brenham, which had started the season by winning its first 10 matches. College Station beat Magnolia West on Monday in a playoff for the district's second seed, which served as a great warmup for both teams.
"We wouldn't have had to play it off. We're headed to the same side of the [playoff] bracket," Street said. "But it made sense, because we knew it was going to be a good match and it would prepare us probably more so than any other match we could have scheduled."
College Station has five players with at least 100 kills led by junior Ana De La Garza with 187 followed by senior Shreya Sunkari (140), junior Emery Goerig (134), senior Kate McKinney (127) and sophomore Riley Newton (126). Junior Keira Herron has 395 digs, De La Garza 218 and senior Macy Nugent 153. Nugent has 351 assists, and junior Abby Peterek adds 296.
Street said a key for the Lady Cougars will be playing with a fast tempo via crisp passing, something they've done well during the winning streak.
"We've faced some teams that are a little bit bigger in size than Montgomery, but they have a setter who controls the ball and court very well," Street said. "We know we're going to have to keep our tempo, so it's a little harder for her to control her side of the court."
Montgomery is led by senior Emma Ely, who has 174 kills and is hitting .239. Junior Madison Chandler has 143 kills and is hitting .239. Senior Skyla Roth has 112 kills and is hitting .168. Junior Kendall Sadler has 342 digs, and senior Raina McWhirter has 211 along with 573 assists.
NOTES — College Station reached the regional quarterfinals last season, losing to Cedar Park. Montgomery placed eighth in the nine-team 20-5A, going 4-14 last season. ... In other 5A bi-district action, Brenham (17-5, 10-4) will play Lake Creek (15-5) at 6 p.m. Friday at Cypress Falls. Lake Creek, which opened its doors three years ago, is making its first playoff appearance. Lake Creek has four players with at least 100 kills. Brenham is led by sophomore Brooke Bentke, who has 272 kills. Seniors Jenna Hardy and Abby Clayton add 214 and 206, respectively.
Be the first to know
Get local news delivered to your inbox!