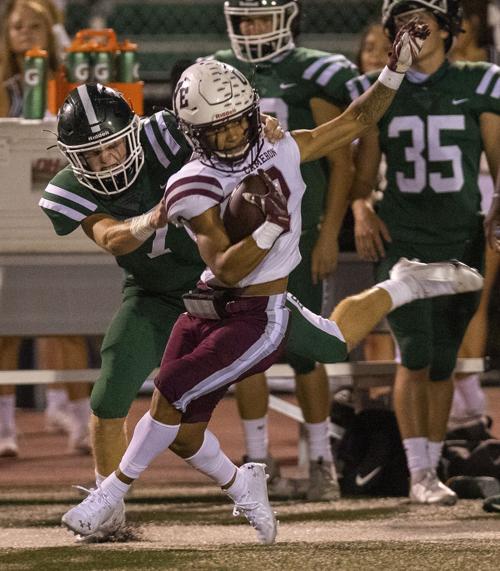 • Franklin senior quarterback and free safety Bryson Washington earned The Eagle's Brazos Valley football player of the week honors for his performance in the Lions' 69-38 win over Buffalo on Friday. Washington ran for 262 yards on just 11 carries with four touchdowns, and added 12 tackles, a forced fumble and fumble recovery, an interception and a pass break up on defense.
Washington received 34.9% of the votes on the weekly online poll to beat Rockdale linebacker and safety Davioun Scott who had 29.3%. Washington had 566 of the 1,661 votes. Scott had 488 votes. Iola wide receiver Case Creamer (444 votes, 25.7%), Bremond quarterback Seth Kasowski (152 votes, 9.5%) and Brenham quarterback Steven Stackhouse (11 votes, 0.7%) were the other nominees.
OFFENSIVE PLAYER OF THE WEEK
• Brenham remained undefeated in District 13-5A Division II play thanks to Stackhouse's six touchdowns, which led the Cubs to a towering 47-3 victory over Bastrop on Friday. The junior quarterback had 168 yards through the air with four touchdowns and added 80 yards on the ground for two more scores.
DEFENSIVE PLAYER OF THE WEEK
• Scott led a Rockdale defensive unit that forced four interceptions and seven sacks in a 44-13 victory over Academy. The junior linebacker and safety finished with 14 tackles, five tackles for loss, two sacks, two quarterback pressures and an interception he returned for 35 yards.
TWO-WAY PLAYER OF THE WEEK
• A&M Consolidated tailback and kicker Sutton Lake had 174 yards on the ground with two touchdowns and 113 yards receiving for another score in the Tigers' 56-0 shut out of Lamar Consolidated. Lake also went 7 for 7 in PAT kicks and only punted once for 38 yards.
• Creamer scored five of Iola's seven touchdowns in its 51-13 victory over Milano. The senior wide receiver took his talents to the ground and rushed for 197 yards on just 11 carries with touchdown runs of 3, 72, 5, 6 and 1-yards.
• Kasowski took care of business in Bremond's first game since Oct. 2, throwing for 121 yards and three touchdowns. The senior also rushed for 228 yards and averaged 16.3 yards per carry in the Tigers' 64-30 win over Wortham. 
• Centerville running back Levodrick Phillips had a breakout game on Friday after rushing for 175 yards on 25 carries and three touchdowns, leading the Tigers to a close 38-34 win over Grapeland.
• College Station almost shut out New Caney in its 49-7 victory on the road on Thursday and defensive lineman Caleb Skow was a big part of the Cougars success. Skow finished with 10 tackles, two tackles for loss and two sacks on the Eagle's quarterback Jaydon Tutwiler-Drew.
• Adding to Washington's scores, Franklin fullback Seth Spiller rushed for 163 yards on just eight carries and had two touchdowns.
• Haze Tomascik led Franklin's defensive effort on Friday, totaling 16 tackles, two tackles for loss and one sack on Buffalo's quarterback Brett Hoffman.
• Consol's Kyle Willis went 15-of-23 passing for 245 yards and added two touchdowns for the Tigers.
• St. Joseph's Trace Brightwell led the Eagles to a 65-8 win over Bellville Faith Academy after rushing for 49 yards on three carries and a touchdown, and adding 99 yards through the air for three more scores.
• College Station linebacker Jaxson Slanker had 12 tackles, a tackle for loss, hurry and quarterback pressure, helping Skow in the Cougars' strong defensive showing.
Be the first to know
Get local news delivered to your inbox!