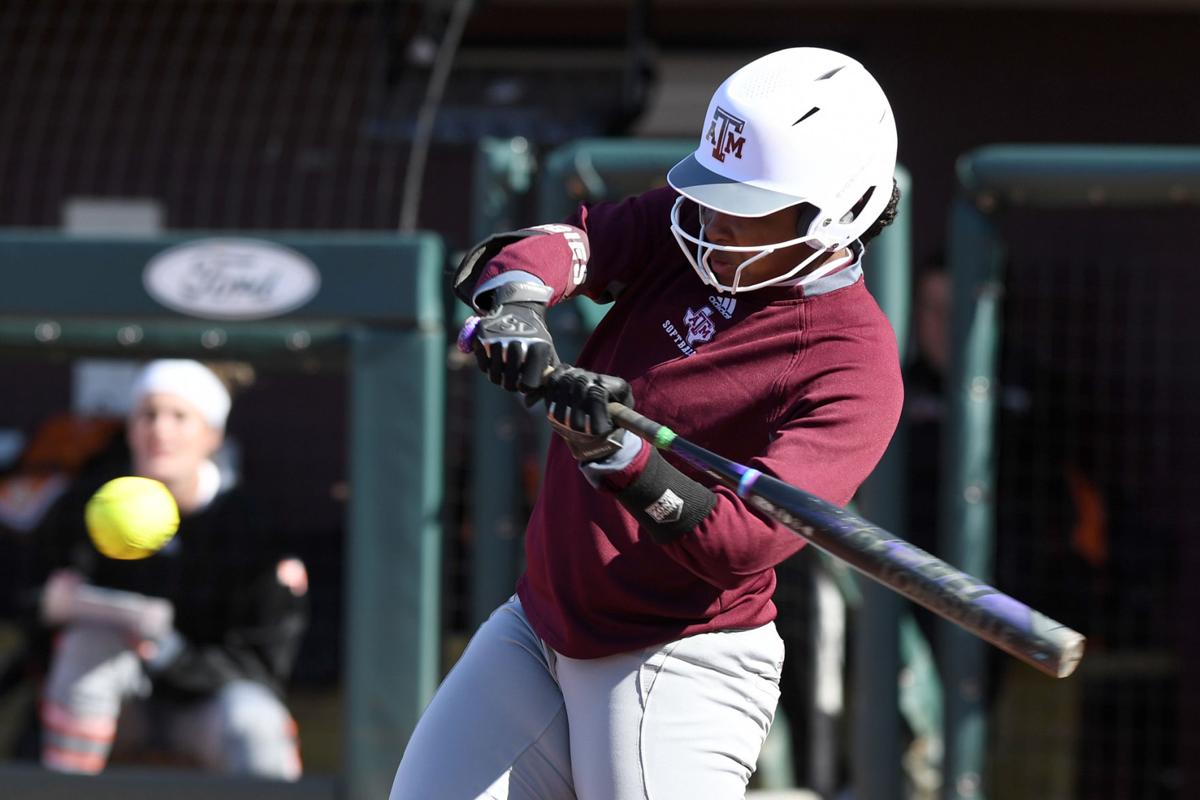 The Texas A&M softball team is extremely young and talented but short on experience — a challenging combination considering the nation's best teams are loaded with proven veterans.
More than 40 seniors from last year's top 10 teams are returning for an extra season of eligibility granted them by the NCAA when the 2020 season was cut short by COVID-19. The Aggies were in a rebuilding mode last season and will continue that process with seven freshmen joining the team this season. The newcomers are led by first baseman Trinity Cannon, pitcher/outfielder Grace Uribe, catcher/outfielder Mayce Allen and outfielder Bre Warren — all top 100 prospects by FloSoftball — along with infielder Rylen Wiggins.
"I like this freshman class a lot," A&M coach Jo Evans said on a Zoom conference Wednesday. "They're really talented. It's the most talented freshman class we've had in a long time top to bottom. It's really versatile."
Cannon is a home-run threat, while Wiggins has established herself at shortstop, Evans said. Uribe had a strong fall, excelling in the Maroon & White Series.
"She really made a statement," Evans said. "She can hit. She can play outfield, and she can pitch."
Evans projects former College Station standout Warren to be an all-conference player but maybe not this year, because outfield is among the team's deepest position.
"She's got a lot to learn just like the rest of them do," Evans said. "Warren is certainly somebody really athletic, really dynamic."
The newcomers join a group that showed signs of putting it together last season before COVID-19 halted everything. The Aggies were 17-9, including a 1-2 start in Southeastern Conference play with three competitive games at 10th-ranked Kentucky. A&M was batting .293 with 26 homers and 51 doubles under first-year hitting coach Craig Snider, a vast improvement from the previous season when the Aggies hit only .273 with 32 homers and 54 doubles in 55 games.
The added pop came from sophomores Makinzy Herzog (.415, 6 HRs, 17 RBIs), Morgan Smith (.340, 4 HRs, 12 RBIs) and Haley Lee (.324, 5 HRs, 19 RBIs) along with freshman Jourdyn Campbell (.329, 2 HRs, 15 RBIs). Evans would have loved for those players to get another 100 at-bats last year.
"We had a lot of young talent that we were developing, that we felt would come into their sophomore year with a year under their belt and be impact players for us," Evans said. "And they lost that opportunity to get that experience."
The same could be said for senior right-hander Kayla Poynter (7-2, 1.68), who went 5-9 with a 3.69 ERA in her first two seasons but showed improvement last year.
"She really came a long way and established herself as a starter for us and someone that we could count on," Evans said.
Herzog (3-0, 0.82 ERA) was just impressive in the circle as she was in the batter's box but for only 25 2/3 innings.
"Mackenzie Herzog coming back healthy and ready to go is a key for us," Evans said. "She is a dynamic player, does it all, and we certainly expect her to be in that rotation."
A&M added left-hander Kelsey Broadus, a graduate transfer from Boise State where she was Mountain West pitcher of the year in 2019.
"She was a dynamic player for them," Evans said. "Having a lefty like that who throws hard, I think she's going to definitely be in our rotation."
A&M will be able to use three starters for a weekend series if needed.
"I'm excited about that," Evans said. "I think our pitching depth can be a big force for us."
Evans also is confident the hitting will improve, while the defense, which was a troubled area at times last season, will improve with experience.
NOTES — A&M will open the season Feb. 12-14 with the Aggie Classic at Davis Diamond. ... Smith and senior third baseman Dani Elder, who hit .323 last season in 31 at-bats, became every day starters by the end of last season. Senior second baseman Ashlynn Walls is another mainstay, Evans said. ... A&M, which brought back two seniors, has 27 players on the roster, the most in Evans' 25 seasons. Evans said it was great for fall competition, because she had two highly competitive teams, but it will make for a big bench once the season starts. "There's going to be people who are really talented who aren't going to be on that field," Evans said. "And that's going to be a tough situation for everyone. So we're going to have to figure out how to manage that." ... Kelbi Fortenberry, who returned for a second senior season, had pulled her average up to .291 when the 2020 season ended. She had hit .343 the previous season in 181 at-bats. "It's so nice to have that experience," Evans said. "She understands the game. She knows how to run the outfield." The emergence of Wiggins at shortstop moves Campbell to the outfield. Campbell, Herzog, Lee and Fortenberry started every game last season.